Jonathan Kirsch, book edi­tor of
The Jew­ish Jour­nal
, con­tributes book reviews to the print and online edi­tions and blogs at
www​.jew​ishjour​nal​.com/​t​w​e​l​v​e​t​welve
. Ear­li­er this week, he wrote about Jew­ish resis­tance and restor­ing Her­schel Gryn­sz­pan to the pages of his­to­ry and Her­schel Gryn­sz­pan's scan­dalous the­o­ry of defense. He will be blog­ging here all week for Jew­ish Book Coun­cil and MyJew­ish­Learn­ing.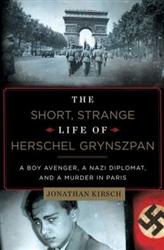 Kristall­nacht, the first inci­dent of state-spon­sored mass vio­lence against the Jews of Nazi Ger­many, marks a turn­ing point in his­to­ry. Hitler used the shoot­ing of a minor Ger­man diplo­mat named Ernst vom Rath by a 17-year-old Jew­ish boy in Paris — the sto­ry I tell in my new book, The Short, Strange Life of Her­schel Gryn­sz­pan: A Boy Avenger, a Nazi Diplo­mat and a Mur­der in Paris (Liv­eright) — as the pre­text for the sud­den esca­la­tion of his war against the Jews on Novem­ber 10, 1938. One of the over­looked but high­ly telling facts about Kristall­nacht is that the Nazi regime issued a list of approved phras­es to be paint­ed on Jew­ish store­fronts dur­ing the ​"spon­ta­neous" demon­stra­tion of right­eous Ger­man anger. Among the sanc­tioned graf­fi­ti was ​"Revenge for the mur­der of vom Rath."
Here is anoth­er rea­son why his­to­ry has not been kind to Her­schel Gryn­sz­pan. When he fired a shot in anger at a Nazi diplo­mat on that day in 1938, much of the Jew­ish world was still con­vinced that pas­siv­i­ty and patience offered the only strat­e­gy for sur­vival in the face of Nazi anti-Semi­tism. The shot that Her­schel fired in Paris was seen by his fel­low Jews as noth­ing less than a cat­a­stro­phe. So it was that one Jew­ish news­pa­per in Paris was moved to pub­lish an open let­ter of apol­o­gy to vom Rath's moth­er in which the writer ​"expressed great sor­row on the death of her son" and implored her that ​"it was unjust to blame all Jews for her son's death."
Today we know that the Jew­ish response to the Final Solu­tion was trag­i­cal­ly mis­placed. In the after­math of Kristall­nacht, for exam­ple, Jews in Ger­many were required to sur­ren­der any weapons they might own. In my book, I tell the sto­ry of a man named Rosen­berg in the town of Fürth who defied the order by throw­ing his Brown­ing pis­tol into the Peg­nitz Riv­er. A time would come soon when the ghet­to fight­ers and par­ti­sans in east­ern Europe would risk their lives to add a sin­gle bat­tered weapon to their trag­i­cal­ly sparse arse­nals, and yet the thought appar­ent­ly nev­er occurred to Rosen­berg that he might one day need a weapon to defend him­self against the gov­ern­ment that sent the Brown­shirts into the streets on Kristallnacht.
Of course, the Nazis them­selves claimed to see a threat in the Jew­ish pop­u­la­tion of Europe. Himm­ler, the mas­ter archi­tect of the Holo­caust, once told his Nazi com­rades that it would have been ​"cow­ard­ly" for him to spare Jew­ish chil­dren form mass mur­der pre­cise­ly because they would ​"grow up to be the avengers who would kill our fathers and our grand­chil­dren." That was the whole point of the show tri­al that Hitler planned and Her­schel foiled. Jew­ish vengeance only came lat­er and nev­er posed a real obsta­cle to the Final Solu­tion, but we can­not deny that Her­schel Gryn­sz­pan was one of the first Jew­ish resisters. To dis­miss young Her­schel as noth­ing more than a dis­traught ado­les­cent — or the aggriev­ed vic­tim of a homo­sex­u­al seduc­tion — is to ignore the mean­ing that he ful­ly intend­ed to con­vey to the world when he picked up a gun.
"For three lines in his­to­ry that will be writ­ten about the youth who fought and did not go like sheep to the slaugh­ter," declared Dolek Liebe­skind, a mem­ber of the Zion­ist under­ground in the Cra­cow ghet­to, ​"it is even worth dying." One of my goals in writ­ing The Short, Strange Live of Her­schel Gryn­sz­pan has been to afford him some­thing more than three lines in the his­to­ry of Jew­ish resistance.
Jonathan Kirsch is author of 13 books, book edi­tor of The Jew­ish Jour­nal, and an intel­lec­tu­al prop­er­ty attor­ney in Los Angeles.
Jonathan Kirsch is the author of the best-sell­ing The Har­lot by the Side of the Road and A His­to­ry of the End of the World, the book edi­tor of the Jew­ish Jour­nal, and a long­time con­trib­u­tor of book reviews to the Los Ange­les Times. He lives in Los Ange­les, California.