Jonathan Kirsch, book edi­tor of
The Jew­ish Jour­nal
, con­tributes book reviews to the print and online edi­tions and blogs at
www​.jew​ishjour​nal​.com/​t​w​e​l​v​e​t​welve
. Ear­li­er this week, he wrote about Jew­ish resis­tance, restor­ing Her­schel Gryn­sz­pan to the pages of his­to­ry, Her­schel Gryn­sz­pan's scan­dalous the­o­ry of defense, and Kristall­nacht. He has been blog­ging here all week for Jew­ish Book Coun­cil and MyJew­ish­Learn­ing.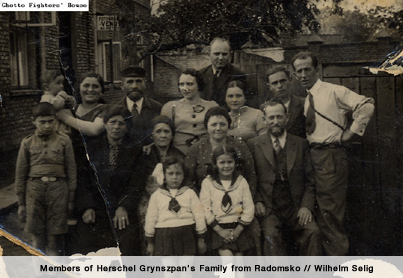 "I've dic­tat­ed a sharp arti­cle against the Jews," Joseph Goebbels boast­ed in a jour­nal entry in 1933. ​"At its mere announce­ment, the whole mis­ch­poke [sic] broke down."
The word used by the noto­ri­ous pro­pa­gan­da chief of the Nazi par­ty is a man­gled ver­sion of the Yid­dish word for ​'fam­i­ly' (mish­pocheh), and it con­veys the cru­el­ty and con­tempt that the Nazis held for the Jew­ish peo­ple. To hear the mamaloshen fall from the lips of a man who seeks to mur­der every Jew­ish man, woman, child and baby with­in his reach car­ries a spe­cial kind of horror.
I quote the jour­nal entry in my new book, The Short, Strange Life of Her­schel Gryn­sz­pan: A Boy Avenger, a Nazi Diplo­mat and a Mur­der in Paris (Liv­eright), and I use ​"mish­pocheh' as a kind of leit­mo­tif in the sto­ry I tell. At the age of 15, Her­schel was sent out of Nazi Ger­many by his dot­ing moth­er and father, and the boy was passed along from uncle to uncle until he final­ly reached Paris, where he was giv­en a place to live by his Uncle Abra­ham. They were all trag­i­cal­ly wrong in assum­ing that France offered a safe refuge for the Gryn­sz­pans, but they act­ed loy­al­ly and coura­geous­ly in an effort to save the life of the youngest mem­ber of the family.
While liv­ing in Paris, Her­schel learned that his moth­er, father and old­er sib­lings back in Ger­many had been arrest­ed by the Nazis and dri­ven at gun­point into the no-man's‑land on the Pol­ish bor­der along with some 12,000 oth­er Pol­ish Jews. Her­schel was so dis­traught over the fate of his cher­ished fam­i­ly that he bought a revolver, con­trived a ruse that allowed him to enter the Ger­man embassy in Paris, and assas­si­nat­ed a minor Ger­man diplo­mat as an act of protest and resis­tance. Iron­i­cal­ly, Her­schel and the uncle who shel­tered him in Paris did not sur­vive, but his father and broth­er were still alive to tes­ti­fy at Adolf Eichmann's tri­al in Jerusalem in 1961.
As it hap­pens, I first heard the sto­ry of Her­schel Gryn­sz­pan from one of my own mish­pocheh — my late father, Robert Reuven Kirsch. He was a lit­er­ary crit­ic for the Los Ange­les Times for near­ly thir­ty years and the author of many books of his own, and he told me in the late 1970s about the nov­el he intend­ed to write about Herschel's life and exploits. Sad­ly, my father fell ill and passed away before he could under­take the project, but I nev­er for­got the strange and even scan­dalous details of Herschel's life sto­ry. I decid­ed to hon­or the mem­o­ry of my beloved father by writ­ing the book that he did not live long enough to write.
That's why the word mish­pocheh appears for the first time in my biog­ra­phy of Her­schel Gryn­sz­pan on the ded­i­ca­tion page: ​"For my father, Robert … and the mish­pocheh for whom [his] mem­o­ry is a blessing."
Jonathan Kirsch is author of 13 books, book edi­tor of The Jew­ish Jour­nal, and an intel­lec­tu­al prop­er­ty attor­ney in Los Angeles.
Bonus Read­ing: Check out Nation­al Jew­ish Book Award Win­ner Daniel Tor­day​'s sto­ry about Her­schel Gryn­sz­pan for Five Chap­ters, in which he imag­ines Her­schel was still alive, liv­ing in Brook­lyn, and owned a record store.
Jonathan Kirsch is the author of the best-sell­ing The Har­lot by the Side of the Road and A His­to­ry of the End of the World, the book edi­tor of the Jew­ish Jour­nal, and a long­time con­trib­u­tor of book reviews to the Los Ange­les Times. He lives in Los Ange­les, California.