This week on the Vis­it­ing Scribe, Rebec­ca Miller will be shar­ing texts that shed light on Jew­ish life in eigh­teenth-cen­tu­ry France, the set­ting of her new nov­el,
Jacob's Fol­ly
(Far­rar, Straus and Giroux). She will be blog­ging here all week for Jew­ish Book Coun­cil and MyJew­ish­Learn­ing.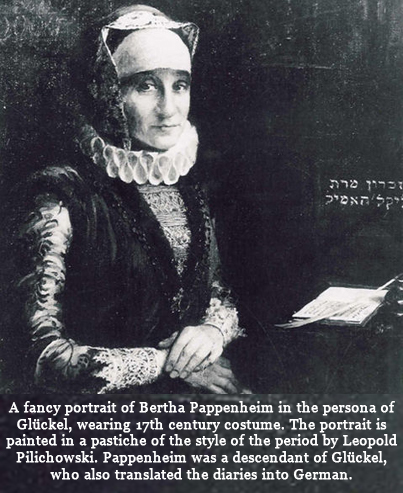 Gluck­el of Hameln was an intre­pid busi­ness­woman, a moth­er of twelve chil­dren, a pas­sion­ate wife, and a mem­oirist. She died in 1724, at the age of sev­en­ty-eight. Her mem­oirs are a rare win­dow into the life of Euro­pean Jew­ish women of the peri­od. What struck me most vivid­ly by her account of her days was her abil­i­ty to bridge a busi­ness career (oth­er­wise known as finan­cial sur­vival) and fam­i­ly con­cerns, liv­ing a uni­fied, if exhaust­ing, life.
"My father had me betrothed when I was a girl of bare­ly twelve, and less than two years lat­er I mar­ried." So ends Gluckel's child­hood. As often hap­pened, Gluckel's mar­i­tal deal includ­ed her being export­ed to anoth­er town. In this case, she was crammed into a peas­ant cart along with the rest of the wed­ding par­ty (her moth­er was much put out, hav­ing expect­ed car­riages) and bus­tled off to the ​"dull and shab­by hole" of Hameln, a small vil­lage. ​"There I was, a care­free child whisked in the flush of youth from my par­ents, friends, and every­one I knew, from a city like Ham­burg into a back-coun­try town where lived only two Jews." After the wed­ding fes­tiv­i­ties were over, how­ev­er, Gluck­el adapt­ed fast. She adored her father-in-law. After a year, how­ev­er, her young husband's ambi­tions were too big for Hameln and the mar­ried chil­dren moved to Ham­burg, liv­ing with Gluckel's fam­i­ly, where her father's ​"pack of ser­vants" helped them with dai­ly life. There, as it was the fash­ion among gen­tiles to ​"wear sol­id gold chains, and gifts were all in gold", her teenaged hus­band trad­ed in gold, ​"ply­ing his trade from house to house, to buy up the pre­cious met­al. Then he turned it over to gold­smiths, or resold it to mer­chants about to be mar­ried; and he earned there­by a tidy prof­it." In addi­tion to these efforts, Gluck­el calls her hus­band ​"the per­fect pat­tern of the pious Jew"; he set aside fixed times to study Torah each day, and fast­ed Mon­days and Thurs­days, to such an extent that he com­pro­mised his health. He was a tow­er of patience. In its matu­ri­ty, their rela­tion­ship was both har­mo­nious and, in its way, egal­i­tar­i­an. Refer­ring to the fact that her hus­band asked her advice about a busi­ness deci­sion, Gluck­el effus­es, ​"my hus­band did noth­ing with­out my knowledge."
By the time she was fif­teen, Gluck­el was preg­nant, ​"and my moth­er along with me." Coin­ci­den­tal­ly, both moth­er and daugh­ter deliv­ered with­in a week of each oth­er. They both had girls, ​"so there was nei­ther envy nor reproach between us." End­less vis­i­tors arrived in the house­hold, anx­ious to see ​"the mar­vel, a moth­er and daugh­ter togeth­er in child bed." But the sit­u­a­tion could prove con­fus­ing. One night, Gluckel's moth­er picked up the wrong baby to suck­le, caus­ing great alarm when Gluck­el woke up and found her baby's cra­dle emp­ty. All was well in the end, but not after a furi­ous argu­ment as to whose baby was whose. ​"A lit­tle more, and we'd had to sum­mon the blessed King Solomon himself."
After a year, Gluckel's lit­tle fam­i­ly struck out on their own, rent­ing a house and engag­ing ​"a manser­vant and a maid." The manser­vant, Abra­ham, looked after the chil­dren. So, the con­cept of a ​'man­ny' is in fact not new. Abra­ham, Gluck­el notes proud­ly, went on to mar­ry and become a suc­cess­ful busi­ness­man ​"worth 10,000 Reichthalers or more"; with­in the Jew­ish com­mu­ni­ty, servi­tude was not a class-dic­tat­ed con­di­tion. One made one's own cir­cum­stances to a large degree. Those with less worked for those who had more, until the ser­vants changed their cir­cum­stances, at which point the lucky or indus­tri­ous ones became employers.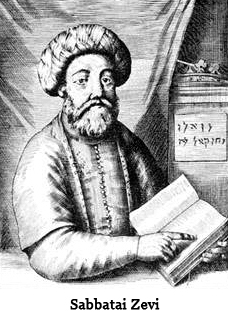 It was in Gluckel's life time that the false Mes­si­ah, Sab­batai Zevi, achieved enor­mous fame. Thou­sands of Jews, among them her father-in-law, became con­vinced that Zevi was in fact the mes­si­ah. Through­out the world Jew­ish fam­i­lies rent them­selves with repen­tance, prayer, and char­i­ty. Gluckel's father-in-law packed chests with dried meat and dates for the trip to the holy land, and wait­ed for the call to join the Mes­si­ah. But Sab­batai Zevi, who may have been suf­fer­ing from delu­sions, or was pos­si­bly just a char­la­tan, was arrest­ed in Turkey and con­vert­ed to Islam. It was in part the col­lec­tive depres­sive void that fol­lowed his unmask­ing which made space for the Hasidim, and their rad­i­cal mes­sage of joy­ful worship.
At the age of four­ty-four, Gluckel's faith was test­ed on her beloved's death bed. As her man lay dying, Gluck­el, who was hav­ing her menses and hence was for­bid­den to touch her hus­band, asked trans­gres­sive­ly, ​"Dear­est heart, shall I embrace you — I am unclean?" but he answered: ​"God for­bid, my child — it will not be long before you take your cleans­ing (rit­u­al bath that Ortho­dox women take after men­stru­a­tion and child­birth)." He died lat­er that day and so she nev­er got to kiss him one last time. The mas­sive strug­gle of self con­trol she went through in those final moments must have been a torment.
Once wid­owed, Gluck­el redou­bled her efforts at busi­ness, trad­ing in gems, lend­ing mon­ey, trav­el­ling fre­quent­ly. She amassed a tidy for­tune and man­aged to mar­ry off all her chil­dren, but then remar­ried a man with no busi­ness sense who lost her mon­ey. She end­ed up in the home of one of her daugh­ters. Yet there is no trace of bit­ter­ness in Gluckel's mem­oirs. She is, rather, a joy­ful, enter­pris­ing sur­vivor, filled to the brim with life — even now, three hun­dred years after her death, her life force burns from the page.
Read more about Jacob's Fol­ly and Rebec­ca Miller here.
Rebec­ca Miller | Jew­ish Book Coun­cil
Rebec­ca Miller
​
'
s most recent book,
Jacob's Fol­ly
, is now avail­able. She is also the author of the short sto­ry col­lec­tion
Per­son­al Veloc­i­ty
and the nov­el
The Pri­vate Lives of Pip­pa Lee
, which has been pub­lished in over thir­ty coun­tries.