Jonathan Kirsch, book edi­tor of
The Jew­ish Jour­nal
, con­tributes book reviews to the print and online edi­tions and blogs at
www​.jew​ishjour​nal​.com/​t​w​e​l​v​e​t​welve
. Ear­li­er this week, he wrote about Jew­ish resis­tance and restor­ing Her­schel Gryn­sz­pan to the pages of his­to­ry. He will be blog­ging here all week for Jew­ish Book Coun­cil and MyJew­ish­Learn­ing.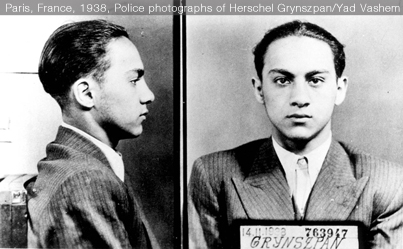 At the age of
17
, as a refugee from Nazi Ger­many liv­ing ille­gal­ly in Paris, Her­schel Gryn­sz­pan saw the world in
1938
as a dire and dan­ger­ous place, a per­cep­tion that he shared with all of his fel­low Jews. Unlike them, how­ev­er, he was capa­ble of imag­in­ing the atroc­i­ties that the Ger­mans would be will­ing to car­ry out in the next few years, and he resolved to call atten­tion to the plight of the Jews by assas­si­nat­ing a Nazi diplo­mat. That's the sto­ry I tell in my new book,
The Short, Strange Life of Her­schel Gryn­sz­pan: A Boy Avenger, a Nazi Diplo­mat and a Mur­der in Paris
(Liv­eright).
"I have to protest in a way that the whole world hears my protest," he wrote to his par­ents in a con­fes­sion­al post­card that he was unable to mail before his arrest, ​"and this I intend to do."
Her­schel is not the only young Jew who showed more vision and more courage than his elders in those ter­ri­ble times. After all, it was the youth­ful activists of the Bund and the Zion­ist move­ment, both left and right, who band­ed togeth­er in the ghet­to upris­ings in War­saw and else­where while some old­er and sup­pos­ed­ly wis­er mem­bers of the Juden­rat coop­er­at­ed with the Ger­mans in draft­ing the depor­ta­tion lists. (To be sure, young peo­ple can be impul­sive and even reck­less — we have seen yet more evi­dence of this fact in recent head­lines — but we should not deny that some­times a hot­head­ed boy can be right.)
Yet it is the young ghet­to fight­ers who are remem­bered, hon­ored and cel­e­brat­ed, while Her­schel Gryn­sz­pan is almost whol­ly ignored.
More than one rea­son can be cit­ed to explain why Gryn­sz­pan has been dero­gat­ed, dimin­ished and some­times entire­ly left out of the his­to­ry of Jew­ish resis­tance dur­ing the Sec­ond World War. In my book, I explore all of the rumor and spec­u­la­tion that has attached itself to the Gryn­sz­pan case, includ­ing a cat­a­logue of con­spir­a­cy the­o­ries, some focus­ing on the Jews and some on the Nazis, which have been offered to explain his exploits. (Han­nah Arendt embraced one of the more bizarre the­o­ries in Eich­mann in Jerusalem.) One rea­son, how­ev­er, stands out.
At a cru­cial moment in the Gryn­sz­pan case, when the boy was await­ing his mur­der tri­al in Paris, Herschel's attor­ney made a remark­able pro­pos­al to his client. The French were fear­ful of war with Ger­many, he point­ed out, and no jury would dare to acquit him of the crime if they believed that he had mur­dered a Nazi diplo­mat as a ges­ture of protest against the Third Reich. But what if his motive was some­thing more inti­mate? What if the Nazi diplo­mat whom he killed was a sex­u­al preda­tor who had seduced and then aban­doned him? If so, the attor­ney sug­gest­ed, the jury might be per­suad­ed to regard the whole affair as case as a crime pas­sionelle rather than a polit­i­cal assassination.
Gryn­sz­pan reject­ed the scan­dalous the­o­ry of defense and insist­ed on jus­ti­fy­ing his crime as a legit­i­mate act of protest against Nazi mis­treat­ment of the Jew­ish peo­ple. The idea was aban­doned by his attor­ney, who dis­missed Her­schel as ​"that absurd lit­tle Jew," but not by Her­schel him­self. Once in Ger­many cus­tody, utter­ly alone in a Gestapo cell, he saw a sin­gle way to frus­trate Hitler's plan for a show tri­al. If put on tri­al, he coura­geous­ly told his inter­roga­tors, he would tes­ti­fy that he mur­dered the Nazi diplo­mat as an act of revenge against a homo­sex­u­al preda­tor who had ruined and betrayed him.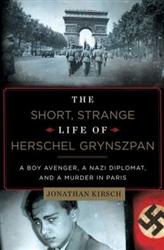 Here was Herschel's sin­gle great­est act of courage and vision. He under­stood that the Nazis hat­ed homo­sex­u­als as much as they hat­ed Jews, and he rec­og­nized that they would not stage a show tri­al if he were to sul­ly the hon­or of the Third Reich by char­ac­ter­iz­ing his vic­tim as a gay man. The deci­sion was made by Hitler him­self after he had been warned of Herschel's inten­tions by the tri­al plan­ners, and the elab­o­rate script that had been pre­pared for the Gryn­sz­pan tri­al was shelved. Her­schel had sab­o­taged the Nazi plans for a pro­pa­gan­da coup, but he also man­aged to cast a shad­ow over his own motives. ​"I guar­an­tee you, if every­thing about Grynszpan's case was the same, except that he slept with Anne Frank," wrote jour­nal­ist Jonathan Marks in the New York Jew­ish Week in 2010, ​"there'd be floats in his hon­or at the Salute to Israel Parade."
No hard his­tor­i­cal evi­dence sup­ports the alle­ga­tion that he had been seduced and aban­doned by the man he assas­si­nat­ed. Indeed, we do not know with cer­tain­ty whether or not Her­schel was gay at all. But it is beyond seri­ous debate that the explo­sive issue of sex­u­al ori­en­ta­tion that he inject­ed into the case while in Ger­man cus­tody cast a pall over his exploits. The Nazis were hard­ly the only homo­phobes, then or now, and his avowed sex­u­al ori­en­ta­tion may help us under­stand why he is treat­ed so cool­ly even in Jew­ish circles.
Jonathan Kirsch is author of 13 books, book edi­tor of The Jew­ish Jour­nal, and an intel­lec­tu­al prop­er­ty attor­ney in Los Angeles.
Jonathan Kirsch is the author of the best-sell­ing The Har­lot by the Side of the Road and A His­to­ry of the End of the World, the book edi­tor of the Jew­ish Jour­nal, and a long­time con­trib­u­tor of book reviews to the Los Ange­les Times. He lives in Los Ange­les, California.