Jonathan Kirsch, book edi­tor of The Jew­ish Jour­nal, con­tributes book reviews to the print and online edi­tions and blogs at www​.jew​ishjour​nal​.com/​t​w​e​l​v​e​t​welve. His most recent book, The Short, Strange Life of Her­schel Gryn­sz­pan: A Boy Avenger, a Nazi Diplo­mat, and a Mur­der in Paris, was pub­lished under the Liv­eright imprint of W. W. Nor­ton to coin­cide with the 75th anniver­sary of Kristall­nacht. He will be blog­ging here all week for Jew­ish Book Coun­cil and MyJewishLearning.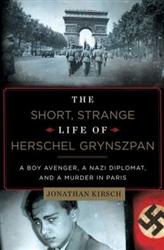 Last month, short­ly before the anniver­sary of the War­saw Ghet­to upris­ing, my wife, Ann, and I took a tour of Terezín, the fortress near Prague where more than 100,000 Jew­ish men, women and chil­dren were briefly held by the Ger­mans and their accom­plices in a tran­sit camp before being sent on to the death fac­to­ries and the killing fields.
Our local guide felt it appro­pri­ate to tell us that the Jews in their tens of thou­sands were guard­ed only by 22 SS men.
The guide was dead wrong. "[B]y the end of 1941, [Terezín] housed some 7,000 Ger­man sol­diers and Czech civil­ians," writes Saul Friedlän­der in The Years of Exter­mi­na­tion, the sec­ond vol­ume of his mas­ter­work, Nazi Ger­many and the Jews. But the sub­text of the guide's remark is not dif­fer­ent from the ques­tion that Israeli pros­e­cu­tor Gideon Haus­ner asked the sur­vivors who appeared as wit­ness­es at the Eich­mann tri­al: Why did you not fight back?
A good deal of Holo­caust schol­ar­ship, in fact, has been devot­ed to show­ing that the Jews did fight back in greater num­bers and more var­i­ous ways than our guide at Terezín was will­ing to admit. Yehu­da Bauer has adopt­ed the word Ami­dah, a ref­er­ence to the ​"stand­ing prayer" that is the cen­ter­piece of the syn­a­gogue ser­vice, to hon­or the Jews who ​"stood up" against the Ger­mans and their col­lab­o­ra­tors, some with ​"cold" weapons like sticks and stones, some with ​"hot" weapons like guns and bombs, some by smug­gling food and med­i­cine, and some by teach­ing a few words of Hebrew to the chil­dren before their lives were tak­en from them.
The ques­tion of Jew­ish resis­tance is sore point for me, too. When I set out to tell the sto­ry of Her­schel Gryn­sz­pan, a 17-year-old boy who was among the ear­li­est Jews to engage in an act of armed protest against Nazi Ger­many, I was both sad­dened and puz­zled at the way he had been whol­ly writ­ten out of his­to­ry, and as much by the Jew­ish com­mu­ni­ty as by the rest of the world. At a time when the Jew­ish world was ter­ror­ized by the Nazis, Her­schel sought to call the world's atten­tion to their plight, but he was shunned at the time and for­got­ten afterwards.
Why, then, is Her­schel Gryn­sz­pan not cel­e­brat­ed as the hero he ful­ly intend­ed to be? ​"To bring the atten­tion of the world to what was being done to the Jews was an act of resis­tance," Prof. Friedlän­der told me in an inter­view. ​"Why Her­schel Gryn­sz­pan has been over­looked, even if his act had unfor­tu­nate con­se­quences, is strange and baffling."
That's pre­cise­ly the ques­tion I sought to answer in my new book, The Short, Strange Life of Her­schel Gryn­sz­pan: A Boy Avenger, a Nazi Diplo­mat and a Mur­der in Paris (Liv­eright). And it's a ques­tion I will explore in my sub­se­quent post­ings as a guest blog­ger for the Jew­ish Book Council.
As it turns out, I found a few clues to the mys­tery in Herschel's scan­dalous life sto­ry, and I look for­ward to shar­ing them with you.
Jonathan Kirsch is author of 13 books, book edi­tor of The Jew­ish Jour­nal, and an intel­lec­tu­al prop­er­ty attor­ney in Los Angeles.
Jonathan Kirsch is the author of the best-sell­ing The Har­lot by the Side of the Road and A His­to­ry of the End of the World, the book edi­tor of the Jew­ish Jour­nal, and a long­time con­trib­u­tor of book reviews to the Los Ange­les Times. He lives in Los Ange­les, California.