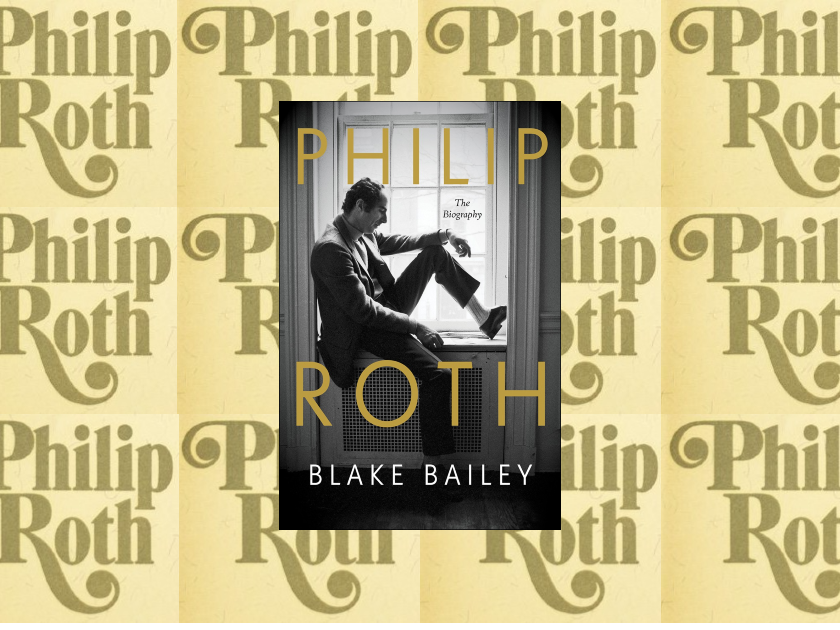 Dis­tin­guished lit­er­ary biog­ra­ph­er Blake Bai­ley observes, ​"If you tell the whole truth about a per­son their human­i­ty comes through." Author of A Trag­ic His­to­ry: The Life and Work of Richard Yates (2003) and Cheev­er: A Life (2009), among oth­er titles, Bailey's lat­est work is the mon­u­men­tal Philip Roth: The Biog­ra­phy. Don­ald Weber spoke to Bai­ley on the chal­lenges in tak­ing on Roth as a sub­ject, his auto­bi­o­graph­i­cal play­ful­ness, and his critics.
Don­ald Weber: Tak­ing on the fig­ure of Roth would seem, at first, like a rad­i­cal depar­ture from your pre­vi­ous biogra­phies of John Cheev­er or Richard Yates. When Roth inter­viewed you about becom­ing his prospec­tive biog­ra­ph­er, he asked ​"Why ​'a gen­tile from Okla­homa should write [his] biog­ra­phy?'" What drew you to Philip Roth as a sub­ject for biography?
Blake Bai­ley: My answer to Philip's ques­tion about my Okie gen­tile­ness was, I think, rough­ly the answer he want­ed to hear: ​"I'm not a bisex­u­al alco­holic with an ancient Puri­tan lin­eage, but I wrote a biog­ra­phy of John Cheev­er." Through­out his career, Philip repeat­ed­ly said (in so many words), ​"I'm not a Jew­ish Amer­i­can writer. I'm an Amer­i­can writer who hap­pens to be a Jew." Maybe we should take this with a grain of salt, giv­en the dom­i­nance of Jew­ish themes in his work, but anoth­er major theme was the Jew­ish (or Black, in the case of Cole­man Silk) hero's rejec­tion of his own com­mu­ni­ty so that he can pur­sue his own inter­ests, be they artis­tic or oth­er­wise — the ​"I against the They," as Philip put it. As a bio­graph­i­cal sub­ject, I think Philip actu­al­ly pre­ferred not being judged pri­mar­i­ly as a Jew or by a Jew, which is not to say that he had a prob­lem with Jew­ish­ness per se. Philip loved being a Jew and liv­ing among Jews on the Upper West Side.
DW: In his Paris Review inter­view with Hermione Lee, Roth famous­ly explained his lit­er­ary method: ​"Mak­ing fake biog­ra­phy, fake his­to­ry, con­coct­ing a half-imag­i­nary exis­tence out of the actu­al dra­ma of my life is my life. There has to be some plea­sure in this job, and that's it. To go around in dis­guise. To act a char­ac­ter. To pass one­self off as what one is not. To pre­tend." As his biog­ra­ph­er, how did you nav­i­gate between your subject's fab­ri­cat­ing impulse and what he called, per­haps also with a sly wink, ​"the facts" of his life?
BB: Roth's col­lab­o­ra­tion with me was a dif­fer­ent exer­cise from writ­ing fic­tion. In every­day life, and cer­tain­ly in his own biog­ra­phy, he prized accu­ra­cy above all. Because he'd trans­mut­ed so much of the raw mate­r­i­al of his life into fic­tion, he did have a ten­den­cy to mis­re­mem­ber cer­tain episodes — such as var­i­ous details relat­ing to his first wife's trick­ing him into mar­riage with false urine that she'd pur­chased from an obvi­ous­ly preg­nant woman in Tomp­kins Square. The essen­tial sto­ry is true, but he'd tried to make fic­tion out of it so many times — hun­dreds of times! — that he could no longer dis­tin­guish between imag­i­na­tion and fact. When I would show him proof that he'd mis­re­mem­bered some­thing, he was apt to con­cede the fal­li­bil­i­ty of his own memory.
DW: Dis­cussing Roth's Portnoy's Com­plaint, which caused sub­stan­tial offence among some of his Jew­ish read­ers and some crit­ics in 1969, you speak of the nov­el as a ​"cru­cial break­through," in con­trast to Irv­ing Howe, who described it in 1972 as ​"a shriek of excess." Why did Port­noy cause such a stir at the time, espe­cial­ly among Jew­ish read­ers? Revis­it­ing the nov­el a half-cen­tu­ry lat­er, do you think Port­noy con­tin­ues to offend?
BB: I like to think that Port­noy is endur­ing­ly offen­sive, yes, inso­far as it's one of the filth­i­est books — per­haps the filth­i­est great book, peri­od — ever writ­ten. As a sup­posed indict­ment of Jew­ish life, not so much. When the Jew­ish The­o­log­i­cal Sem­i­nary award­ed Roth an hon­orary degree in 2014, they were essen­tial­ly prof­fer­ing a peace pipe — or throw­ing in the tow­el. ​"Roth has won," the For­ward announced two years before; ​"Amer­i­can Jews today are more the heirs of Port­noy than of his upright com­mu­ni­ty. … We can laugh today because we are no longer com­pelled to cry." In short, times have changed. As for why it caused so much out­rage in the first place, well, I sug­gest read­ers revis­it the nov­el and reach their own conclusions.
DW: Look­ing back, Roth reflect­ed that Port­noy ​"takes delight in his own griev­ances." You speak of Roth ​"try­ing to gain per­spec­tive on a griev­ance that would not leave him in peace, as a writer or as a man." Why was Roth so afflict­ed by griev­ance, and yet so cre­ative­ly inspired by what drove him crazy?
BB: Quite sim­ply, if Roth weren't such an obses­sive per­son­al­i­ty, he wouldn't have been a writer in the first place — or rather, he wouldn't be one of the great­est writ­ers who ever lived. Let Roth speak for him­self: ​"Over com­mit­ment for a writer is the name of the game. There's no oth­er way to per­se­vere up against the obsta­cle that writ­ing fic­tion presents. … The inten­si­ty, the inten­si­ty — it kills you and it makes you all at once." Also, con­sid­er the rel­a­tive breezi­ness and charm of Roth's first book, Good­bye, Colum­bus, as opposed to many of the works that fol­lowed — that is, after he'd been reviled as a self-hat­ing Jew, sex fiend, misog­y­nist, and so on. Roth had an impi­ous, pro­vok­ing nature and brought much of this on him­self, and he kept on pro­vok­ing as griev­ances mount­ed on both sides: a vicious cycle?
DW: In a key obser­va­tion you state, ​"One of Roth's break­throughs was a deter­mi­na­tion to ​'let the repel­lent in' — a phrase that would assume the force of a man­i­festo over the years." How did Roth trans­form and trans­late the ​"repel­lent" into art?
BB: For its trans­la­tion into art, see Port­noy's Com­plaint, Sabbath's The­ater, et al. As for its real-life ori­gins: Chekhov had to ​"squeeze the serf out of [him­self] drop by drop," and like­wise Roth was deter­mined to squeeze the Nice Jew­ish Boy out of him­self drop by drop (he nev­er quite suc­ceed­ed). The Nice Jew­ish Boy wrote sen­si­tive appren­tice fic­tion in the mode of Capote and Salinger; the Nice Jew­ish Boy was so eager to be a men­sch that he mar­ried a woman whose com­pa­ny he'd come to dread. The lat­ter ordeal made him seethe with griev­ance the rest of his life, and the main out­let for that was his writing.
In the nov­el Nathan comes to the wrench­ing con­clu­sion that he has to reject his fam­i­ly for his art — a deci­sion Roth nev­er had to make, since his dot­ing par­ents sup­port­ed him no mat­ter what the rab­bis said.
DW: In light of Roth's por­tray­al of women in his fic­tion, and the charge of misog­y­ny — an accu­sa­tion which he detest­ed and stren­u­ous­ly defend­ed him­self against — I was struck by how, over the years, he came to rely on female read­ers to whom he sent drafts of his nov­els-in-progress: Roslyn Schloss, Veron­i­ca Geng, Judith Thur­man, Hermione Lee, Clau­dia P. Roth, Lisa Hal­l­i­day, among them. Can you speak on this?
BB: That was Philip's posi­tion: all his life he'd had friend­ships with for­mi­da­ble intel­lec­tu­al women; his lawyers were women, his favorite edi­tors were women, his first agent was a woman, his life­long men­tor from Buck­nell, Mil­dred Mar­tin, was a woman. On the oth­er hand: Philip didn't have a monog­a­mous bone in his body, and was quite capa­ble of sex­u­al­ly objec­ti­fy­ing women and mak­ing taste­less jokes about it, many of which he wrote down in his nov­els. Also, he mar­ried a famous actress who resent­ed his adul­tery and aban­don­ment and wrote a book about it. So it's messy.
DW: In a recent essay, Nicole Krauss speaks mov­ing­ly of her friend­ship with Roth and his advice about appro­pri­at­ing per­son­al expe­ri­ence and his­to­ry for the pur­pos­es of art. Roth exem­pli­fies a writer ​"plun­der­ing from life." Your work, Philip Roth,reveals again and again Roth ​"can­ni­bal­iz­ing" his own sto­ry. As his biog­ra­ph­er, how did Roth's habit of ​"plun­der­ing" shape your own approach to telling his life story?
BB: In just about every case, I knew pre­cise­ly where fic­tion and real­i­ty diverged — and if I didn't know, I sim­ply had to ask. For exam­ple, Philip took an almost play­ful (or per­verse) plea­sure in admit­ting to me that most of ​"Philip's" trans­gres­sions in his nov­el Decep­tion—the Eng­lish mis­tress and oth­er illic­it affairs — are based on fact. In the case of Port­noy, though, he was always indig­nant that so many read­ers had sim­ply accept­ed the nov­el as (most­ly) a con­fes­sion. The truth, as I say in my book, is com­pli­cat­ed, and I try to spell that out as pre­cise­ly as possible.
DW: What's your sense of Roth's influ­ence on younger writ­ers? Can we speak of a Roth­i­an lega­cy to the ris­ing gen­er­a­tion? (Roth invit­ed Zadie Smith to give the Inau­gur­al Philip Roth Lec­ture at the Newark Pub­lic Library in 2016.)
BB: The main les­son is the one Zadie Smith explains in her Philip Roth Lec­ture: ​"I know that I stole Portnoy's lib­er­ties long ago. … He is part of the rea­son, when I write, that I do not try to cre­ate pos­i­tive Black role mod­els for my Black read­ers, and more gen­er­al­ly have no inter­est in con­jur­ing ide­al humans for my read­ers to emu­late." It was a point Philip made in var­i­ous ways through­out his career: Ham­let does not stand for all Danes, Raskol­nikov for all Rus­sians or stu­dents, Oth­el­lo for all Moors, nor does Port­noy stand for all Jews, Mau­reen Tarnopol (in My Life as a Man) for all women, and so on. Let the repel­lent in; lit­er­a­ture is not propaganda.
DW: The open­ing sec­tions of the biog­ra­phy offer a rich por­trait of Roth's fam­i­ly his­to­ry, above all the immi­grant gen­er­a­tion of his father, Her­man. Roth cel­e­brat­ed that gen­er­a­tion — par­tic­u­lar­ly in The Plot against Amer­i­ca—speak­ing of his father as ​"very much a man in the mid­dle for most of his life. To nego­ti­ate from the middle…became not only his task but the endeav­or of his entire gen­er­a­tion." Roth kept in touch with var­i­ous fam­i­ly mem­bers over the years. At the same time, one of Roth's core themes, as you note, is ​"The I against the They." How did this ten­sion, between Her­man as father-in-the-his­tor­i­cal mid­dle and Roth as son, him­self gen­er­a­tional­ly in the mid­dle (between World War II and Viet­nam), shape Roth's lit­er­ary and polit­i­cal imagination?
BB:In the first nov­el of the Zuck­er­man cycle, The Ghost Writer, the hero's beloved father begs him to dis­avow a short sto­ry based on a fam­i­ly squab­ble, because gen­tiles will read it as a sto­ry about ​"Kikes and their love of mon­ey." In the nov­el Nathan comes to the wrench­ing con­clu­sion that he has to reject his fam­i­ly for his art — a deci­sion Roth nev­er had to make, since his dot­ing par­ents sup­port­ed him no mat­ter what the rab­bis said. The young Roth, flow­er­ing intel­lec­tu­al­ly — and a lit­tle pre­ten­tious as flow­er­ing young intel­lec­tu­als will be — went through a bit­ter phase vis-à-vis ​"philistines" like his insur­ance-sales­man father, his comme il faut moth­er, but came to appre­ci­ate their decen­cy, work eth­ic, and total devo­tion to him.
Don­ald Weber writes about Jew­ish Amer­i­can lit­er­a­ture and pop­u­lar cul­ture. He divides his time between Brook­lyn and Mohe­gan Lake, NY.