On Tues­day, Jake Marmer wrote about poems as a noisy mediter­ranean duplex. He has been blog­ging here all week for Jew­ish Book Coun­cil and MyJew­ish­Learn­ing.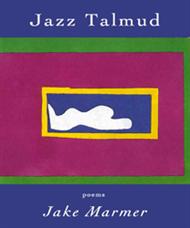 Reput­ed­ly, Rach­mani­noff once said: ​"There's no such thing as inspi­ra­tion. You sit down and do the work." There's so much to like about the quote! I think mae­stro must have seen art– in his case, music – as some­thing of a dai­ly prac­tice; cer­tain anti-cli­mat­ic qual­i­ty of his pro­nounce­ment is also a promise for con­sis­ten­cy. He would prob­a­bly agree that the inten­tion­al seek­ing or dig­ging isn't called inspi­ra­tion – curios­i­ty maybe – so, just start talk­ing. Or hum­ming, whatever.
Work­ing on the last stages of my new book,
Jazz Tal­mud
, I was lucky to have the men­tor­ship of
Stan­ley Moss
, my editor/​publisher, and also a real­ly excel­lent poet. I've nev­er agreed with any­one offer­ing me edi­to­r­i­al advice as much as I did with Stan­ley. Except for this one thing.
As we chat­ted and told each oth­er sto­ries, he kept prod­ding me to write down some of the sto­ries I told him as poems. He also point­ed out cer­tain sig­nif­i­cant aspects of my life I've nev­er dis­cussed in poet­ry – and thought it was a mis­take to keep avoid­ing them. He pushed hard for these pieces. In prin­ci­ple, I agreed; for the ten or so pieces he com­mis­sioned, I went through numer­ous drafts, arrived at forms that were new to me, had a lot of fun. Ulti­mate­ly, it was all garbage, and to the garbage it went.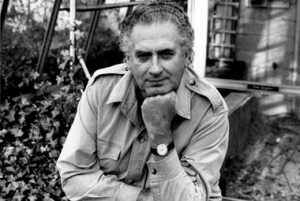 But, while labor­ing on the com­mis­sioned pieces, between the cracks, I wrote notes – sketch­es – for oth­er pieces, com­plete­ly unre­lat­ed, more dis­trac­tions than com­po­si­tions. Those sketch­es actu­al­ly worked and end­ed up as poems; on-demand stuff prob­a­bly nev­er will. We all have our lit­tle tricks. Mine, turned out, is sit­ting down to do one thing and get­ting dis­tract­ed into some­thing else. There's more free-asso­cia­tive free­dom that way, more poten­tial for play and the unex­pect­ed. I don't know if this con­geals with Rachmaninoff's ethos, but I'd like to think that maybe sit­ting down to write his orches­tra arrange­ments, he veered into solo piano works. Or vice ver­sa.
Here's a piece that grew out of a dis­trac­tion. It's kind of like hav­ing a kid ​
"
by mis­take". Kind of… just with a bit less at stake, I guess.
Guid­ed Med­i­ta­tion
All around you
as far as the eye can see
noth­ing but soup.
Hori­zon, a dan­gling zip­per
of some deity's
pants
.
You're in a boat on loan
from the demon of Mon­day morn­ings.
Ques­tions – birds – it's the fall
there're more of them they form v's
tra­verse the sky towards a shin­ing yel­low bot­tom
of a pot where much bet­ter stuff
is being brewed.
Jake Marmer is a Ph.D. can­di­date in Com­par­a­tive Lit­er­a­ture at

CUNY

and works for Ran­dom House. His first book,
Jazz Tal­mud
, comes out this week.
Jake Marmer is a poet, per­former, and edu­ca­tor. He is the author of three poet­ry col­lec­tions: Cos­mic Dias­po­ra (Sta­tion Hill Press, 2020), as well as The Neigh­bor Out of Sound (2018) and Jazz Tal­mud (2012), both from The Sheep Mead­ow Press. He also released two klez-jazz-poet­ry records: Pur­ple Ten­ta­cles of Thought and Desire (2020, with Cos­mic Dias­po­ra Trio), and Hermeneu­tic Stomp (Blue Fringe Music, 2013). Jake is the poet­ry crit­ic for Tablet Mag­a­zine. Born in the provin­cial steppes of Ukraine, in a city that was renamed four times in the past 100 years, Jake lives in the Bay Area.