Ear­li­er this week, Kim Brooks divulged the lit­tle-known Amer­i­can his­to­ry of World War II before Pearl Har­bor, which inspired her nov­el The House­guest. Kim is blog­ging here all week as part of the Vis­it­ing Scribe series on The ProsenPeo­ple.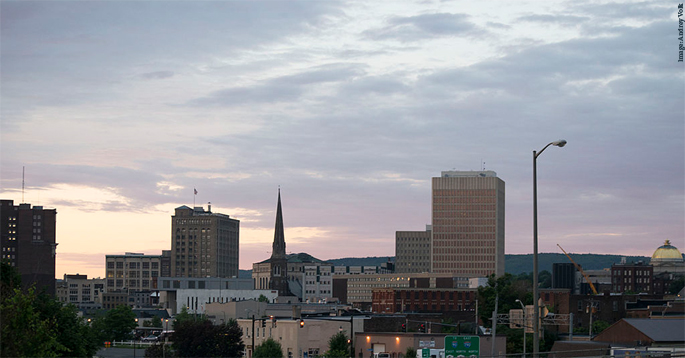 A few weeks ago, I received an email from a man who had seen my nov­el adver­tised in a book­store in Louisville, Kentucky.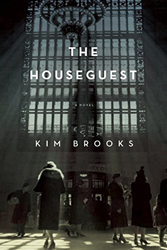 "Dear Kim," he wrote. ​"I have not read The House­guest yet. But I was won­der­ing — how did Uti­ca get select­ed as a loca­tion in the book? My first wife's grand­fa­ther, Bar­ney Levitt, who came from the Ukraine around 1918, ran a scrap yard and hard­ware store called Bar­ney Levitt & Sons in near­by Rome with his sons Son­ny, Bil­ly, and Joe Levitt. Son­ny and Bil­ly lived in Uti­ca, and Joe, my late father-in-law lived in Clin­ton. The big scrap yard in Uti­ca was Kowalsky's, which was found­ed in 1916. Empire Scrap is now Empire Recy­cling and run by my friend Steven Kowalsky."
This mes­sage delight­ed me, though I knew noth­ing of Bar­ney Levitt & Sons or Kowalski's scrap yard, enter­pris­es on which the junk yard of my pro­tag­o­nist, Abe Auer, might have eas­i­ly been based. It delight­ed me because it sug­gest­ed that the strange intu­ition I'd fol­lowed in set­ting parts of my nov­el in Uti­ca, New York, was based on some­thing, if not fac­tu­al­ly, then emo­tion­al­ly true.
The emo­tion or impulse that led me to this unlike­ly set­ting arose, like so much of my fic­tion, from bare­ly-remem­bered child­hood mem­o­ries. My father and both his par­ents were born and raised in Uti­ca, a town that could not be more dif­fer­ent from the one where I grew up — a sub­urb of Rich­mond, Vir­ginia, the heart of the Sun Belt, the sort of city that sucked the eco­nom­ic life from places like Uti­ca. Once or twice each year, I'd vis­it my grand­moth­er there. We'd vis­it the zoo, take a tour of the old brew­ery where kids could get root beer floats, vis­it the var­i­ous parks. Some­times we'd vis­it the down­town, a stretch on Lafayette Street where dai­ly trains had once arrived at the main rail sta­tion, where peo­ple had once eat­en and shopped at Woolworth's and The Boston Store, where vis­i­tors had lodged in the shab­bi­ly ele­gant Hotel Uti­ca. Now, the old build­ings were most­ly closed, the side­walks emp­ty. And yet still it seemed a beau­ti­ful, small, quin­tes­sen­tial­ly Amer­i­can place.
The sum­mers I spent vis­it­ing my grand­moth­er there remain among my fond­est child­hood mem­o­ries, despite — or maybe because of — the fact that I was so struck, even as a child, by the haunt­ed, aban­doned aura that hung over the town. The rur­al sub­urb of my Vir­ginia home had been lit­er­al­ly built on a swamp. It sprung from the inspi­ra­tion of a sev­en­ties devel­op­er: wood­land-cleared, reser­voir-filled, a few thou­sand sin­gle-fam­i­ly homes plopped down as quick­ly and as eco­nom­i­cal­ly as pos­si­ble in a loca­tion where there was nowhere to go and noth­ing to see and noth­ing to do with­out a car. It was a place with­out his­to­ry, or rather, a place that exist­ed com­plete­ly out­side of the his­to­ry of the land on which it sat. Uti­ca, by con­trast, seemed to exist almost entire­ly in the past. Like so many Rust Belt cities, it felt not so much like a liv­ing, breath­ing place as a rem­nant of the com­mu­ni­ty it had once been, a shell of a turn-of-the-cen­tu­ry tex­tile boom­town. I sup­pose this ghost­ly qual­i­ty pen­e­trat­ed my sub­con­scious. It lurked and shift­ed and re-emerged, even­tu­al­ly mak­ing Uti­ca seem like the cor­rect set­ting to begin a nov­el that is large­ly about what it means to hold onto or let go of the past, how it feels to aban­don and to be abandoned.
Kim Brooks is the per­son­al essays edi­tor at Salon and a grad­u­ate of the Iowa Writ­ers' Work­shop. The House­guest is her first novel.
Relat­ed Content:
Kim Brooks, the per­son­al essays edi­tor at Salon, is a grad­u­ate of the Iowa Writ­ers' Work­shop, where she was a Teach­ing-Writ­ing Fel­low. She has been award­ed fel­low­ships by the Mich­en­er-Coper­ni­cus Foun­da­tion, the Cor­po­ra­tion of Yad­do, and the Posen Foun­da­tion. Her sto­ries have been pub­lished in One Sto­ry, Glim­mer Train, The Mis­souri Review, and oth­er jour­nals; she has received four hon­or­able men­tions in the Best Amer­i­can Short Sto­ries series. Her essays have appeared in Salon, New York, and Buz­zfeed. Her mem­oir Small Ani­mals (Flatiron/​Macmillan) is forth­com­ing in 2017. The House­guest is her first novel.
Set­ting a Sto­ry in the Shell of a Rust Belt Boomtown