Ear­li­er this week, Ruchama King Feuer­man wrote about sto­ries from her moth­er's Moroc­can child­hood. Her most recent book, In the Court­yard of the Kab­bal­ist (NYRB LIT), is now avail­able. She will be blog­ging here all week for Jew­ish Book Coun­cil and MyJew­ish­Learn­ing.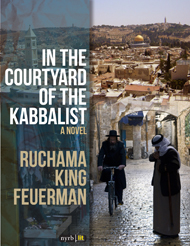 When I was a kid, every morn­ing I'd watch my father shave from my perch on the rim of the bath­tub. After he washed and pat­ted down his face, he'd squeeze body cement onto the bumpy pale wedge where his real ear used to be. Then he'd paste on his rub­ber ear, which gave his head a nice gluey smell. As for the pros­thet­ic ear, it was unno­tice­able, that is, until you noticed it, and then it lent him a curi­ous air, like a man patched togeth­er from scraps and pieces.
He'd stand in front of the bath­room mir­ror, inspect­ing his ear to see if he'd placed it well, and then sto­ries about his own life would start com­ing: the dirt poor Depres­sion years when his moth­er had to use burlap bags as under­wear or dia­pers; how he learned to wres­tle so no one would ever again pick on him because of his ear; the twen­ty-nine rel­a­tives who all lived in one small house in the 1930s, the whole crew sub­sist­ing on Grand­pa Sam's sin­gle salary as a tai­lor; how he became reli­gious in his late twen­ties and so set in motion a generation's return to Judaism. Lat­er, around the Shab­bos table, he told us Has­sidic tales and epic scenes from the Bible. Truth be told, it didn't mat­ter what he was say­ing. He knew just how to pause to make us yearn for the next sen­tence. He was a born storyteller.
My father's sto­ries insin­u­at­ed them­selves so pow­er­ful­ly into my psy­che, that I've often felt I'm liv­ing two exis­tences, my own and his. I'll be scrap­ing the ves­tiges of oat­meal out of a pot, going over my teach­ing sched­ule for the day, when sud­den­ly I'm back in the sum­mer of 1934. I see my father on a July after­noon, play­ing with rocks piled high on the cor­ner of New Hamp­shire Avenue. My eyes swerve past him toward the end of the block, and then I see it, a ​'32 Ply­mouth bar­rel­ing down the road. I want to shout, ​"Get up, run, Dad, stop play­ing with those stu­pid rocks, for God's sake!" but he keeps pil­ing those rocks high, until the Ply­mouth slams and skids into him, even as the dri­ver slams on the brakes. He can't die, I know he can't die, because how else will I get born, and when the ambu­lance comes for him, he's still breath­ing, but his ear hangs by a spi­der thread to his skull. I stand there at the sink, my heart rat­tling crazi­ly in my chest, and final­ly shut off the faucet.
Over time, as I lis­tened to my father's sagas of hor­ri­ble health (at any point in the year he could show up at a hos­pi­tal and get admit­ted), a doomed mar­riage, and sil­ly jobs that nev­er matched his tal­ents, I would think that no father in the world had suf­fered as much as mine. In my eyes, to have sur­vived what he had, along with his hero­ic strug­gles to put bread on the table, made him a myth­ic char­ac­ter. With every tale he told, I couldn't help but hear not just his sto­ries but his Sto­ry, of all his life strug­gles, and to me they became one. Always I felt a scorch­ing pity.
There's a kab­bal­is­tic con­cept, ham­takat hadin, sweet­en­ing the judg­ment. In my own sto­ries, the ones I write, I find there near­ly always has to be some scrap of sweet­ness or redemp­tion. If I look care­ful­ly, I know some­where, some­place in the pages I've writ­ten, I'm sav­ing my father, find­ing the poignan­cy and sweet­ness in the judg­ment of his life, of all our lives. It's a com­pul­sion of sorts – sav­ing my father.
One of my main char­ac­ters in my new nov­el, In the Court­yard of the Kab­bal­ist, is a man called Mustafa, whose job is to pick up trash on the Tem­ple Mount, or, as he calls it, the Haram al Sharif. His head is twist­ed per­ma­nent­ly over his right shoul­der. Walk­ing is dif­fi­cult, eat­ing even more so. His moth­er, ashamed of him, won't let him return to his village.
Peo­ple who have read the book often ask me: How did you slip into the mind of some­one so rad­i­cal­ly dif­fer­ent from yourself?
I too had thought it would be impos­si­ble and so I put off writ­ing about this Arab man who for years stalked my imag­i­na­tion. How strange, how won­der­ful to dis­cov­er then, as soon as I began to put words down on paper, that I felt so close to Mustafa. He was as painful­ly close and ten­der to me as my own father.
Ruchama King Feuer­man​

'

s cel­e­brat­ed first nov­el about match­mak­ing (
Sev­en Bless­ings
,

SMP

) earned her the praise of
The New York Times
and
Dal­las Morn­ing News
, and
Kirkus Reviews
dubbed Feuer­man the ​

"

Jew­ish Jane Austen." Read more about Ruchama King Feuer­man and her newest nov­el,
In the Court­yard of the Kab­bal­ist,
here.
Ruchama King Feuer­man's sec­ond nov­el,
In the Court­yard of the Kab­bal­ist,
was a Nation­al Jew­ish Book Awards final­ist and was named one of the best nov­els of
2013
in
The Wall Street Jour­nal
. Her first nov­el about match­mak­ing,
Sev­en Bless­ings
, earned her the praise of
The New York Times
and the Dal­las Morn­ing News.