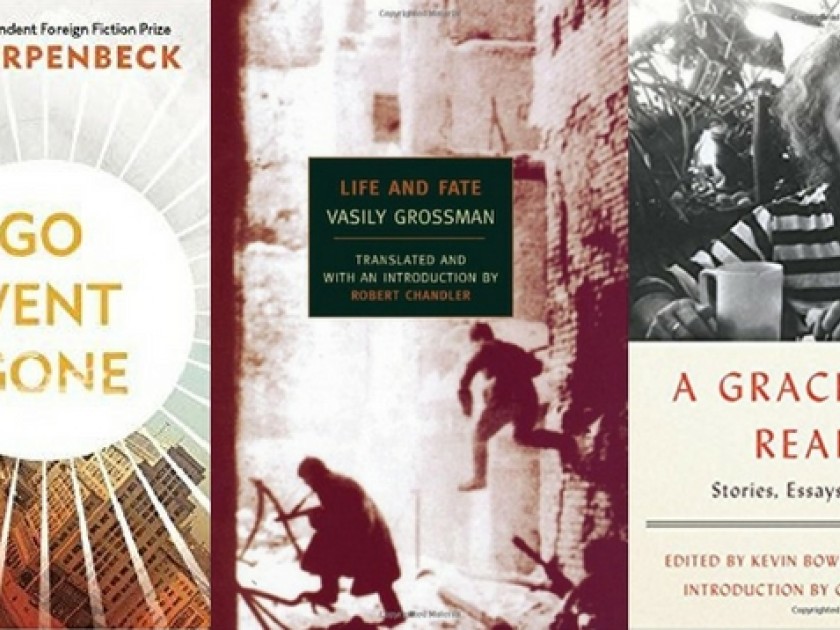 Car­ol Zoref is the author of Bar­ren Island, which was Longlist­ed for the 2017 Nation­al Book Award for Fic­tion. Ear­li­er this week, she wrote about com­mu­nal sin and col­lec­tive respon­si­bil­i­ty in the wake of the Las Vegas mas­sacre. She is blog­ging here all week as part of Jew­ish Book Coun­cil's Vis­it­ing Scribe series.
What books of Jew­ish inter­est or by Jew­ish authors are cur­rent­ly on your night­stand?
Nicole Krauss​'s For­est Dark, in antic­i­pa­tion of hear­ing her speak at the 92nd Street Y with Jen­ny Erpen­beck. As soon as I fin­ish the Krauss nov­el, I will dive into Erpenbeck's Go, Went, Gone, which was recent­ly trans­lat­ed from Ger­man by Susan Bernof­sky — they are a tri­fec­ta of smart writers/​translators. In non­fic­tion, Enraged: Why Vio­lent Times Need Ancient Greek Myths by Emi­ly Katz Anhalt. Anhalt, a clas­sics schol­ar, shines light on how the Greeks strug­gled with human vio­lence and the desire for moral evolution.
What's the last great book you read?
Impos­si­ble ques­tion, but the work I keep rec­om­mend­ing is by the twen­ti­eth-cen­tu­ry Sovi­et author Vasi­ly Gross­man. His nov­el Life and Fate is a mas­ter­piece. All of his oth­er books — fic­tion and reportage — are outstanding.
What's the best clas­sic Jew­ish nov­el you recent­ly read for the first time?
Pio­neers: The First Breach by S. An-sky, trans­lat­ed from Yid­dish by Rose Wald­man. I was seat­ed next to Rose at the Jew­ish Book Coun­cil Net­work Con­fer­ence last spring, where she showed me the beau­ti­ful new edi­tion of this nine­ty year-old nov­el about the reach of Haskalah, a Jew­ish enlight­en­ment move­ment, into small-town life.
What's your favorite book no one else has heard of?
There's noth­ing that no one has heard of. Rather, there are authors whose work doesn't receive the atten­tion that it should or that it used to. Grace Paley is the per­fect exam­ple. She was wide­ly admired while she was alive, both as an author and a polit­i­cal activist. She is shock­ing­ly unknown by younger read­ers and writ­ers a mere ten years after her pass­ing. Those of us who teach can help to set this right by keep­ing her mag­nif­i­cent short sto­ries front and cen­ter. Far­rar, Straus and Giroux recent­ly released The Grace Paley Read­er last spring. Buy it. Then go out and buy the indi­vid­ual col­lec­tions of short stories.
Which Jew­ish writ­ers — nov­el­ists, play­wrights, crit­ics, jour­nal­ists, poets — work­ing today do you admire most?
In addi­tion to those I've already men­tioned, I'm always ready for fic­tion and non­fic­tion by Cyn­thia Ozick. I'm sad that I won't be read­ing any­thing new by Philip Roth, unless he breaks his promise and comes out of autho­r­i­al retire­ment. I was bowled over by Paula Vogel's play, Inde­cent, when it appeared last year off-Broad­way. I was cheered that it received such a warm wel­come when moved to Broad­way. It's heart­en­ing to know that there is still a place uptown for seri­ous dra­ma. The recent re-stag­ing of Stephen Sondheim's Pacif­ic Over­tures by the Clas­sic Stage Com­pa­ny demon­strat­ed, yet again, the insights about colo­nial­ism revealed by this beau­ti­ful musi­cal. David Rem­nick is keep­ing The New York­er on fire, both as edi­tor-in-chief and as a writer.
How do you like to read? Paper or elec­tron­ic? One book at a time or simul­ta­ne­ous­ly? Morn­ing or night?
I read any time that I can, how­ev­er much or lit­tle, day or night — simul­ta­ne­ous­ly a nov­el, a book of poems, a col­lec­tion of short sto­ries, and some­thing non­fic­tion. I'm hap­pi­er with an actu­al book in my hands, but I'd rather read elec­tron­i­cal­ly than not at all. When I trav­el, I no longer get anx­ious about what to bring along or wor­ry that I will run out. If I fall in love with a book that I've read elec­tron­i­cal­ly, I buy a hard copy.
How do you orga­nize your books?
I don't. That said, ask me for a book that I own and I'll pull it off a shelf pret­ty quickly.
What's the best book you've ever received as a gift?
The Adven­tures of Huck­le­ber­ry Finn. Twain was not a Jew­ish author nor is there a sin­gle Jew­ish char­ac­ter in ​"Huck." But it's a nov­el that I return to again and again: a sto­ry of immoral and moral behav­ior in immoral times, of the devel­op­ment and col­lapse of con­science, of hope and hope­less­ness, and so much more. It was a gift when some­one told me to read it again as an adult. It is loathed by peo­ple on the Right, it is loathed by peo­ple on the Left, and it is adored by me. I could go on — and I've been known to — but I'll let it go at that.
What kind of read­er were you as a child?
Insatiable.
Dis­ap­point­ing, over­rat­ed, just not good: What book did you feel you were sup­posed to like, and didn't?
I'd rather rec­om­mend a book than dis one. How­ev­er, the last nov­el that out­raged me was Bern­hard Schlink's The Read­er. The plot premise — that illit­er­a­cy result­ed in a woman becom­ing a con­cen­tra­tion camp guard — was infu­ri­at­ing. I read the whole thing in the hope that the nov­el, not the char­ac­ter, could redeem itself. There is no guar­an­tee that lit­er­a­cy shapes eth­i­cal behav­ior, nor that edu­ca­tion guar­an­tees insight.
What do you plan to read next?
David Gross­man​'s A Horse Walks into a Bar, Der Nister's sto­ry col­lec­tion Regrowth, and Joan Silber's forth­com­ing nov­el Improve­ment.
Car­ol Zoref is a fic­tion writer and essay­ist. Her nov­el Bar­ren Island received the A.W.P. Award for the Nov­el (Asso­ci­a­tion of Writer and Writ­ing Pro­grams). Her writ­ing has also appeared in The New York Times The Chris­t­ian Sci­ence Mon­i­tor and more. She is on the fac­ul­ty of Sarah Lawrence Col­lege and also teach­es under­grad­u­ate fic­tion writ­ing at New York University.