Ear­li­er this week, Bar­bara Stark-Nemon wrote about how her fam­i­ly chose to remem­ber Ger­many after World War II. She is the author of the recent­ly pub­lished nov­el Even in Dark­ness. She will be blog­ging here all week for Jew­ish Book Coun­cil's Vis­it­ing Scribe series.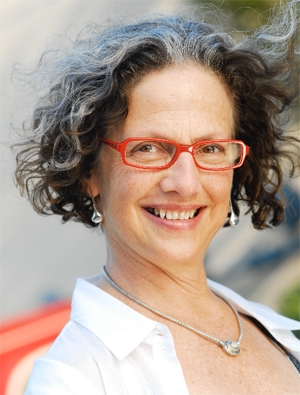 There's a spe­cial mead­ow in the for­est of nov­el­ists who inte­grate the visu­al arts into their work. In Even in Dark­ness, there are four dis­tinct scenes involv­ing paint­ings or sculp­tures that pro­duce trans­for­ma­tion­al moments for the main char­ac­ters. As a pho­tog­ra­ph­er, sketch and fiber artist, and art his­to­ry stu­dent, I've long been attract­ed to the visu­al arts. Over time, I've come to real­ize how much that inter­est informs my writing.
When I first began work on the man­u­script that became Even in Dark­ness, I had the good for­tune to attend a week­long writer's work­shop with Eliz­a­beth Kos­to­va, whose nov­el Swan Thieves has artists as main char­ac­ters. All week, the work­shop exper­i­ment­ed with var­i­ous approach­es to includ­ing visu­al arts in our work, and I came away with two of the scenes that remain in Even in Dark­ness today.
Since this nov­el is pri­mar­i­ly based on the life of my great aunt, some of the works of art that appear in it are ones she owned, or saw and spoke about, and I admired them or learned about them when I vis­it­ed her in Ger­many. Lith­o­graphs by Marc Cha­gall lined the mar­ble-floored entry hall of the rec­to­ry where she lived, and the priest she lived with wrote a book about kings and prophets in Chagall's art. A water­col­or, by a lit­tle-known Ger­man Expres­sion­ist artist, hung on their din­ing room wall, and my aunt told me the sto­ry of how it rep­re­sent­ed her need to restore her capac­i­ty to see beau­ty after all she'd suf­fered dur­ing the war. An oil por­trait of my great aunt graced a wall in the priest's study. It made its way into Even in Dark­ness. When I walked the Via Dolorosa in Jerusalem, as my aunt and the priest once did, I imag­ined how her see­ing a sculp­tur­al relief of St. Mary might have made her feel, as a griev­ing moth­er. I incor­po­rat­ed this scene into a chap­ter that cat­alyzed spir­i­tu­al and emo­tion­al insights of Klare's char­ac­ter for the reader.
Oth­er art con­nec­tions showed up in the book. On a research trip to an exhib­it of Ger­man art reject­ed by the Nazis in the 1930s, I saw sev­er­al por­traits of the art deal­er Johan­na Ey, and I learned about the artists she aid­ed. She became the basis of a character.
I recent­ly had the oppor­tu­ni­ty to vis­it the Museo de Picas­so in Mala­ga, Spain, which hous­es an inter­est­ing col­lec­tion of Picasso's works span­ning his whole career. A descrip­tion of one of his mid-career por­traits includ­ed a quo­ta­tion by the pho­tog­ra­ph­er Rober­to Otero that struck me as fun­da­men­tal­ly true not only about draw­ing, but about writing.
"Of course, one nev­er knows what's going to come out, but as soon as the draw­ing gets under­way, a sto­ry or idea is born. And that's it. Then the sto­ry grows…and the draw­ing is turned into oth­er draw­ings — a real nov­el."
When I write, I feel like I draw a char­ac­ter's por­trait in words and then the pic­ture is begun. It grows, and oth­er pic­tures emerge and the images join into a whole. Otero's obser­va­tion reminds me how close­ly the cre­ative process is mir­rored in visu­al and writ­ten forms and how I delight in that. As Alyson Rich­man says in an inter­view on the won­der­ful web­site by Stephanie Renee dos San­tos about art in his­tor­i­cal nov­els, ​"I feel as though I've been able to incor­po­rate my love of art with my love of writing."
Every sto­ry needs a nar­ra­tor, and Bar­bara Stark-Nemon stepped up ear­ly in life. She learned a fas­ci­na­tion with the mag­ic of lan­guage from her sto­ry­telling grand­fa­ther. An under­grad­u­ate degree in Eng­lish lit­er­a­ture and art his­to­ry and a master's degree in speech-lan­guage pathol­o­gy from the Uni­ver­si­ty of Michi­gan led Stark-Nemon to a career in schools, uni­ver­si­ties, and hos­pi­tals. As a teacher and speech-lan­guage ther­a­pist, Bar­bara spe­cial­ized in child lan­guage dis­or­der and deaf­ness; every­where, there were sto­ries, and the need to be heard and seen that we all share. Today Stark-Nemon writes nov­els and fam­i­ly his­to­ries while gar­den­ing, cycling, and cre­at­ing fiber art in Ann Arbor and North­port, Michigan.
Relat­ed Content:
Bar­bara Stark-Nemon learned the mag­ic of lan­guage from her sto­ry­telling grand­fa­ther. She stud­ied Eng­lish, Art His­to­ry, and Speech-lan­guage ther­a­py at the Uni­ver­si­ty of Michi­gan, lead­ing to a career work­ing with chil­dren. Bar­bara writes, gar­dens, swims, and cycles with her fam­i­ly in Ann Arbor and North­port,
MI
.