Bar­bara Stark-Nemon is the author of the recent­ly pub­lished nov­el Even in Dark­ness. She will be blog­ging here all week for Jew­ish Book Coun­cil's Vis­it­ing Scribe series.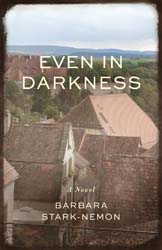 Writ­ing Even in Dark­ness ful­filled three impor­tant aspi­ra­tions in my author life. It's a love let­ter to a woman who influ­enced me more than she ever knew. It's the ful­fill­ment of the top item on my buck­et list, which was to write a nov­el. And per­haps most inter­est­ing­ly, it rep­re­sent­ed the oppor­tu­ni­ty to write my way into an under­stand­ing of the impact my family's Holo­caust expe­ri­ences had on me as a sec­ond-gen­er­a­tion survivor.
The char­ac­ter Kläre Kohler in Even in Dark­ness is based on my great aunt, who was born in 1895, and lived her 100 years in Ger­many through two world wars and the Holo­caust. I first met her when I was six years old dur­ing her first vis­it to Amer­i­ca, an event which I dim­ly remem­ber in the haze of rapid-fire Ger­man con­ver­sa­tion, long meals, bot­tles of wine, and fra­grant cig­ar smoke that char­ac­ter­ized a lot of the time I spent at my grand­par­ents' home. I loved Kläre from the moment I met her, and her life in Ger­many seemed like a mys­tery. Why did she stay there after sur­viv­ing the war and the con­cen­tra­tion camp, when the rest of her fam­i­ly was in the U.S., Bel­gium and Eng­land? Why was she liv­ing with a Catholic priest?
In lat­er years Kläre vis­it­ed sev­er­al more times for sig­nif­i­cant fam­i­ly events and I met and became devot­ed to the priest who is the basis for the char­ac­ter Ansel in Even in Dark­ness. I began to trav­el to Europe, often with my grand­par­ents, and rarely did so with­out stop­ping to vis­it Kläre and Ansel in Ger­many or arrange for them to join us. Over those many vis­its I learned both Kläre's and Ansel's sto­ries of child­hood, war, loss and sur­vival. They lis­tened to my sto­ries as well, and I found that across years, cul­tures, and lan­guage, each of them offered wise and astute counsel.
Only in the writ­ing this nov­el about Kläre, how­ev­er, did it become clear that in telling her sto­ry, I would reach an under­stand­ing of my own rela­tion­ship to my family's his­to­ry in Ger­many and to the Holo­caust. My par­ents had left priv­i­leged lives in Ger­many to escape the Nazis, com­ing to this coun­try as teenagers. They had met at a Ger­man refugee group's dance, and along with all four of my grand­par­ents, returned to Ger­many short­ly after the war to vis­it, take care of busi­ness mat­ters and even vaca­tion. My grand­fa­ther was an attor­ney who did resti­tu­tion work, secur­ing pen­sions and pay­ments for Jews who had lost prop­er­ty, edu­ca­tion, health and businesses.
My par­ents and grand­par­ents were all prac­tic­ing Jews ded­i­cat­ed to their tem­ples and syn­a­gogues here, and were ever grate­ful to have become Amer­i­can cit­i­zens. How­ev­er, there was no hatred of Ger­many or Ger­man peo­ple in our house­holds. The adults around me fre­quent­ly spoke Ger­man to each oth­er and had many Ger­man friends, both Jew­ish and non-Jew­ish. My grand­fa­ther was always proud of his ser­vice in the Ger­man army in World War I and the Iron Cross First Class that was bestowed upon him. Dif­fer­ent mem­bers of my fam­i­ly couldn't agree whether we were escapees or sur­vivors of the Holo­caust. None of this went down well with some of my friends' fam­i­lies, who reject­ed any­thing and any­one hav­ing to do with Ger­many. Nav­i­gat­ing these dif­fer­ent respons­es with­in and out­side my fam­i­ly became a sub­tle skillset I had to learn.
Kläre helped me. All my life, I'd heard my grand­par­ents describe her as ​"lucky," even though her life in Ger­many was cir­cum­scribed by two world wars, time in a con­cen­tra­tion camp, and enor­mous loss. Until I had to write her through all that, and reveal how she emerged as a vibrant, lov­ing per­son, I didn't under­stand that her ​"luck" was her remark­able capac­i­ty to rein­vent her­self in a way that hon­ored the past, for­got noth­ing, but for­gave much for the sake of cre­at­ing mean­ing out of hor­ror. I learned to embrace her exam­ple and accep­tance of those whose expe­ri­ences led them to very dif­fer­ent places and per­spec­tives as sur­vivors. I trea­sure those lessons.
Every sto­ry needs a nar­ra­tor, and Bar­bara Stark-Nemon stepped up ear­ly in life. She learned a fas­ci­na­tion with the mag­ic of lan­guage from her sto­ry­telling grand­fa­ther. An under­grad­u­ate degree in Eng­lish lit­er­a­ture and art his­to­ry and a master's degree in speech-lan­guage pathol­o­gy from the Uni­ver­si­ty of Michi­gan led Stark-Nemon to a career in schools, uni­ver­si­ties, and hos­pi­tals. As a teacher and speech-lan­guage ther­a­pist, Bar­bara spe­cial­ized in child lan­guage dis­or­der and deaf­ness; every­where, there were sto­ries, and the need to be heard and seen that we all share. Today Stark-Nemon writes nov­els and fam­i­ly his­to­ries while gar­den­ing, cycling, and cre­at­ing fiber art in Ann Arbor and North­port, Michigan.
Relat­ed Content:
Bar­bara Stark-Nemon learned the mag­ic of lan­guage from her sto­ry­telling grand­fa­ther. She stud­ied Eng­lish, Art His­to­ry, and Speech-lan­guage ther­a­py at the Uni­ver­si­ty of Michi­gan, lead­ing to a career work­ing with chil­dren. Bar­bara writes, gar­dens, swims, and cycles with her fam­i­ly in Ann Arbor and North­port,
MI
.