Dou­glas Stark​'s The SPHAS: The Life and Times of Basketball's Great­est Jew­ish Team
is now avail­able. He will be blog­ging all week for the Jew­ish Book Coun­cil and MyJew­ish­Learn­ing.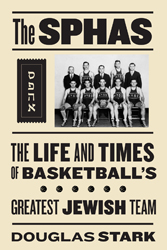 When I told friends and col­leagues that I was research­ing and writ­ing a book about a Jew­ish bas­ket­ball team, I was often met with a hes­i­ta­tion or a stunned look. Why are you writ­ing a book? Well, many peo­ple write books, I would often answer, and I want­ed to take a crack at it myself.
No, the most com­mon ques­tions were the fol­low­ing: Did Jews play bas­ket­ball? Was it a pro­fes­sion­al team? Was the team good? The answer is yes, yes, and most def­i­nite­ly yes.
Most sports fans today, whether they are seri­ous or casu­al, hard­ly see any Jews par­tic­i­pat­ing at the high­est lev­el. But, Jews were an impor­tant part of the ear­ly his­to­ry of sports in Amer­i­ca, par­tic­u­lar­ly bas­ket­ball. Invent­ed in 1891, bas­ket­ball spread quick­ly and was soon played in YMCAs and gyms through­out the coun­try. One place where bas­ket­ball caught on imme­di­ate­ly was urban areas.
At the turn of the twen­ti­eth cen­tu­ry, cities in the North­east were dom­i­nat­ed by immi­grants, par­tic­u­lar­ly Jews. Jews left a dif­fi­cult life in East­ern Europe and immi­grat­ed to the Unit­ed States where they set­tled in cities. Their lives were often dif­fi­cult in this new coun­try and many par­ents worked all the time to pro­vide for their chil­dren. Con­verse­ly, these chil­dren were inter­est­ed in becom­ing Amer­i­can and one way to do so was through sports.
Liv­ing in urban areas and ten­e­ments did not leave many options for sports. Neigh­bor­hoods and apart­ments were crowd­ed. There were no ball fields to play base­ball. But there was this new game of bas­ket­ball. It did not require much, a ball and a peach bas­ket. It was easy to impro­vise. One could roll up rags or news­pa­pers to sub­sti­tute for a ball. A post with a bas­ket or the fire escape lad­der could serve as a basket.
With that, bas­ket­ball began in urban areas. Before long, Jews were par­tic­i­pat­ing and bas­ket­ball was quick­ly becom­ing a Jew­ish game. Soon the game spread to Philadel­phia, and in 1918, a group of high school friends want­ed to keep play­ing after grad­u­a­tion. So they formed a team, which was named the SPHAS, the South Philadel­phia Hebrew Asso­ci­a­tion, after the asso­ci­a­tion gave them uni­forms in exchange for pub­lic­i­ty. Lit­tle did they know, but their team would still be play­ing four decades lat­er before ceas­ing oper­a­tions in 1959.
Of all the Jew­ish bas­ket­ball play­ers and teams, none could match the SPHAS. They were sim­ply the best Jew­ish bas­ket­ball team. The team's hey­day was from 1933 – 1946 which coin­cid­ed with a Depres­sion, rise of anti-Semi­tism, and a World War. They played at the same time that Hank Green­berg was one of baseball's best play­ers, and Bar­ney Ross was boxing's top draw.
The SPHAS won 7 titles in thir­teen years in the Amer­i­can Bas­ket­ball League (1933−1946), which was the top pro­fes­sion­al bas­ket­ball league in the coun­try. They trav­eled across the East, South and Mid­west, and the play­ers chal­lenged racial stereo­types of weak­ness and infe­ri­or­i­ty as they boost­ed the game's pop­u­lar­i­ty. In the 1950s, the team trav­eled with the famed Harlem Glo­be­trot­ters. Their lega­cy was tremen­dous as they helped grow the game to what we know today.
When I reflect on those ques­tions I received from friends five years ago, I could not have imag­ined the jour­ney it took to write the book. And I can say with con­fi­dence, that Jews played bas­ket­ball and the SPHAS were the great­est Jew­ish bas­ket­ball team ever.
Check back all week to read more posts by Dou­glas Stark.
Dou­glas Stark is a sports his­to­ri­an who has worked at the Nai­smith Memo­r­i­al Bas­ket­ball Hall of Fame, the Unit­ed States Golf Asso­ci­a­tion, and now as the Muse­um Direc­tor at the Inter­na­tion­al Ten­nis Hall of Fame, where he over­sees the day-to-day oper­a­tions of the muse­um. He is the author of The SPHAS: The Life and Times of Bas­ket­bal­l's Great­est Jew­ish Team and Wartime Bas­ket­ball: The Emer­gence of the Nation­al Sport dur­ing World War II.
Dou­glas Stark is avail­able to be booked for speak­ing engage­ments through Read On. Click here for more information.