Ear­li­er this week, Affin­i­ty Konar wrote about her first vis­it to Auschwitz-Birke­nau, the set­ting of Mis­chling, after she had already writ­ten the book. With the release of the nov­el this week, Affin­i­ty has been guest blog­ging for the Jew­ish Book Coun­cil all week as part of the Vis­it­ing Scribe series here on The ProsenPeo­ple.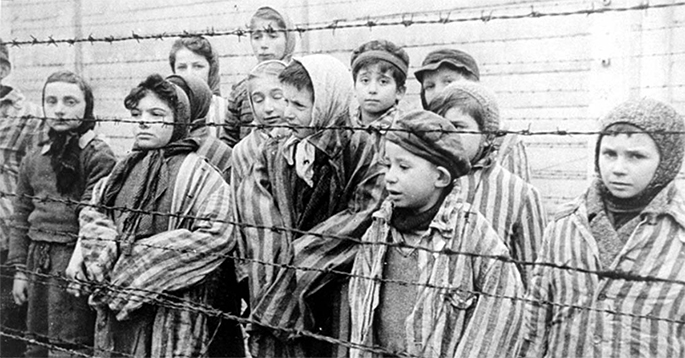 There are sto­ries that are unfor­get­table, and then there are sto­ries that will nev­er leave you. The best way to deal with such an obses­sion is to write about it. In my case though, I didn't think myself fit for the telling: the sto­ry that wouldn't leave me was the sto­ry of the twins of Auschwitz.
Like so many, I grew up read­ing Shoah nar­ra­tives; I affixed myself to the fact that these atroc­i­ties had been detailed by some of the great­est minds the world will ever know. To attempt a frac­tion of their acts of remem­brance would have been fool­ish, I told myself, and dis­re­spect­ful. But after near­ly a decade of self-nego­ti­a­tion, I focused on the thought that occurred when I had first read of the hor­rif­ic exper­i­ments on twins dur­ing the Holo­caust: my nov­el could be a con­ver­sa­tion between two Jew­ish chil­dren who were not allowed to be chil­dren. It would not be an attempt to cap­ture the vast­ness of the unspeak­able, but a small stage for two Jew­ish girls, imper­iled by the ulti­mate evil, to artic­u­late an extreme love they have for each oth­er, a love that blots out the name of Josef Mengele.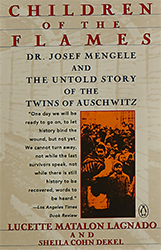 As the book has ven­tured out to into the world this week, I am find­ing that many peo­ple grew up with a star­tling­ly youth­ful aware­ness of Men­gele — a dis­cov­ery often so over­whelm­ing that such read­ers can­not pin­point their intro­duc­tion to the crim­i­nal. I am the same. But my intro­duc­tion to the twins remains crys­talline: when I was six­teen, I found the remark­able Chil­dren of the Flames by Lucette Lagna­do and Sheila Cohn Dekel, which approach­es not only the expe­ri­ence of the twins with­in Auschwitz-Birke­nau, but their lives beyond it, and their strug­gle to accli­mate to a bro­ken world. Of course, there is also Men­gele, com­fort­ably evad­ing pros­e­cu­tion and writ­ing his mem­oirs in Brazil. It is mad­den­ing to read. And yet, you find some hope, too, in the tes­ti­monies of the sur­vivors, and their com­mit­ment to telling a sto­ry that the world does not always want to hear.
Peo­ple often seem ready to dis­cuss Men­gele. Since his all-too-peace­able flight and death, he has enjoyed an abil­i­ty to trans­fix, to be treat­ed — in all his report­ed con­tra­dic­tions — like a puz­zle. But a puz­zle is too charm­ing a thing for a mur­der­er, and in writ­ing Mis­chling I decid­ed not to take a route that explored how he was able to per­pet­u­ate his crimes. In times of doubt, I won­dered if this choice was cow­ard­ly, but ulti­mate­ly it felt sacred not peer into this unfath­omable evil, to approach him as banal. I fas­tened myself to this sto­ry: he was a man who would give a boy a ride on his shoul­ders one day and deliv­er that same boy to the ovens with his own hands the next. Men­gele tor­ment­ed expec­tant moth­ers, Jew­ish women whose very beau­ty offend­ed him, peo­ple who bore what he deemed to be genet­ic abnor­mal­i­ties, and many, many oth­ers. I want­ed these crimes to speak for him, instead of an inter­est in try­ing to under­stand how he came by his malevolence.
But while Men­gele could be put in the back­ground, his works could not. Cal­i­brat­ing the degree of hor­ror to por­tray was one of the most daunt­ing tasks. The atroc­i­ties can nev­er be bru­tal and dehu­man­iz­ing enough on the page. You look at pic­tures of the peo­ple Men­gele tor­tured and it breaks you. I always have to read Celan after see­ing these images; only his sus­pen­sion of pain with­in lan­guage would make it endurable. I did not want to tor­ment the read­er, nor did I want to dilute the trau­ma of the sur­vivors. Some of the crimes per­pe­trat­ed are unspeak­able among those who expe­ri­enced them and men­tion­ing them would have felt like violation.
The most hor­rif­ic exper­i­ment I chose to include is detailed not in scene, but through rec­ol­lec­tion, a lit­tle globe of mem­o­ry. I found it impor­tant to high­light because it speaks to the absur­di­ty of Mengele's med­ical efforts — one can only imag­ine this act serv­ing a sadis­tic impulse. I dear­ly hoped that poet­ic lan­guage might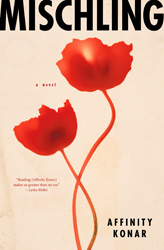 serve as a fil­ter. I did not want to obscure tor­ment; I want­ed to show how some­one might obscure tor­ment in order to sur­vive it.
That por­tray­al of sur­vival was my utmost con­cern while writ­ing. When I first began, I wor­ried about how I might give pow­er to char­ac­ters who had been stripped of it. But remark­ably, grant­i­ng agency to the char­ac­ters was one of the eas­i­er tasks, if only because you can­not read the accounts of sur­vivors with­out being inspired by how they sus­tained them­selves, whether it was through steal­ing pota­toes or trick­ing nurs­es or sab­o­tag­ing paper­work. The book owes its ani­ma­tion to so many, but I must always men­tion Eva Mozes Kor, Miri­am Mozes Zeiger, Alex Dekel, Gisel­la Perl, and Zvi Spiegel. I was blessed to live in awe of them as I wrote.
Affin­i­ty Konar was raised in Cal­i­for­nia and holds an MFA from Colum­bia Uni­ver­si­ty. She is the author of the nov­el Mis­chling, out this week from Lee Boudreaux Books.
Relat­ed Content:
Affin­i­ty Konar received her MFA from Colum­bia and lives in Los Ange­les, CA.