Togeth­er with Jef­frey Yoskowitz, Liz Alpern is both co-founder of The Gefilte­ria and co-author of The Gefilte Man­i­festo: New Recipes for Old World Jew­ish Foods. With the cookbook's long-await­ed release this week, Jef­frey and Liz are guest blog­ging for the Jew­ish Book Coun­cil as part of the Vis­it­ing Scribe series here on The ProsenPeo­ple.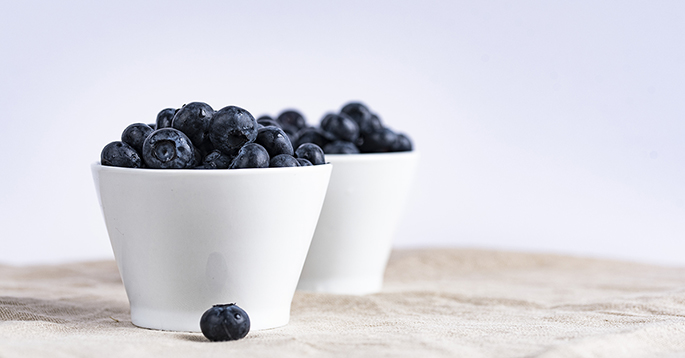 I arrived in War­saw this sum­mer with a rough itin­er­ary and a vague notion of smelling, touch­ing and tast­ing my way through the land whose food tra­di­tions I had inher­it­ed. My desire for a trip to the Moth­er­land grew even more urgent since spend­ing the last sev­er­al years research­ing and writ­ing a cook­book about Ashke­nazi cui­sine. I hoped Poland would pro­vide a rich and authen­tic expe­ri­ence of the tastes my ances­tors had experienced.
The sto­ry of Ashke­nazi cui­sine did not begin or end in Poland, but its cli­mate and sea­sons, as well as its ter­roir, are rep­re­sen­ta­tive of the wider east­ern Euro­pean Jew­ish world. Yet there is some­thing a bit awk­ward about going to Poland to expe­ri­ence Jew­ish foods, since the absence of a vibrant Jew­ish life is notice­able, out­side of the renais­sance hap­pen­ing in Krakow today. Where­as Jew­ish bak­eries once dot­ted the land­scape, churn­ing out loaves of rye, chal­lah, bialys and bagels, I didn't quite know what to expect from twen­ty-first cen­tu­ry Warsaw.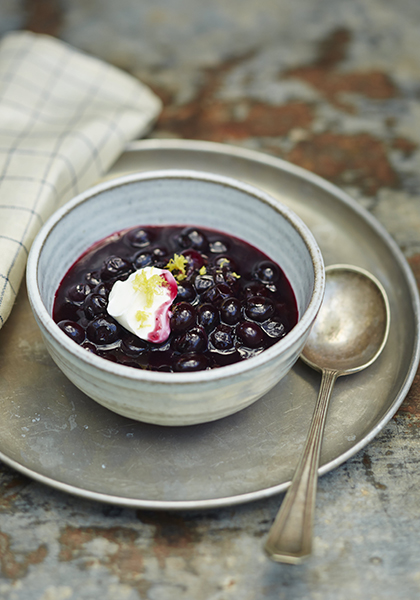 Imme­di­ate­ly upon my arrival, I began to ask locals — friends and strangers alike — what foods I must expe­ri­ence. Almost every­one told me that I must try Poland's famous wild blue­ber­ries. In late June, my vis­it dove­tailed with the short win­dow for their har­vest. I had known about these blue­ber­ries from my co-author Jef­frey, who came back a few years ago from Poland wax­ing philo­soph­i­cal about these tiny wild fruits that flour­ished on the bush­es in late June, burst­ing with a tart, intox­i­cat­ing sweet­ness. His expe­ri­ences were part of the inspi­ra­tion for a recipe for blue­ber­ry soup that we devel­oped for our cook­book. (Find the recipe here!)
Dri­ving through the coun­try­side, I saw for myself how blue­ber­ries were sold on the side of the road, usu­al­ly along­side for­est mush­rooms. Trav­el­ers and locals all stopped to snatch them up, pre­sum­ably to trans­form them into everyone's favorite jam, as a means of extend­ing the short har­vest season.
Friends par­tic­u­lar­ly sug­gest­ed that I try blue­ber­ry piero­gi, a sea­son­al spe­cial­ty. Piero­gi, the east­ern Euro­pean dough pock­ets that go by many names based on region of ori­gin, stuff­in­gs, and shape, are ubiq­ui­tous all over Poland. The fill­ings vary from toast­ed kasha to farm­ers cheese to sauer­kraut and mush­room to pota­to and fried onion. I, how­ev­er, had my sights on the blue­ber­ry variety.
On my very first night in War­saw, my friend and unof­fi­cial Pol­ish tour guide, Mal­go, made me promise that I would not eat blue­ber­ry piero­gi at just any restau­rant. They were too impor­tant, she felt, too vital to the lega­cy of Pol­ish cui­sine, that she insist­ed she would cook them for me instead. As an expe­ri­enced piero­gi mak­er myself, I insist­ed that I would help in the process. Our only avail­able evening, it turned out, was my last night in Poland. With that, I agreed to wait a full week to indulge in this spe­cial treat.
While await­ing my blue­ber­ry piero­gi des­tiny through­out the fol­low­ing days and nights I enjoyed piero­gi of all vari­eties, from the high-end restau­rant ver­sions to the unob­tru­sive pan-fried ver­sions at the local hole-in-the-wall spots. The dough was more often than not unwa­ver­ing­ly per­fect: soft with a bit of bite, sim­ple with a hint of salt. The fill­ings were com­fort­ing and famil­iar and almost always sat­is­fy­ing. The expe­ri­ence val­i­dat­ed my own hard work on a piero­gi recipe and increased my excite­ment about our unique lentil-chard filling.
On the last night of my trip, I ven­tured into Sas­ka Kępa, a part of War­saw I had not yet seen, and entered Malgo's home — where she was arms-deep in an enor­mous bowl of tiny lit­tle berries, coat­ing them gen­tly in sug­ar to draw out the liq­uid and soft­en them. There was a giant mass of dough on the counter next to her. It was going to be a long night.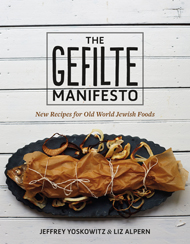 For hours we fold­ed small spoon­fuls of berries into tiny dough pock­ets. We drank wine and recount­ed my trip, and when we had made enough, we boiled them and set out a huge plate. Final­ly. When I bit into those blue­ber­ry piero­gi I was amazed at how some­thing so sim­ple could pos­si­bly be so full of fla­vor. We ate them all, dol­loped with sour cream, until our tongues turned blue. Then we went back to mak­ing more. Mal­go packed sev­er­al warm piero­gi into a jar for me and slipped it into my bag. When I final­ly returned to my hotel at 3:00 AM that night, filled with dumplings and wine and fresh­ly sweet mem­o­ries, I had already for­got­ten about the piero­gi in my bag. When I woke up three hours lat­er and board­ed my plane home, I noticed the jar rat­tling around in my lug­gage. I smiled to myself, know­ing that these piero­gi would be with me well beyond the plane ride.
Liz Alpern got her start in the Jew­ish food world work­ing with acclaimed cook­book author Joan Nathan. She curates and cooks for pop-up events and bou­tique shops and is cur­rent­ly work­ing on an MBA at CUNY Baruch College.
Relat­ed Content:
Liz Alpern got her start in the Jew­ish food world work­ing with acclaimed cook­book author Joan Nathan. She curates and cooks for pop-up events and bou­tique shops and is cur­rent­ly work­ing on an MBA at CUNY Baruch Col­lege. The co-founder of The Gefilte­ria, Liz has been fea­tured on Forbes 30 Under 30 list, as well as in The New York­er, The New York Times, Saveur, and The Wall Street Jour­nal.