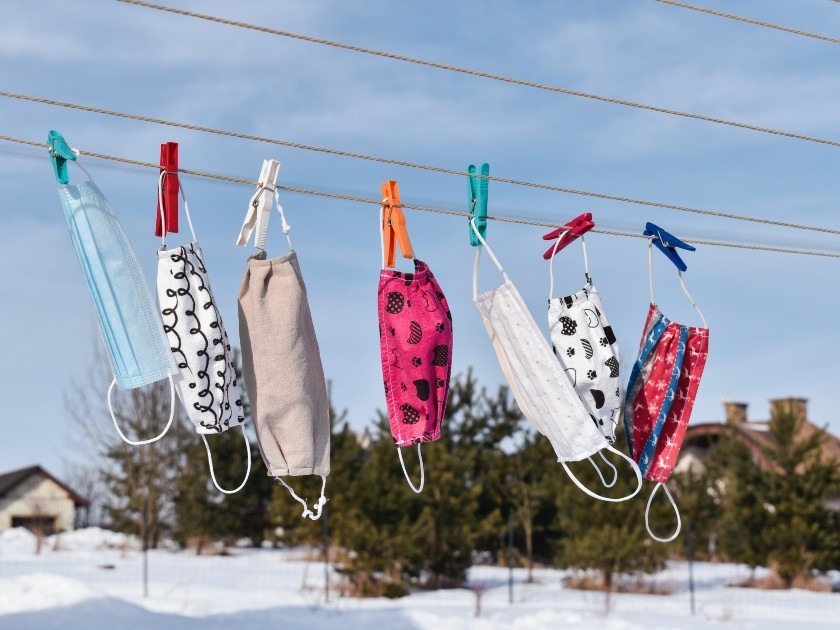 We thank God—
she­hechiyanu,
for keep­ing us alive.
Us—
we're taught to pray for all,
even in private
moments,
sink­ing naked in the mikveh waters
or savor­ing the season's first juicy
bite of per­sim­mon, kumquat,
or prick­ly pear.
She­hechiyanu,
we say,
with rolled-up sleeves,
thank­ful for the painful
prick of needle.
Then we wait two weeks,
or three or four
to be sure, before
ven­tur­ing out
to hug our children
or share a meal
with friends.
We pow­der our noses,
paint our lips.
We share a bot­tle of wine,
but maybe not
a bowl of chips.
Who flew to Florida
to vis­it their mother?
Whose col­lege kids
are home on break?
We still cov­er our mouths
when we laugh.
Did you know
the rab­bis of the Talmud—
some­time between the flaming
destruc­tion of the Temple
and the arrival of the Black Plague—
planned a prayer
for reunit­ing with old friends?
After thir­ty days:
she­hechiyanu.
But after a year?
Baruch atah Adon­ai,
blessed are you, our God,
m'chayeih hameitim,
who revives the dead.
This piece is a part of the Berru Poet­ry Series, which sup­ports Jew­ish poet­ry and poets on PB Dai­ly. JBC also awards the Berru Poet­ry Award in mem­o­ry of Ruth and Bernie Wein­flash as a part of the Nation­al Jew­ish Book Awards. Click here to see the 2020 win­ner of the prize. If you're inter­est­ed in par­tic­i­pat­ing in the series, please check out the guide­lines here.
Eliz­a­beth Edel­glass is a fic­tion writer, book review­er, and for­mer Juda­ic librar­i­an who finds her­self writ­ing poet­ry in response to today's world — per­son­al, nation­al, and glob­al. Her first pub­lished poems have appeared or are forth­com­ing in Com­pressed, Glob­al Poemic, Trou­vaille Review, and Sylvia. Her fic­tion has won the Reynolds Price Fic­tion Prize, The William Saroy­an Cen­ten­ni­al Prize, the Lilith short sto­ry con­test, and the Lawrence Foun­da­tion Prize from Michi­gan Quar­ter­ly Review.