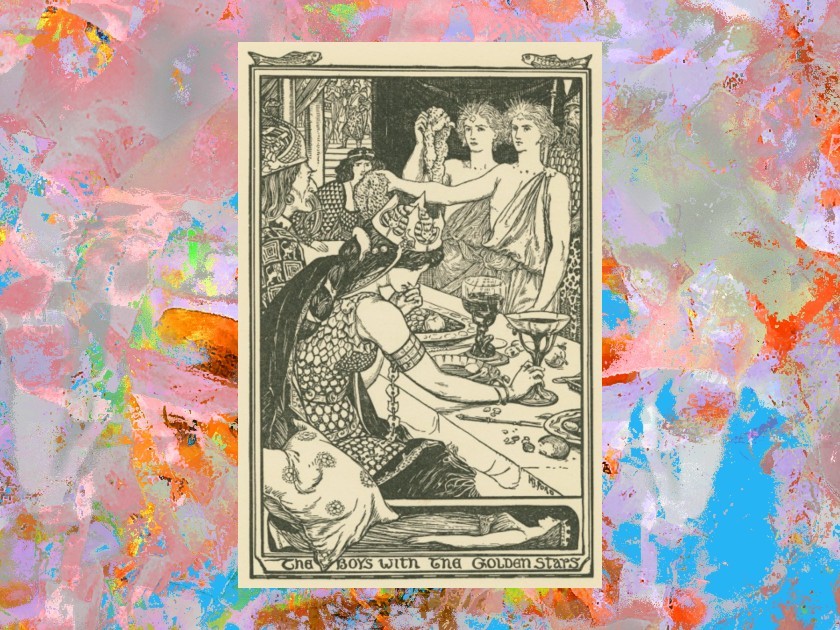 I had two things in mind when I first set out to write The Light of the Mid­night Stars: I want­ed to retell the Roman­ian fairy tale ​"Boys With Gold­en Stars" — which my moth­er read to me as a child — and to find out why my grand­moth­er lit Shab­bat can­dles in a closet.
I nev­er saw my grand­moth­er do this, but my father and his sis­ters all remem­ber it. By the time I came along the can­dles had moved to the cen­ter of the table, and my grand­moth­er's demen­tia pre­vent­ed her from being able to tell us more. But the mem­o­ry was car­ried forward.
"Boys With Gold­en Stars" is the sto­ry of three sis­ters who each pledge to do a dif­fer­ent mag­i­cal thing if the emper­or agrees to mar­ry them, and the youngest among them pledges that she will give birth to twin baby boys with gold­en stars on their fore­heads. For me, this imme­di­ate­ly spoke to the idea of hid­den Jews — cryp­to-Jews or con­ver­sos. Jews have tried to hide their faith through­out his­to­ry, only to have it show up in unex­pect­ed ways. At the out­set, I expect­ed to find a skele­ton in my fam­i­ly's clos­et from Spain or Por­tu­gal — the place I most asso­ci­at­ed with sto­ries about hid­den Jews. What I found was per­haps more chilling.
My grand­moth­er was from Roma­nia, but before her fam­i­ly moved to Roma­nia they lived in Hun­gary — what is today's Slo­va­kia. The Jews from thir­teenth and four­teenth cen­tu­ry Hun­gary were made to wear badges (not gold­en stars) and were expelled from Upper Hun­gary (now Slo­va­kia). This includ­ed the com­mu­ni­ty of Rab­bi Moses Sofer, the Hatam Sofer, of whom my grand­moth­er was a descendent.
Some went to Aus­tria, some to Wal­lachia, oth­ers returned to Hun­gary (present day Slo­va­kia) only to be expelled again. The sto­ry of the Jews in this region is the sto­ry of expul­sion and return. What is clear is that the Span­ish and Por­tuguese Jews flee­ing Inqui­si­tion Spain were not the only ones who were forced to light can­dles in clos­ets. There are sto­ries from across East­ern Europe, Ukraine, Rus­sia, Italy, Moroc­co, Iran, India, Mex­i­co, Peru, Bolivia, Colum­bia, Cuba, Jamaica, and even Ari­zona about Jews who hid var­i­ous prac­tices in fear of discovery.
The Light of the Mid­night Stars is not a sto­ry that has a hap­py end­ing. It tells the tale of the very real Rab­bi Isaac of Trna­va, his three daugh­ters, and his fam­i­ly's mag­i­cal lega­cy. Rab­bi Isaac is said to have come from the same region my grand­moth­er's fam­i­ly was from. He wrote the Book of Cus­toms (Sefer HaM­in­hag­im) upon which I based parts of my Book of the Solomonars. His three daugh­ters are Solomonars — mag­ic users who get their pow­ers direct­ly from the line of King Solomon him­self (much like a Cohen or Levi today might trace their lin­eage back thou­sands of years).
Where our ances­tors came from is as much a part of who we are today as the place where we were born. It's a lega­cy we all car­ry in our bones. A sto­ry we tell and retell every year.
The Solomonars are also a myth from this era — red-haired wiz­ards who rode cloud drag­ons in the skies. They were a kind of anti­se­mit­ic trope — moun­tain men and women descend­ed from Khaz­ars, or Red Jews, and said to con­trol the weath­er. Like the gob­lins in my first book, The Sis­ters of the Win­ter Wood, it was an anti­se­mit­ic trope that I want­ed to turn on its head and reclaim as a part of my sto­ry and a part of a larg­er Jew­ish nar­ra­tive. Ulti­mate­ly, The Light of the Mid­night Stars is a sto­ry about find­ing faith in the dark­ness. It is specif­i­cal­ly about the times of the Black Plague in Europe — which many com­mu­ni­ties of Jews were blamed for, and so expelled.
As Jews, we are by nature sto­ry­tellers. The Torah itself is a sto­ry — one in which we are com­mand­ed to tell our sto­ry and to tell it to our chil­dren. Nowhere is this more appar­ent than dur­ing the hol­i­day of Passover. In the Passover Seder, Rab­bi Gam­liel says: ​"In each and every gen­er­a­tion, a per­son is oblig­at­ed to see him­self as if he him­self left Egypt." I would like to pro­pose that this applies to oth­er forms of Exo­dus as well — expulsion.
Where our ances­tors came from is as much a part of who we are today as the place where we were born. It's a lega­cy we all car­ry in our bones. A sto­ry we tell and retell every year. In Deuteron­o­my, Moses says, ​"Remem­ber the days of old; con­sid­er the gen­er­a­tions long past. Ask your father and he will tell you, your elders, and they will explain to you."
The sto­ries and tra­di­tions that our grand­moth­ers, grand­fa­thers, great-grand­moth­ers, and great-grand­fa­thers passed down have stitched them­selves into the fab­ric of our lives. Where did we come from? Where did we come from before that? And before that?
When did the first gold­en star appear?
While my sto­ry is part-fan­ta­sy, it is also a very real look at gold­en stars that have a way of appear­ing and dis­ap­pear­ing through­out history.
Rena Ross­ner is a grad­u­ate of Johns Hop­kins Uni­ver­si­ty, Trin­i­ty Col­lege, Dublin, and McGill Uni­ver­si­ty. She is a lit­er­ary and for­eign rights agent, and lives in Israel with her family.