Lévana Kirschen­baum is the author of the forth­com­ing The Whole Foods Kosher Kitchen: Glo­ri­ous Meals Pure and Sim­ple (June 22nd)
. She will be blog­ging all week for the Jew­ish Book Coun­cil and MyJew­ish­Learn­ing.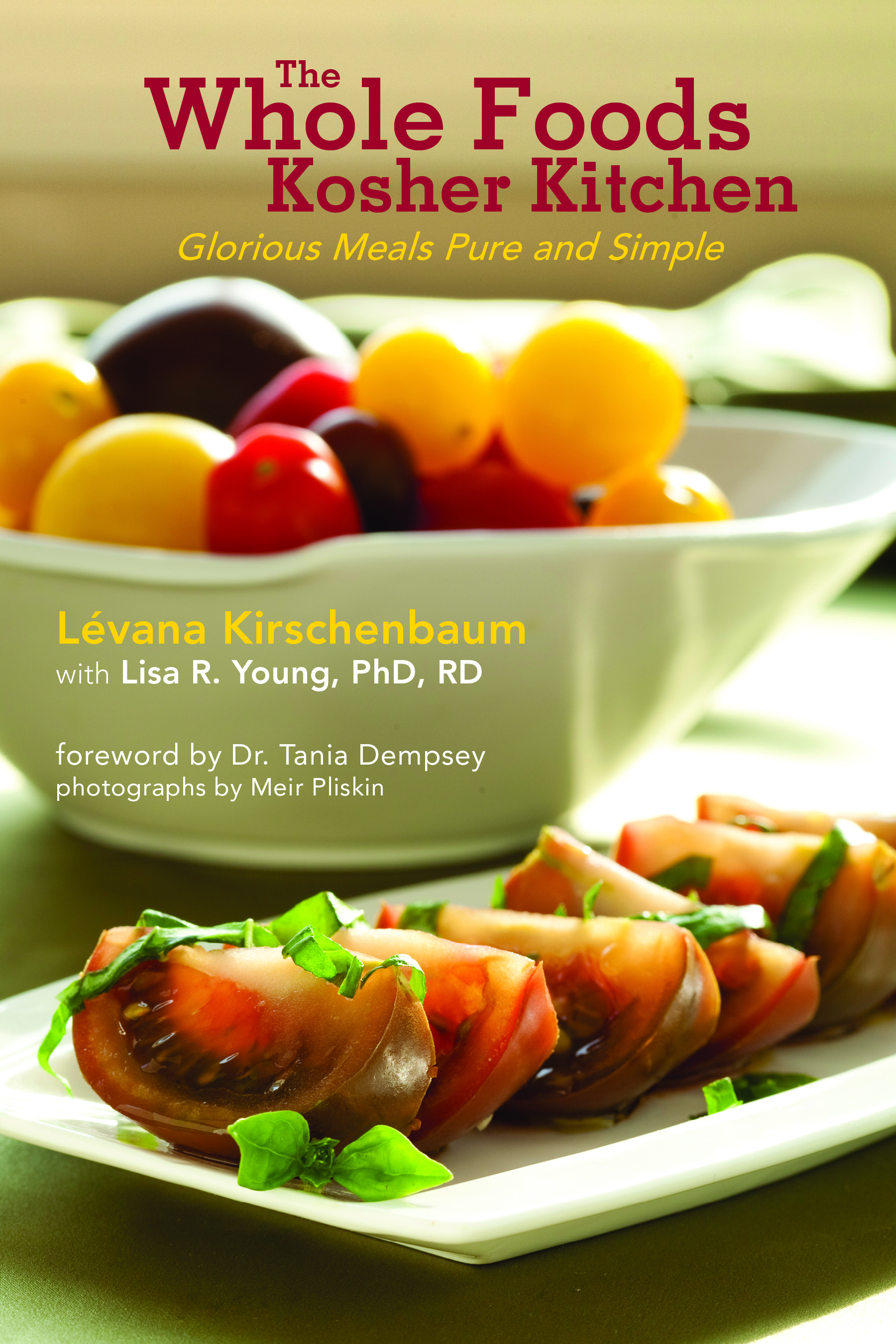 I came home late one recent evening, and found my hus­band unchar­ac­ter­is­ti­cal­ly agi­tat­ed. ​"I just put out a fire!" he said, pant­i­ng. ​"I have no idea how it start­ed, I just want­ed to microwave some din­ner and put it in a foil con­tain­er to warm, and flames start­ed leap­ing out!"
Now please don't find me too biased: I ask you, how are un-domes­ti­cat­ed hus­bands, who almost nev­er pre­pare or even warm up their food, who almost always wait for their wives to tell them what din­ner con­sists of, sup­posed to know that foil is the microwave's neme­sis? I looked all over the lethal appli­ance to see if the man­u­fac­tur­er had includ­ed some warn­ing, but no, not a word about the haz­ards of using foil. Shame on you, I thought indig­nant­ly, you should learn from a sign I recent­ly saw on an ad for bul­let­proof jack­ets: ​"Guar­an­teed or your mon­ey back," or the warn­ing sign on cof­fee cups that became ubiq­ui­tous after an infa­mous law­suit: ​"Cau­tion: Hot bev­er­ages are hot!"
On anoth­er occa­sion when my hus­band received a friend after I had gone to bed, he asked at the top of his voice, from one end of the house to the oth­er: ​"Lev­ana, do we have any glass­es?" To be sure, I did think of a few answers to this, this… how should I put it polite­ly, obtuse ques­tion. Examples:
a) ​"Of course we do, just look in the kitchen;"
b) ​"We don't, but you promised we would go and buy our­selves a dozen when our twen­ti­eth anniver­sary rolls around;" or c) ​"We used to, but we smashed all of them dur­ing our argu­ments and we have none left."
But of course I thought none of the above answers would reflect well on my hus­band, who was try­ing after all to be a good late-night host, and all of them would make me sound like a shrill and sar­cas­tic matron. So instead I jumped out of bed and got into some decent cloth­ing. I walked drowsi­ly past the bewil­dered guest toward a kitchen cup­board and took out the glass­es. In the inter­est of thor­ough­ness, I should add I had also thought – very briefly – of say­ing, ​"of course we have glass­es: Open the cab­i­net in the back of the kitchen, look on the sec­ond shelf, etc…" but I dis­missed that option almost as soon as it crossed my mind, the rea­son being, I can hard­ly remem­ber a time I sent my hus­band to the kitchen to fetch some­thing with any luck. He would always say, ​"I looked high and low and didn't find it," and if I would find it and wave it a few inch­es from his face, he would say with amaze­ment, ​"wow! So where was it?" But he would almost always quick­ly add, ​"well, what do you expect, you didn't tell me to look on that shelf!"
Oth­er times, when he is more inclined to be con­sci­en­tious, he would just repeat every line after me, as if by rote, with the expres­sion­less tone of some­one mem­o­riz­ing some essen­tial lines he would need on an impend­ing trip to a for­eign coun­try. ​"Open the door of the cab­i­net on top of the refrig­er­a­tor….. Open the door of the cab­i­net on top of…" Oh, nev­er mind… nev­er mind, I'm coming.
I can't remem­ber how the lines got so rigid­ly drawn between my share of the house­hold tasks and his. I remem­ber a love­ly hand­made gift a good friend brought us, which we still enjoy: two cof­fee mugs apt­ly marked ​"You the man!" and ​"You go girl!" For the most part we both got used to our respec­tive roles and even acquit our­selves of our tasks quite hon­or­ably, but some­times it gets a lit­tle frus­trat­ing, like in this sce­nario which has a way of recur­ring occa­sion­al­ly: One Shab­bos day when we walked the few short blocks from syn­a­gogue towards home, a shy elder­ly man I had invit­ed to join us for lunch walked with my hus­band, while I chat­ted away with some friends a few paces behind them. When we got to the lob­by of our build­ing, I asked my hus­band where the old man was, and he answered ​"Oh! So that's it! No won­der I kept telling him ​'Good Shab­bos' and he just stood there! Then he just went away! I didn't know you had invit­ed him!"
When I reached forty, I thought I should cel­e­brate this major mile­stone by con­quer­ing my fear of dri­ving. Peren­ni­al city mouse that I am, I proved a mediocre stu­dent, and passed by a hair on my third try. Then I had the unin­spired idea of ask­ing my hus­band, a won­der­ful dri­ver, to help me boost my nonex­is­tent skills. And here I should warn you: Even if the dynam­ics of your mar­riage are made in heav­en, please go to any length not to make a co-pilot out of your hus­band. Those rare times I dif­fi­dent­ly clam­bered behind the wheel were the first times he start­ed putting on a safe­ty belt and urged me to put on mine, sit­ting the way we sit in a roller­coast­er, mut­ter­ing between his teeth ​"oy-oy-oy!" My daugh­ter, who was in the car on one of those nerve-rack­ing trips when my hus­band was scream­ing ​"You are break­ing the trans­mis­sion!" told me she prayed it wouldn't be cause for divorce. My dri­ving career was blight­ed after a dozen spins at the most. You might say mass trans­porta­tion got me back in mar­i­tal business.
So all this begs the ques­tion: What would my hus­band say about my Venus habits? Until he does, let me give you some clues and leave it at that: When my PC breaks down or even stalls, I just sit and cry, and I don't think there is a tech­ni­cal sup­port oper­a­tor from Los Ange­les or Chi­na or Bengladesh who doesn't try to duck when he gets my des­per­ate call. I do speak sev­er­al lan­guages but can nev­er make out any tech­ni­cal instruc­tions. I cook, sew, bead, knit, write, con­duct class­es, run the house, give lec­tures and go places, but can nev­er ori­ent myself: a street or a build­ing approached from a new angle becomes total­ly unfa­mil­iar. I have nev­er ever mailed a bill to any ser­vice, bal­anced a check­book or packed for a trip. I leave it all to my hus­band, a mod­el of time­li­ness, indus­tri­ous­ness, thought­ful­ness and fit­ness. And he con­fi­dent­ly – I almost said con­ve­nient­ly – leaves every­thing else to me: our meals, our social agen­da, our trips' itin­er­ary, the man­age­ment of our house.
Luck­i­ly we love a lot of the same things: food (and you know I feed him well), movies, music, books, friends, and places. We share a blind devo­tion to our chil­dren and a fanat­i­cal excite­ment for every­thing they and their own chil­dren do. So yes, it's a real and work­ing part­ner­ship. So what if after all these years, he still does the Jack­ie Mason thing each time we go to a restau­rant, points ran­dom­ly to an item on the menu and asks: ​"Lev­ana, do I like this?"? Don't I still ask him which way to turn each time we vis­it one of our chil­dren in maze­like Wash­ing­ton Heights where they have been liv­ing for years? See? We are a team!
I almost for­got some­thing that could have made me feel bit­ter about hav­ing cooked up a storm all these years, resort­ing to the whole gamut of bribes and incen­tives to feed every­one healthy meals, while my husband's best and only culi­nary per­for­mance is make cof­fee. One morn­ing ages ago, drop­ping off my chil­dren at the school bus stop, I slipped on some chick­en fat a near­by greasy spoon joint had dis­posed of care­less­ly. I cursed at the slobs, then made all press­ing arrange­ments. I asked my hus­band to be home ear­ly and feed them a decent din­ner, while I went with a good friend to the emer­gency room. It was almost mid­night when I got back home, grog­gy from pain killers, with a bloat­ed foot tight­ly wrapped in a volu­mi­nous ban­dage, and on crutch­es. The chil­dren wait­ed up for me, I thought lov­ing­ly, they want to know how I am doing.
But some­how that ques­tion didn't come up, or at least not right away. They were gig­gling delight­ed­ly, and my old­est son said: ​"Wow, Mom­my, you'll nev­er believe this: Tati makes the most awe­some hot dogs!"
Check back all week for Lévana Kirschen­baum​'s posts on the JBC/MJL Vis­it­ing Scribe.