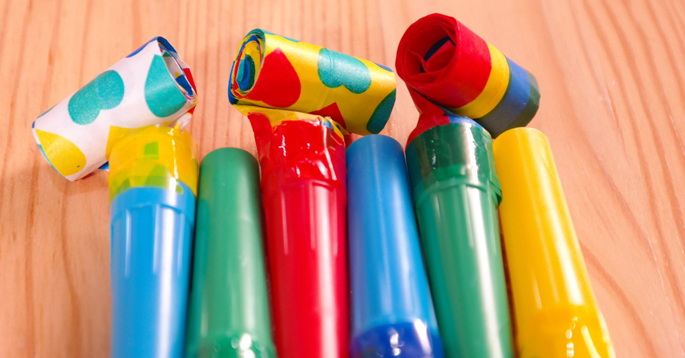 Liane Kupfer­berg Carter is the author of Ketchup Is My Favorite Veg­etable: A Fam­i­ly Grows Up With Autism. This week she begins an exclu­sive series on cel­e­brat­ing the Jew­ish hol­i­days in a fam­i­ly with spe­cial needs as a Vis­it­ing Scribe guest con­trib­u­tor on The ProsenPeo­ple.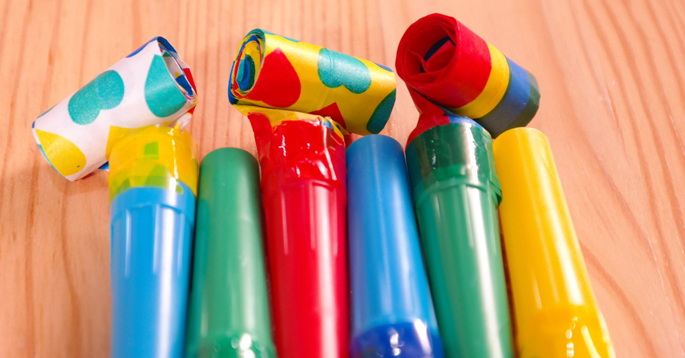 Purim is one of the many ​"they tried to kill us, we won, let's eat" Jew­ish hol­i­days. But for an autis­tic child like my son Mick­ey, Purim is first and fore­most a hol­i­day about sen­so­ry overload.
It starts with the noise: the rau­cous Purim spiel; the cacoph­o­ny of gragers (noise­mak­ers); the boo­ing, howl­ing, hoot­ing, and hiss­ing to drown out Haman's name dur­ing the Megillah read­ing. Add blaz­ing lights, the pink sug­ary smell of cot­ton can­dy, the bang and clang of car­ni­val games, and the press of a hun­dred chil­dren push­ing past him to grab the Dunkin Munchkins. It's sim­ply too much for an autis­tic child with a hyper­vig­i­lant sen­so­ry system.
Just as Broad­way the­aters have been cre­at­ing sen­so­ry-friend­ly the­ater expe­ri­ences for kids on the spec­trum, I'd love to see syn­a­gogues offer a sen­so­ry-friend­ly Purim. But maybe that's an oxy­moron. What's Purim with­out the tumult?
It isn't that our tem­ple hasn't tried. In ele­men­tary school, Mick­ey attend­ed a Hebrew school class run by Matan, a non­prof­it that advo­cates for stu­dents with spe­cial needs to have access to a rich and mean­ing­ful Jew­ish edu­ca­tion. Our tem­ple opened the Purim car­ni­val to Matan stu­dents an hour ear­ly, so that they might enjoy the food and games in a less hec­tic envi­ron­ment. Even though it was in his beloved tem­ple, the famil­iar com­mon room packed with car­ni­val games and trays of sweets was still a sen­so­ry assault to him. It took just ten min­utes until he reached his tip­ping point. ​"Take me home," he said. ​"I'm done."
Words I've learned to heed.
When Mick­ey was eight years old and his broth­er Jonathan thir­teen, we flew to Ari­zona for their cousin's bat mitz­vah. Mick­ey fid­get­ed but man­aged to sit through the ser­vice, even singing along to famil­iar songs. But when we moved to the ban­quet room, we slammed up against a wall of thrum­ming music and flash­ing lights. Mick­ey flung him­self to the floor and clutched his hands over his ears. Peo­ple stared. We scooped him up and took him back to our hotel room.
Hav­ing a child with these sen­si­tiv­i­ties opened a win­dow into myself. As a kid, I also hat­ed crowd­ed rooms. Strobe lights. Roller coast­ers. I thought it was a char­ac­ter flaw, that I was sim­ply too timid. I didn't real­ize it was just the way I was wired — the way my son is wired, too.
Still, I wish he could enjoy Purim the way I did as a child. I remem­ber the joy I felt dress­ing up as Queen Esther for our temple's car­ni­val. I wore a sequined, neon green cos­tume with gauzy harem pants. I delight­ed in feel­ing like a dif­fer­ent per­son. But Mick­ey doesn't do cos­tumes. ​"I hate dress­ing up," he says. ​"I just like normal."
"I've had enough." He says it adamant­ly, often when the rest of us are still hav­ing fun. For years, I cajoled, rea­soned, even bribed: I want­ed him to sit longer, stay lat­er, last through the meal. Was that more for my sake than his? Or am I beat­ing myself up too much? It took me a long time to under­stand that he doesn't mean to be dif­fi­cult. He is sim­ply advo­cat­ing for what he needs.
I believe it's my job as his par­ent to expose him to as many new expe­ri­ences as I can. I want to open the rich­ness of the world to him. When is it okay to push? How hard? When to pull back?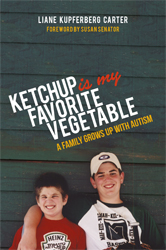 It's an intri­cate dance. Mick­ey is twen­ty-three now, and I am still learn­ing the steps. I can still sup­ply the props — the food, the fam­i­ly, the prayers, the sto­ries — but now the rest is up to him.
After we retreat­ed from the car­ni­val at our tem­ple, a thought­ful neigh­bor brought him mishloach man­ot, a Purim bas­ket over­flow­ing with cook­ies, choco­lates, clemen­tines, bot­tles of grape juice, and a pair of Purim fin­ger pup­pets. ​"I love Purim!" he told me.
As I watched how excit­ed he was to go through that bas­ket of good­ies, I real­ized that Purim was what­ev­er Mick­ey wants to make of it. I don't know what being Jew­ish means to him. But see­ing his plea­sure in some­thing as sim­ple as that bas­ket of treats gave me joy. Maybe that's enough for both of us.
Liane Kupfer­berg Carter is a nation­al­ly-known writer and advo­cate for the autism com­mu­ni­ty and a co-author of the Autism Speaks Advo­ca­cy Took Kit. She will be tour­ing for the 2016 – 2017 sea­son on her book Ketchup Is My Favorite Veg­etable through the JBC Net­work.
Relat­ed Content:
Liane is a nation­al­ly-known writer and advo­cate for the autism com­mu­ni­ty. Her work has appeared in numer­ous pub­li­ca­tions, includ­ing The New York Times, the Chica­go Tri­bune, The Huff­in­g­ton Post, Tikkun, Kveller, and Par­ents Mag­a­zine. She is a co-author of the Autism Speaks Advo­ca­cy Took Kit.