Ear­li­er this week, Jen­nifer Gilmore wrote about the over­lap between her per­son­al con­cerns and writer­ly con­cerns. She has been blog­ging here all week for Jew­ish Book Coun­cil and MyJew­ish­Learn­ing.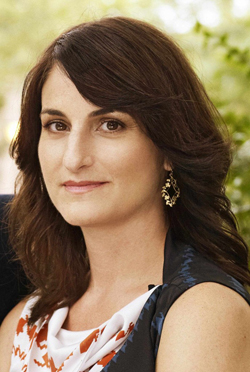 The Moth­ers is the first book I've writ­ten that does not pri­mar­i­ly con­sist of Jew­ish char­ac­ters. It's a lit­tle weird that with my first book — where there are pret­ty much only Jews, even in the depart­ment stores and hotels, at the the­ater and the mar­ket — I had no idea I was writ­ing an Amer­i­can Jew­ish nov­el. I was just telling this family's exten­sive sto­ry. I was writ­ing an Amer­i­can story.
This book is also an Amer­i­can sto­ry. But sim­i­lar­ly, I had no idea that this book was deal­ing with ​"cross cul­tur­al issues," which is what some review­ers and read­ers have report­ed. I wrote a book chron­i­cling a couple's strug­gle to have chil­dren. But what I didn't real­ize is that, because they are from dif­fer­ent back­grounds — the wife, Jesse, is Jew­ish, the hus­band, Ramon, is first gen­er­a­tion Ital­ian and Span­ish — they han­dle their highs and lows of their expe­ri­ence dif­fer­ent­ly. Though her fam­i­ly has not been par­tic­u­lar­ly obser­vant, Jesse's mem­o­ries and her expe­ri­ences are dis­tinct­ly Jew­ish, in addi­tion to being par­tic­u­lar­ly Amer­i­can. She has mem­o­ries of Passovers with her fam­i­ly, as well as grow­ing up with her sis­ter in sub­ur­ban Vir­ginia. She remem­bers the sev­en­ties when her moth­er work­ing was an unusu­al sit­u­a­tion. Her moth­er was one of the few women she knew who held a job.
Ramon is Euro­pean and his expe­ri­ence — of speak­ing many lan­guages and tra­vers­ing a Euro­pean land­scape embed­ded in the past — dif­fers from Jesse's. The two argue over how they will raise the child they don't even yet have. They don't know the gen­der or the race of their poten­tial child, nor do they know where in the coun­try he or she will come from, or when, and still these issues of iden­ti­ty and how the child will be raised are of huge con­cern to them.
What hap­pens when how we raise our chil­dren becomes an intel­lec­tu­al pur­suit? Jesse has had more time than most to think about what it means to be a moth­er. As we know, it all becomes clear once a child arrives, but Jesse is stuck in a zone where she can only think about the future hypo­thet­i­cal­ly. What is lost and what is gained from a shift in cul­tures? As a moth­er, what will she bring with her from her past? What will she choose or be forced to leave behind?
Do writ­ers always know what we are writ­ing? No. I am always—always—sur­prised by what read­ers take from my books. And they catch things that a writer doesn't. This book is about Jesse's strug­gle to become a moth­er, but it is also about a mar­riage. Because this is a sto­ry about two fam­i­lies join­ing up. It's about same­ness; it's about dif­fer­ence. It's about being yoked to anoth­er and about being freed. I think this is a sto­ry about want­i­ng. But you, read­er, might find an entire­ly new and oth­er sto­ry being told.
Jen­nifer Gilmore's newest nov­el,
The Moth­ers
, is now avail­able. Read more about her here.
Jen­nifer Gilmore is the author of two nov­els, Gold­en Coun­try, a final­ist for the Nation­al Jew­ish Book Award, and Some­thing Red. Her work has appeared or is forth­com­ing in The Los Ange­les Times, The New York Times, Salon, Self, Vogue, and The Wash­ing­ton Post. She has been a Mac­Dow­ell Colony fel­low and cur­rent­ly teach­es at Prince­ton University.