Alli­son Amend
​

'

s most recent nov­el,
A Near­ly Per­fect Copy
, is now avail­able. Alli­son was a final­ist for the

2011

Sami Rohr Prize for Jew­ish Lit­er­a­ture for her nov­el
Sta­tions West
. She will be blog­ging here all week for Jew­ish Book Coun­cil and MyJew­ish­Learn­ing.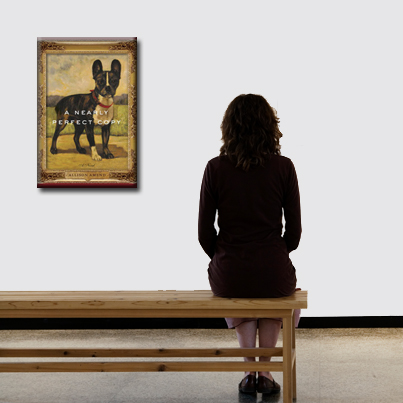 Peo­ple ask me how much research I had to do on art forgery for my new book A Near­ly Per­fect Copy. The answer is: a lot. Some of it was even nec­es­sary. Some of it was just procrastination.
To that end, I wan­dered into the Musée d'art et d'his­toire du Judaïsme in Paris on one hot day, more in search of a bath­room than in search of wis­dom. But, read­er I found both (and if you've been to Paris, you know how valu­able a qual­i­ty pub­lic bath­room is).
The exhibits were what you'd expect (Sephardic arti­facts, Vichy gov­ern­ment depor­ta­tion nar­ra­tives, syn­a­gogue records, suit­cas­es — Jew­ish muse­ums always have a lot of suit­cas­es…), but the true gem here is the library. It's small but com­pre­hen­sive, and the librar­i­an was exceed­ing­ly help­ful when I asked for information
I'm not sure I found any­thing I couldn't have found in oth­er Eng­lish lan­guage archives, but this pleas­ant air con­di­tioned after­noon in a qui­et and free study space made me think of two things.
First, there are an extra­or­di­nary num­ber of Jew­ish muse­ums. I am in the mid­dle of a project with two friends in which we vis­it every muse­um in the five bor­oughs of New York City (a project that start­ed out inter­est­ing and fun and has dete­ri­o­rat­ed into a duty as we slog through the last 29 muse­ums. You can find a blog about the project here). There are sev­en Jew­ish muse­ums out of the 110 muse­ums in New York (eight if you count the Ten­e­ment Muse­um, ten if you count muse­ums found­ed by Jews). No oth­er eth­nic­i­ty or cul­ture or reli­gion has as many muse­ums devot­ed to it (and we're not even count­ing memo­ri­als, which are not tech­ni­cal­ly museums).
There are of course many rea­sons for the pro­lif­er­a­tion of Jew­ish muse­ums: there is the rich his­to­ry of the Jew­ish pres­ence in New York; muse­ums can be seen as a response to the Holocaust's attempt to wipe out Judaism. But there is also the long his­to­ry of Jew­ish involve­ment in the arts.
A sub­plot in my new nov­el A Near­ly Per­fect Copy is the attempt to gain repa­ra­tions for art stolen from Jews dur­ing the Holo­caust. These attempts con­tin­ue in real life, and encounter thorny legal issues. How can a fam­i­ly prove own­er­ship when the records were destroyed? How do you award a paint­ing to what is now dozens of inher­i­tors? What if the cur­rent own­ers acquired the paint­ing by legal means? Who deter­mines the val­ue of the paint­ings, and what gov­ern­ment should be respon­si­ble for pay­ing repa­ra­tions? In my book, char­ac­ters exploit these com­pli­cat­ed eth­i­cal issues for their own finan­cial benefit.
Though I ulti­mate­ly chose not to focus on this bat­tle (oth­er books, fic­tion and non have done an excel­lent job of chron­i­cling the theft — par­tic­u­lar­ly from deal­er and col­lec­tor Paul Rosen­berg — and the Nazis' inter­est in art), it is worth think­ing about the Jew­ish con­nec­tion to art.
Read more about Alli­son here.
Alli­son Amend, a grad­u­ate of the Iowa Writ­ers' Work­shop, is the author of the Inde­pen­dent Pub­lish­er Book Award-win­ning short sto­ry col­lec­tion Things That Pass for Love and the nov­els Sta­tions West (a final­ist for the 2011 Sami Rohr Prize for Jew­ish Lit­er­a­ture and the Okla­homa Book Award) and A Near­ly Per­fect Copy. She lives in New York City.