David Eben­bach​'s col­lec­tion Into the Wilder­ness is now avail­able. He will be blog­ging here all week for Jew­ish Book Coun­cil and MyJew­ish­Learn­ing.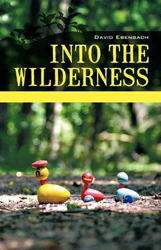 I think most Jew­ish writ­ers, at one time or anoth­er, face the ques­tion of what makes them Jew­ish writ­ers, as opposed to just writ­ers. For exam­ple, con­sid­er Joshua Henkin's blog post, ​"Are You A Jew­ish Writer?" post­ed on this very site, back in June. I per­son­al­ly run into this kind of ques­tion in pan­els at just about every lit­er­ary con­fer­ence I go to, dur­ing ques­tion-and-answer ses­sions at read­ings, in inter­views, and so on. And I think it makes sense; ours is a his­to­ry of, on the one hand, seg­re­ga­tion from non-Jews, which tends to make a peo­ple very aware of its iden­ti­ty, and, on the oth­er, it's a his­to­ry of need­ing to hang onto that iden­ti­ty across an enor­mous diver­si­ty of time and place. With­out a doubt all of this tends to pro­duce a mind­set that wants to ask, ​"But is it Jew­ish?" It also tends to pro­duce lit­er­a­ture full of Jew­ish char­ac­ters doing clear­ly Jew­ish stuff, super-Jew­ish­ly: rab­bis, bar mitz­vahs, bagels, and so on.

But a writer can get tired of the ques­tion. As Henkin point­ed out, ​"No one asked Updike whether he con­sid­ered him­self a WASP writer." Indeed. In Amer­i­ca in the 21st cen­tu­ry, we Jews are still a some­what iden­ti­fi­able com­mu­ni­ty, with our rab­bis and bar mitz­vahs and the like, but let's face it: a day in a (non-Ortho­dox) Jew­ish life is large­ly the same as a gen­tile life. We don't spend all day say­ing: Oh, my G‑d, I'm Jew­ish! I'm tak­ing a Jew­ish show­er! I'm doing my Jew­ish walk to work! What a Jew­ish day I'm hav­ing! For that rea­son, a lot of the sto­ries (and poems, for that mat­ter) I write are just intend­ed to be sto­ries, and not par­tic­u­lar­ly Jew­ish sto­ries. In oth­er words, we live in a sit­u­a­tion where we have the option of writ­ing past our labels. And yet….

First of all, I do some­times write real­ly obvi­ous­ly Jew­ish sto­ries. In ​"Jew­ish Day," one of the sto­ries from my new col­lec­tion, Into the Wilder­ness, a fam­i­ly goes to a base­ball game on ​"Jew­ish Her­itage Day," and the sit­u­a­tion does bring up all kinds of iden­ti­ty issues for the char­ac­ters. And even when my sto­ries aren't so obvi­ous­ly tied to my her­itage, I think that her­itage still mat­ters. I think it does for all Jew­ish authors. Our his­to­ry, our upbring­ing, our life cycle events, all come togeth­er to shape who we are, and we write out of that. (The same could prob­a­bly be said for writ­ers who are Hin­du, Mor­mon, and so on.) Even when our char­ac­ters are not Jew­ish, it mat­ters that we are; it means that, instead of talk­ing about our own com­mu­ni­ty, we're reach­ing out toward anoth­er one. In my sto­ry, ​"Is Any Thing Too Hard for the Lord?" there are two Chris­t­ian char­ac­ters pray­ing to Jesus in a car; this is nec­es­sar­i­ly more an exer­cise in empa­thy than an explo­ration of my own iden­ti­ty.

When the char­ac­ters are Jew­ish, we're doing some­thing else. For exam­ple, my sto­ry ​"Per­son of Inter­est" con­cerns a cou­ple with a baby, stay­ing in a shady rent-by-the-week build­ing for the sum­mer; one day, offi­cers from the Depart­ment of Home­land Secu­ri­ty stop by to arrest one of their neigh­bors, a young man from the Unit­ed Arab Emi­rates. Now, any­body could have rent­ed the apart­ment next to this guy, and you could argue that my char­ac­ters just hap­pened to be Jew­ish. (There are a few signs of their Jew­ish­ness, here and there, though it's not trum­pet­ed from the rooftops.) And so the sto­ry isn't about Jew­ish­ness — yet I have to admit that their Jew­ish­ness does affect the sto­ry. First of all, the narrator's sense of dis­lo­ca­tion in the Mid­west reflects the coastal urban ori­gin of a sig­nif­i­cant num­ber of Jews. More impor­tant­ly, this inci­dent involv­ing an Arab man is more charged, because of the ongo­ing Mid­dle-East con­flict. It's more sig­nif­i­cant. It changes what the events mean to the nar­ra­tor, and to me. In these sens­es it is a Jew­ish sto­ry; Jew­ish­ness mat­ters. And yet I insist: it's also just a sto­ry, where I'm tak­ing on broad­er con­cerns of secu­ri­ty and pur­pose and respon­si­bil­i­ty.

And so, for me as an author, Jew­ish­ness does not have to be the ques­tion, or even a ques­tion, in every sto­ry. I ask any ques­tion my fic­tion leads me to ask. But I also rec­og­nize that, when I do so, I'm doing it sort of Jew­ish­ly. Bagels or no bagels.
Vis­it David Eben­bach's web­site here.
David Eben­bach is the author of eight books of fic­tion, non-fic­tion, and poet­ry, includ­ing the new nov­el How to Mars and the cre­ativ­i­ty guide The Artist's Torah. His work has won such awards as the Drue Heinz Lit­er­a­ture Prize, the Juniper Prize, and oth­ers. David lives with his fam­i­ly in Wash­ing­ton, DC, where he teach­es at George­town Uni­ver­si­ty. You can find out more at davideben​bach​.com