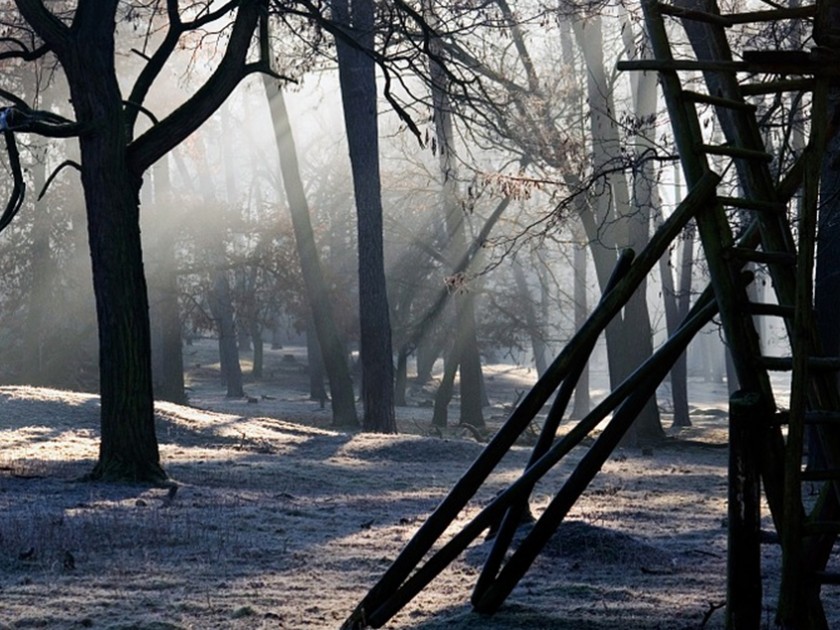 Ear­li­er this week, Noah Beit-Aharon exposed the Bib­li­cal inspi­ra­tions behind his epic fan­ta­sy series, God­serfs. With the release of Among the Fall­en, the sec­ond vol­ume in the series, Noah is guest blog­ging for the Jew­ish Book Coun­cil all week as part of the Vis­it­ing Scribe series here on The ProsenPeo­ple.
There have been many intel­li­gent respons­es to Michael Weingrad's 2010 essay, ​"Why There Is No Jew­ish Nar­nia." This should come as no sur­prise— it's a provoca­tive piece, at once insight­ful and mad­den­ing, fal­si­fi­able in its par­tic­u­lars and yet, on a basic lev­el, essen­tial­ly true. As many have point­ed out, Weingrad's essay fails to pro­vide a sat­is­fac­to­ry answer to the ques­tion of what kind of book would count as, in his words, ​"pro­found­ly Jew­ish in the way that…The Lion, the Witch, and the Wardrobe is Chris­t­ian." Wouldn't the works of Isaac Bashe­vis Singer count? Weingrad's very nar­row def­i­n­i­tion of fan­ta­sy seems to exclude mag­i­cal real­ism and oth­er pop­u­lar fan­ta­sy sub­gen­res, while clas­si­fy­ing only high fan­ta­sy and epic fan­ta­sy — those two sub­gen­res most dom­i­nat­ed by the influ­ence of Lewis and Tolkien — as valid.
But even with the deck thus stacked in Christianity's favor, Weingrad's main ques­tion remains worth­while: is the back­ward-look­ing sword-and-sor­cery stuff that so many of us grew up with so inher­ent­ly Chris­t­ian that it's impos­si­ble to pro­duce great ​"pro­found­ly Jew­ish" works with­in that con­text? In short, is a Jew­ish Nar­nia impossible?
In order to answer that ques­tion, I think we must first ask our­selves what makes the orig­i­nal Nar­nia so Chris­t­ian. That may seem sil­ly, but in this case I think stat­ing the obvi­ous is worth­while: The Chron­i­cles of Nar­nia are Chris­t­ian alle­go­ry. Nei­ther Jesus nor Satan nor any min­is­ter­ing angels appear in the nov­els, except as sym­bol­ized by Aslan and the like. I bring this up because Wein­grad is very clear­ly not demand­ing more Jew­ish char­ac­ters in fan­ta­sy — he wants a sto­ry that feels Jew­ish in the same way that Lewis' work feels Chris­t­ian. As such, it's worth point­ing out that Lewis' books are not about the trap­pings of Chris­t­ian mythol­o­gy. They're about its essence.
But if the essence of Chris­tian­i­ty can be seen in themes like divine self-sac­ri­fice, orig­i­nal sin, and Satan's con­tin­ued rebel­lion after the fall, what is the essence of Judaism?
I recent­ly picked up Matthew Kressel's King of Shards, a fun por­tal fan­ta­sy set in a mul­ti­verse that drips with Kabal­is­tic the­o­ries and oth­er Jew­ish sym­bols and trap­pings. Yet my mind still went back to Mr. Weingrad's essay while read­ing, because although the set­ting and premise of King of Shards are indeed pro­found­ly Jew­ish, the guts of the sto­ry are still those of a clas­sic epic fan­ta­sy sto­ry: a Quest to Save the World. It was hard not to see there the pow­er­ful influ­ence of Tolkien, and of Lewis, on the fan­ta­sy genre: even an unde­ni­ably Jew­ish fan­ta­sy nov­el is pro­pelled by a plot that bor­rows more from the Chris­t­ian ethos than a Jew­ish one.
Our found­ing doc­u­ments do not deal with the pow­er of humans to redeem the world: only God can redeem the world, and on that front God seems con­tent to wait until the end times. Nor do humans (or demons, for that mat­ter) threat­en God's cre­ation in any seri­ous way — God is the sole Granter of life and death, the Cre­ator of both dark­ness and light, Mas­ter of good and evil.
The Jew­ish spir­it does not wor­ship God and fear the dev­il. It wor­ships God, and fears God too.
It is notable that in the Torah, God is dis­tinct­ly not engaged in a strug­gle for suprema­cy. It's not that oth­er gods don't exist — Tanakh accepts the exis­tence of gods oth­er than our own, but insists that our own God is dom­i­nant over them. Even in Exo­dus, where one might expect some real con­flict between the gods of Egypt and the God of Israel, the lat­ter seems to run roughshod over the oppo­si­tion with­out any sem­blance of resis­tance. But if that sounds undra­mat­ic, if you're won­der­ing how such a dynam­ic could pos­si­bly lend itself to a good fan­ta­sy sto­ry, then per­haps you should read the Book of Exo­dus again. There's plen­ty of dra­ma! It's just that the dra­ma of the Torah resides not in the oppo­si­tion of oth­er divine beings to God, but in the con­stant strug­gle between God and the peo­ple of Israel.
When I began the God­serfs series with my first book, Silent Hall, my plan was to set the sto­ry in a world rem­i­nis­cent of the Bib­li­cal one. I'd always been fas­ci­nat­ed by the strange and hor­ri­fy­ing world of Tanakh, where trick­ing one's broth­er out of his birthright is okay but acci­den­tal­ly touch­ing the Ark of the Covenant is a death sen­tence, and I want­ed oth­er read­ers to share my expe­ri­ence of the text in all its dis­turb­ing glo­ry. I know that at least with some, I've suc­ceed­ed. I have a friend who receives drashot from her favorite rab­bis via email, and she keeps for­ward­ing them to me every time some con­cept reminds her of my writing.
If one were to go search­ing for Bib­li­cal par­al­lels in my series, one would find them by the ark-full: a Sinai gen­er­a­tion made up of drag­ons, a Leviathan-like pri­mor­dial plant mon­ster, a god­ly pur­suit as trou­bling and mys­te­ri­ous as the Bride­groom of Blood sto­ry, plus more midrashic ref­er­ences than you could shake a lulav at. The gods in God­serfs are mys­te­ri­ous and fright­en­ing, will­ing to wipe out a pop­u­la­tion or smite an indi­vid­ual over the pet­ti­est of slights. There are also a whole lot of them, and they are fre­quent­ly in con­flict with each oth­er. I chose to start the sto­ry in that poly­the­is­tic mind­set because Judaism didn't arise in a vac­u­um: it devel­oped in reac­tion to the pop­u­lar local reli­gions of its day. The char­ac­ters only start mov­ing toward a monothe­is­tic view­point over the course of the first book, when they dis­cov­er the exis­tence of a God Most High, and look to that god to save them from their divine enemies.
Impor­tant­ly, the char­ac­ter of God Most High is no Enlight­en­ment deity, omni­scient, omnipo­tent, and omnibenev­o­lent. That god may seem famil­iar to us, but is com­plete­ly for­eign to the Hebrew Bible. In case we need a reminder, the God in Tanakh kills one of Judah's sons for mas­tur­bat­ing (or per­haps for using the pull-out method), smites Uzzah for hav­ing dis­as­trous­ly quick reflex­es, tor­tures Job just to prove a point, pun­ish­es Moses for hit­ting a rock in frus­tra­tion (and Miri­am for crit­i­ciz­ing her broth­er), and sends numer­ous plagues down upon the peo­ple of Israel. He also inten­tion­al­ly allows His peo­ple to be enslaved, just so He can show off lat­er by free­ing them. The point of Israelite monothe­ism is not that our God is kinder than Baal, it's that He's more pow­er­ful, and He's the one we made a deal with.
The strug­gle in the God­serf series, as in the Jew­ish litur­gy, is not to resist temp­ta­tion or over­come the dev­il. The strug­gle is for the char­ac­ters to con­vince God Most High to take their side and rise to their aid.
I make no claim to have a ​"Jew­ish edu­ca­tion equiv­a­lent to the philo­log­i­cal and medieval­ist back­grounds of the Oxford and Cam­bridge dons Tolkien and Lewis." I am nei­ther a Jew­ish Stud­ies pro­fes­sor nor a yeshi­va stu­dent. But for those who are inter­est­ed in my vision of fan­ta­sy with a Jew­ish core, Silent Hall and its sequels will not dis­ap­point. The Jew­ish Nar­nia awaits.
Noah Beit-Aharon lives in Waltham, MA, and is a mem­ber of Tem­ple Beth Israel in Waltham. The first two install­ments of his Jew­ish-inspired epic fan­ta­sy series God­serfs, pub­lished under the pen name N. S. Dolka­rt, are avail­able in paper­back from Angry Robot Books.