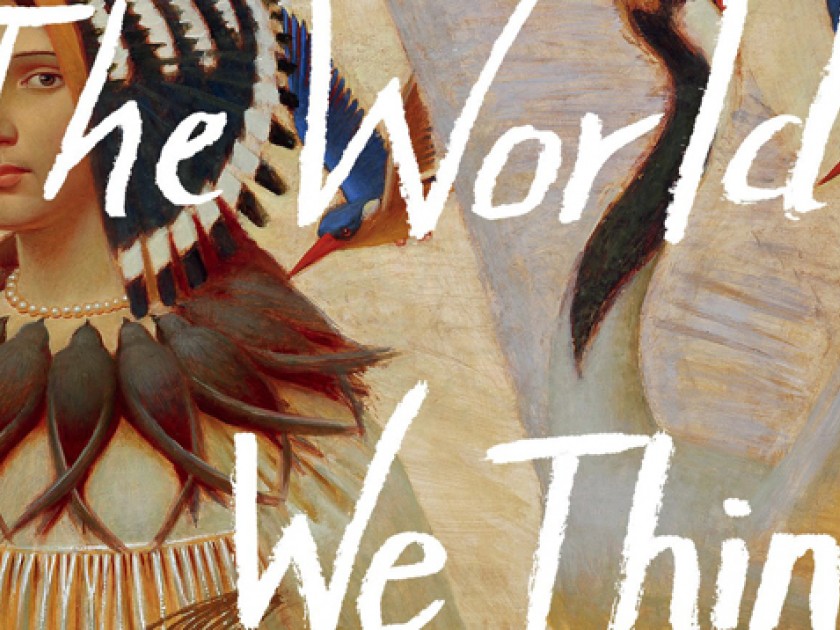 Dalia Rosen­feld, a grad­u­ate of the pres­ti­gious Iowa Writ­ers Work­shop, moved to Israel two years ago to rein­vent her life. And though she has been pub­lish­ing sharply observed lit­er­ary fic­tion in Amer­i­can jour­nals and mag­a­zines for two decades, The Worlds We Think We Know (Milk­weed Edi­tions) is her first col­lec­tion. The wait for these twen­ty new sto­ries has been worth it.
Adam Rovn­er: The Worlds We Think We Know has already gar­nered praise from major Amer­i­can writ­ers, includ­ing Adam John­son, Cyn­thia Ozick, and Gary Shteyn­gart. Shteyn­gart has called your work ​"very fun­ny, Jew­ish and wise." Are you con­scious of being a ​"Jew­ish writer?" What does that mean to you?
Dalia Rosen­feld: I wish I knew! I was hop­ing I was far enough removed from the immi­grant expe­ri­ence to be unqual­i­fied to answer that ques­tion, but here I am, sud­den­ly the hold­er of a sec­ond pass­port, a new immi­grant to Israel. But that doesn't help much either, because the days of link­ing ​"Jew­ish writer" to immi­grant sta­tus are pret­ty much over now. If the ques­tion implies loy­al­ty to a peo­ple, I feel that strong­ly out­side the con­text of writ­ing, but on the page my loy­al­ty is to lan­guage. Jews owe their sur­vival to the pow­er of the writ­ten word — you can't take your land with you into exile, but you can take your sto­ries — which is not to sug­gest that focus­ing on lan­guage alone makes one a Jew­ish writer, but feel­ing at home in lan­guage con­sti­tutes a major part of the Jew­ish experience.
AR: Your prose cer­tain­ly demon­strates that you feel at home in Eng­lish, but can you real­ly use a non-Jew­ish lan­guage to con­vey Jew­ish sensibility?
DR: I don't know if such a thing as a ​"Jew­ish sen­si­bil­i­ty" exists. What I do know is that there are cer­tain states of mind or being that I asso­ciate with Jews, and that my Jew­ish char­ac­ters often pos­sess. For one thing, they are con­scious of a col­lec­tive past, but rather than this past func­tion­ing as a uni­fy­ing force, my char­ac­ters find it hard to feel root­ed in the present. It gives me great plea­sure to ref­er­ence the Jew­ish past because doing so con­nects me with what is famil­iar and offers a sense of com­fort and con­ti­nu­ity: a pop­py seed cake burn­ing in the oven, a Yid­dish phrase, a sto­ry from the Torah that a bar mitz­vah stu­dent couldn't care less about. Maybe it's this seek­ing a con­ver­sa­tion with the past that makes one a Jew­ish writer?
AR: The col­lec­tive past in the guise of the Holo­caust appears in your title sto­ry and sev­er­al oth­er stand­outs. Can you speak about why the Holocaust's long shad­ow enters your work?
DR: Until recent­ly, the Holo­caust shaped my iden­ti­ty more than any oth­er chap­ter in Jew­ish his­to­ry. My father is a Holo­caust schol­ar, and I grew up in a house in which the entire liv­ing room was giv­en over to books on this sub­ject. While my friends were read­ing Jane Eyre, I was read­ing about the Jews of Vien­na being forced to clean the side­walks with tooth­brush­es. What's inter­est­ing is that I nev­er felt bur­dened by this his­to­ry; haunt­ed, yes. Absolute­ly. Because it wasn't just the books: it was also lis­ten­ing to the sto­ries of sur­vivors who came to see my father. When you relive your own mem­o­ries, it's trau­mat­ic, but when you expe­ri­ence anoth­er person's, it's some­thing abnor­mal, unset­tling. And it's those haunt­ed echoes that appear in my sto­ries, some­times just with a sin­gle image, such as a sur­vivor reusing a tea bag until it resem­bles a shriv­eled wal­nut. Since mov­ing to Israel, my pre­oc­cu­pa­tion with how Jews died has shift­ed some­what to how they live.
AR: Who are some of the writ­ers who help you under­stand how Jews lived yes­ter­day and how they live today?
DR: A par­tial list in no par­tic­u­lar order would include Israeli authors Yaakov Shab­tai, Yoel Hoff­man, A. B. Yehoshua; Amer­i­can writ­ers Riv­ka Galchen, Cyn­thia Ozick, Bel­low, Mala­mud, Nicole Krauss, Jamaica Kin­caid; Euro­peans such as Bruno Schulz, Kaf­ka, Leo Perutz — a now obscure Aus­tri­an nov­el­ist (not to be con­fused with Yid­dish writer I. L. Peretz) — and both I. B. and I. J. Singer.
AR: I can see the affin­i­ty your col­lec­tion has with many of these writ­ers. What I mean is that your sto­ries often depict a sense of dis­place­ment. Some­times it's geo­graph­ic — Amer­i­cans in Israel, Rus­sians in Amer­i­ca, cos­mopoli­tans in small towns. Why are uproot­ed char­ac­ters so com­mon in your stories?
DR: I'm drawn to char­ac­ters whose actions are informed by an inner log­ic they them­selves are not aware of, and that is guid­ed — as you put it — by a state of dis­place­ment, some­times forced, some­times self-imposed, in which fixed bound­aries fall away to give the char­ac­ters a chance to rede­fine them­selves. But they often squan­der the oppor­tu­ni­ty by engag­ing in a series of mis­steps, or self-sab­o­tage, such as in my sto­ry ​"Swan Street," where Misha, the pro­tag­o­nist, moves to Amer­i­ca only to end up in a kind of vol­un­tary exile, avoid­ing sit­u­a­tions that would allow him to set­tle into his adop­tive home­land. At the end of a sto­ry, I always dis­cov­er the same thing: that human behav­ior is inscrutable — but still fun to write about.
AR: That com­e­dy of human inscrutabil­i­ty comes across in your sto­ries, many of which pos­sess a wry sense of humor. Is humor dif­fi­cult for you to write?
DR: I hon­est­ly wasn't aware of this wry humor peo­ple keep point­ing out until they start­ed point­ing it out. There's no doubt that it's health­i­er to find the humor in hor­ri­ble sit­u­a­tions than to stew in your own juice — some­thing that I tend to do in real life. One of the pur­pos­es humor serves is to high­light our vul­ner­a­bil­i­ties with­out being held hostage by them.
AR: Many of your char­ac­ters are women who reveal their vul­ner­a­bil­i­ties while at the same time demon­strat­ing resilien­cy. Are you con­scious of writ­ing resilient female characters?
DR: I think a lot of writ­ing hap­pens on an uncon­scious lev­el. The craft part is a con­scious thing, but what moti­vates the char­ac­ters to do what they do — they're just like us, act­ing on impuls­es, intu­ition, instinct, feel­ings, all those things that can't be explained ratio­nal­ly but that ulti­mate­ly make us human. While I don't divide the world into male/​female, I find it hard to argue with a phrase I recent­ly came across describ­ing men as ​"expres­sive­ly eco­nom­i­cal" with their emo­tions. This implies that women are not — that women are some­thing else. And it is this ​"some­thing else" that makes it hard to speak the same lan­guage, to enter into a realm of close­ness that both sides desire, but in dif­fer­ent ways. The resilience of a char­ac­ter comes when the love she seeks isn't with­in her grasp, but still she can find beau­ty in the world.
AR: Your char­ac­ters often seem lone­ly to me. Is writ­ing a lone­ly activ­i­ty for you?
DR: No! Writ­ing is an anti­dote to lone­li­ness. It's what con­nects me with the world and helps me under­stand it bet­ter. Espe­cial­ly since I write in cafes, and in Israel peo­ple nev­er leave you alone. For the last week, the same man has come up to me every morn­ing and said, ​"Did you change that part of your sto­ry I told you to change?" He had shared some Per­sian proverb with me months ago, which I liked but altered a bit, and he was of the con­vic­tion that I should leave it the way it has been for the last five hun­dred years. I prob­a­bly shouldn't have showed him what I did with the proverb, but at the time I want­ed to thank him. This morn­ing he abbre­vi­at­ed his ques­tion to a sin­gle word: ​"Nu?"
AR: Nu? So what are you work­ing on now?
DR: I thought I was work­ing on a nov­el called The Physics of Time Trav­el in which an Amer­i­can woman moves to Israel and imag­ines par­al­lels between her per­son­al life and the tra­jec­to­ry of her adopt­ed coun­try. When I read the first chap­ter, I real­ized it was a stand-alone sto­ry and my inter­est in the theme had been exhaust­ed, but in a good way. In a way that allowed me to write a sec­ond sto­ry about some­thing total­ly dif­fer­ent, and with­out feel­ing guilty about it. I'm now fifty pages into a sec­ond col­lec­tion called The Physics of Time Travel.
Adam Rovn­er is Asso­ciate Pro­fes­sor of Eng­lish and Jew­ish Lit­er­a­ture at the Uni­ver­si­ty of Den­ver. His arti­cles, essays, trans­la­tions and inter­views have appeared in numer­ous schol­ar­ly jour­nals and gen­er­al inter­est pub­li­ca­tions. Rovn­er's short doc­u­men­tary on Jew­ish ter­ri­to­ri­al­ism, No Land With­out Heav­en, has been screened at exhi­bi­tions in New York, Paris, and Tel Aviv.