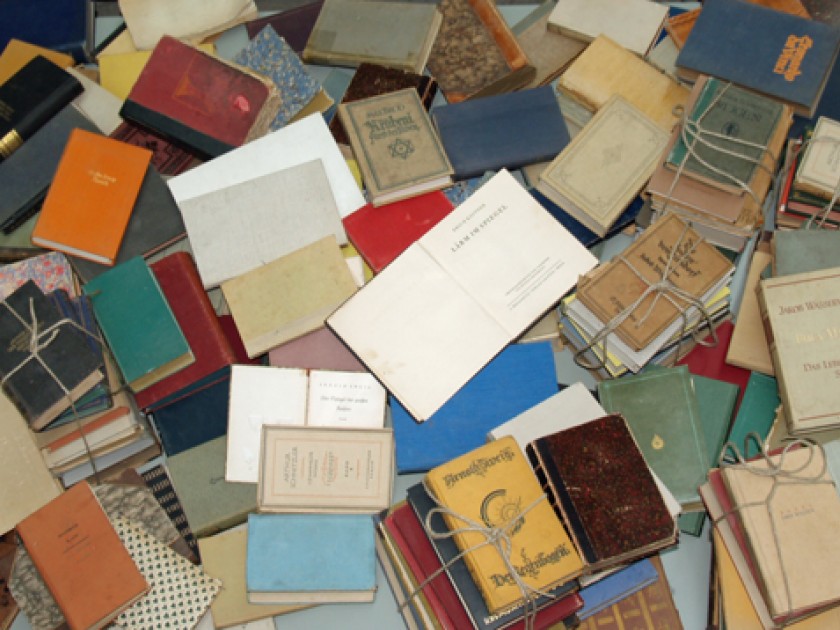 As our edi­tors work on the sec­ond issue of Jew­ish Book Coun­cil's lit­er­ary jour­nal, Paper Brigade, we present a trib­ute to the group of resis­tance fight­ers who pro­vid­ed the inspi­ra­tion for our pub­li­ca­tion's name.
"The paper brigade was our resis­tance — our way of defy­ing the Nazis," explained Dina Abramow­icz, a mem­ber of a small group of Jews in the Vil­na Ghet­to who risked their lives, while work­ing under Nazi sur­veil­lance, to secret­ly res­cue and hide thou­sands of Jew­ish books and doc­u­ments the Nazis were plan­ning to ship to Germany.
Vil­na (Vil­nius), Lithua­nia was a trea­sure-trove for the Nazis. Once known as the ​"Jerusalem of Lithua­nia," it was a vibrant Jew­ish cul­tur­al and reli­gious cen­ter with 105 syn­a­gogues, thriv­ing edu­ca­tion­al insti­tu­tions, enor­mous libraries, and promi­nent intelligentsia.
In 1942 the Nazis ordered Her­man Kruk, head of the Vil­na Ghet­to library, and Zelig Kalmanovich, a direc­tor of pre­war YIVO, to col­lect the very best ​"Jew­ish books, art­work, and muse­um valu­ables" for ship­ment to Ger­many, where they were to be dis­played — after the Jews of Europe were murdered.
About a third of the books were to be pre­served for the Ger­mans; the rest were to be destroyed. When the Nazis car­ried out ​"a selec­tion" of the books they want­ed, they threw ​"70% of the books from the YIVO trea­sures into the trash as scrap paper." Kruk wrote that ​"the Jew­ish work­ers employed on the project are lit­er­al­ly weep­ing.… Your heart can break as you watch."
Kruk recruit­ed mem­bers of the Jew­ish intel­li­gentsia to join his staff of forty men and women, includ­ing the Yid­dish poets Abra­ham Sutzkev­er and Shmerke Kacz­er­gin­s­ki, who became the lead­ers of the smug­gling oper­a­tions. Between March 1942 and Sep­tem­ber 1943, their ​"paper brigade" res­cued thou­sands of books and tens of thou­sands of doc­u­ments from Nazi hands.
The work­ers would typ­i­cal­ly hide the cher­ished books and papers and arti­facts in their cloth­ing and shoes — first to smug­gle them out of the sort­ing build­ing, and then to get past the police at the ghet­to gates. If the Ger­mans were on guard, they would con­fis­cate every­thing and beat or shoot the offend­ing Jews. But if Jew­ish police­men were on guard, they might allow the work­ers to pass because they were ​"only car­ry­ing papers." (Thus the police dubbed them the ​"paper brigade.")
Abra­ham Sutzkev­er (Pho­to: Fritz Cohen)
Abra­ham Sutzkev­er was the most inge­nious res­cuer of mate­ri­als in the paper brigade, at one point obtain­ing a writ­ten per­mit to take wastepa­per into the ghet­to for use in his house­hold oven. He then used the per­mit to bring in let­ters and man­u­scripts by Max­im Gorky, Sholem Ale­ichem, and Hay­im Nach­man Bia­lik; one of Theodore Herzl's diaries; draw­ings by Marc Cha­gall; and a rare man­u­script by the Vil­na Gaon.
While some books and valu­ables were giv­en to Pol­ish or Lithuan­ian friends for safe­keep­ing out­side the ghet­to, most were brought back to be hid­den in the ghet­to itself — in a con­cealed base­ment in the library and in under­ground bunkers spread through­out the ghet­to. (For exam­ple, in Octo­ber 1942 Kruk record­ed 200 Torah scrolls in bunker #3.)
Although Kruk and Kalmanovich were not aware of it, about ten of the forty work­ers, includ­ing Sutzkev­er and Kacz­er­gin­s­ki, were also mem­bers of the FPO, the ghetto's under­ground Jew­ish fight­ing orga­ni­za­tion led by Abba Kovn­er. Along with the papers, they were also smug­gling guns and ammu­ni­tion into the ghet­to for a planned revolt.
Sad­ly, in the end, most of the forty mem­bers of the paper brigade were mur­dered by the Ger­mans, includ­ing Kruk and Kalmanovich. The only sur­vivors were the paper brigade work­ers in the Jew­ish resis­tance — includ­ing Sutzkev­er, Kacz­er­gin­s­ki, the fight­er Rush­ka Kor­jak, and the librar­i­an Dina Abramow­icz (quot­ed ear­li­er), all of whom escaped from the ghet­to to join the Partisans.
In July 1944, they returned to Vil­na with the Sovi­et Army and the Jew­ish par­ti­san brigade and searched for the books they had hid­den with a plan to use them as the foun­da­tion for a new Vil­na Muse­um of the Jew­ish Peo­ple. That sto­ry, and the sto­ry of how the doc­u­ments were even­tu­al­ly reclaimed by YIVO — fifty years lat­er — in New York, will be told in a forth­com­ing book by Pro­fes­sor David Fish­man.
Lenore J. Weitz­man is writ­ing a book on the kashariy­ot, the young women who were secret couri­ers for the Jew­ish resis­tance dur­ing the Holo­caust. She coedit­ed Women in the Holo­caust (Yale, 1999), a final­ist for two Nation­al Jew­ish Book Awards, with Dalia Ofer.