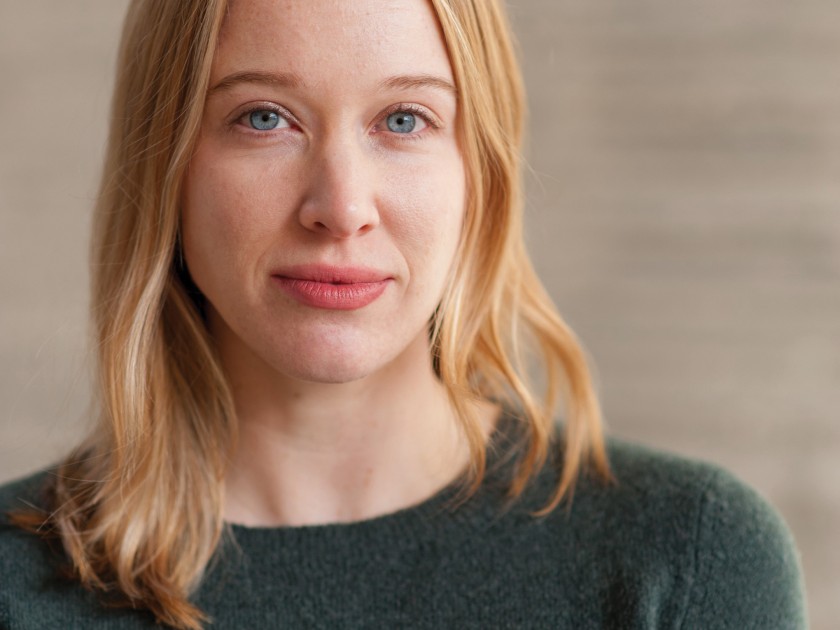 While there are vague ref­er­ences in the Torah to being rejoined with our ances­tors in death, most of Judaism's more con­crete inter­pre­ta­tions of the after­life devel­oped after the Torah was writ­ten. The only tidy con­clu­sion we can make about the after­life is that there is no sin­gle answer.
Chloe Ben­jamin​'s most recent nov­el, The Immor­tal­ists, implic­it­ly asks the ques­tion, would my life have mean­ing even if I knew pre­cise­ly when it will end? Fur­ther­more, would know­ing exact­ly when I'll die even mat­ter? The nov­el fol­lows the Golds: Simon, Klara, Daniel, and Varya, four Jew­ish sib­lings com­ing of age on the Low­er East Side of New York City in the late 1960s. Ear­ly in their lives, they are each giv­en a prophe­cy by a local for­tune-teller — a Romani woman who claims she can pre­dict the date a per­son will die.
The nov­el is the sto­ry of what they choose to make of their lives despite their hyper­aware­ness of their own mortality.
Karah Preiss: When were the first seeds of The Immor­tal­ists sown? How much of the impe­tus for the nov­el came from your inter­est in your own roots?
Chloe Ben­jamin: In one sense, I start­ed think­ing about The Immor­tal­ists in 2013, but in anoth­er, the seeds were sown through­out my life. This isn't an auto­bi­o­graph­i­cal nov­el, but it's cer­tain­ly a por­trait of my psy­chol­o­gy to some extent, in that the book's pre­oc­cu­pa­tions — fact ver­sus mys­tery, reli­gion ver­sus athe­ism, knowl­edge ver­sus uncer­tain­ty, health ver­sus mor­tal­i­ty — have long been my own. Part of that is just the way I'm wired, as some­one who tends toward anx­i­ety and a desire for con­trol (as much as I know that con­trol is often impos­si­ble). And part of it comes from the cir­cum­stances of my life. Hav­ing an uncon­ven­tion­al fam­i­ly instilled in me an inter­est in fam­i­lies — the way they cohere and come apart, and the com­bi­na­tion of inti­ma­cy and dis­tance that exists between fam­i­ly members.
As for my own roots, I'm half-Jew­ish. Like the Golds' ances­tors in The Immor­tal­ists, my dad's fam­i­ly were East­ern Euro­pean Jews who came through Ellis Island dur­ing the pogroms and set­tled in New York City. My great-grand­fa­ther was a tai­lor, like Saul Gold, and my grand­fa­ther, like Simon, was meant to be his pro­tégé (although my grandfather's sim­i­lar­i­ties to Simon most­ly end there!). My grand­par­ents were enor­mous­ly help­ful as I researched immi­grant life in the ear­ly twen­ti­eth cen­tu­ry. From them, I learned all sorts of vivid and won­der­ful details. Some made it into the book — such as the fact that my great-grand­fa­ther would bring my grand­fa­ther to Saks Fifth Avenue to buy the lat­est styles in order to make knock-offs for his own clien­tele — and oth­ers didn't … like my great-grand­moth­er bury­ing fine sil­ver­ware in the back­yard when she thought it had been used for some­thing non-kosher!
KP: The threat of anti-Semi­tism still looms large in Jew­ish com­mu­ni­ties today, espe­cial­ly with the renewed vig­or of the alt-right. To what extent did you, as a Jew­ish per­son, feel an oblig­a­tion to write a book about char­ac­ters whose Jew­ish iden­ti­ties are a key ele­ment in the novel?
CB: I would like to think the world has learned from the unthink­able hor­ror of the Holo­caust, but issues of xeno­pho­bia and oth­er­ness are still alarm­ing­ly present — even more, as you point out, since Trump's elec­tion. Racism, sex­ism, anti-Semi­tism, and Islam­o­pho­bia only seem to be esca­lat­ing, and that's terrifying.
See­ing all of this, I felt an oblig­a­tion as some­one with a Jew­ish back­ground — but also sim­ply as a human being! — to write a book that was account­able to these times, and that didn't shy away from pol­i­tics. I want­ed to explore how the Golds expe­ri­ence dis­crim­i­na­tion but also how they have priv­i­leges that oth­er char­ac­ters in the book do not. For instance, Raj comes to the U.S. as an ille­gal immi­grant, and prej­u­dice is more of a fac­tor in his dai­ly life than it is for the Golds of his generation.
I think part of the prob­lem with this fright­en­ing polit­i­cal cli­mate is that fear can make all of us small­er. It can make us more self-pro­tec­tive, more biased, even if we don't mean to be. What is so hard — but nec­es­sary, I think — is to become more expan­sive right now: more curi­ous, more empa­thet­ic, more aware of oth­er people's strug­gles. I tried to write a book that isn't afraid of being crit­i­cal, but that leads with compassion.
KP: Ear­ly in The Immor­tal­ists, the Gold sib­lings are giv­en the fortune-teller's prophe­cy of when they will each die. The four sub­se­quent parts of the nov­el are snap­shots of the four sib­lings in the order of these dates, leav­ing the read­er with a sense that these are char­ac­ters who are fight­ing for their lives. Grow­ing up as a Con­ser­v­a­tive Jew in New York City, I was made very aware of our his­to­ry as a peo­ple who have con­sis­tent­ly strug­gled for our place in soci­ety, and was also con­stant­ly remind­ed of our minor­i­ty sta­tus in the world, even when it felt like every­one I knew was Jew­ish. Do you think that the Gold sib­lings' Jew­ish iden­ti­ty made them bet­ter equipped for lives that were marked by a tick­ing clock? I guess what I'm say­ing is, is there some­thing about being Jew­ish that primes us for hardship?
CB: I think that can def­i­nite­ly be the case. There's a moment in the book when Klara, who might be the most spir­i­tu­al of the Gold sib­lings despite the fact that she isn't active­ly reli­gious, thinks, ​"if noth­ing else, Judaism had taught her to keep run­ning, no mat­ter who tried to hold her hostage. It had taught her to cre­ate her own oppor­tu­ni­ties, to turn rock into water and water to blood. It had taught her that such things were pos­si­ble." To my mind, the sto­ry of the Jews is one of endurance and creativity.
KP: The fol­low­ing is tak­en from your book: ​"God might be the great­est gift we give our­selves — the gift of san­i­ty." I agree with this entire­ly and am often con­fused by athe­ism because it seems far less ratio­nal to me — rather daunt­ing. You grew up with an athe­ist father, an Epis­co­palian moth­er, and a Jew­ish step­moth­er. In spite of this con­flu­ence of reli­gious ideas, do you still per­son­al­ly agree that a reliance on God is actu­al­ly a safer bet than a life with­out any sort of high­er pow­er? What is your take on the whole ​"high­er pow­er" thing?
CB: My mater­nal grand­fa­ther was an Epis­co­palian min­is­ter, but in the past ten or fif­teen years, my grand­moth­er found her­self strug­gling with faith in God. A few years ago, we talked about the idea of the envi­ous athe­ist — some­one who doesn't believe, but wish­es they did. I def­i­nite­ly wouldn't call myself an athe­ist, but I am an envi­ous agnos­tic. I absolute­ly agree that a world with­out God, where noth­ing hap­pens for a rea­son and nobody is watch­ing over us, is a far more dis­turb­ing thought than the reverse. And yet I find belief to be some­thing you can't fake. You have it or you don't. And I strug­gle with belief — at least belief in a some­what anthro­po­mor­phized, male-pro­noun-ed God — for the same rea­sons Daniel does: because I have trou­ble see­ing faith as more than a very human sto­ry. It is sooth­ing. But how do we know we aren't just mak­ing it all up?
I rec­og­nize that this sounds strange com­ing from some­one who makes things up for a liv­ing. But it's just where I am. On the oth­er hand, what keeps me from being an athe­ist is that I firm­ly believe in how aston­ish­ing and most­ly unknown the uni­verse is. The idea that it spawned how­ev­er many stars and how­ev­er many plan­ets and that bil­lions of peo­ple are float­ing in dark­ness on one of them, unaware of what else is hap­pen­ing through­out this impos­si­bly vast expanse — the won­der and mag­ic of that feels like my ver­sion of reli­gion. I think reli­gion is always about hold­ing space for awe, and mys­tery, and there's too much mys­tery to be awed by for me to claim I have no faith in some­thing beyond ourselves.
KP: In Judaism there are two relat­ed con­cepts: olam ha-zeh (this world) and olam ha-ba (the world to come). Judaism does not offer the relief of the heaven/​hell bina­ry, but instead directs us to live our lives mean­ing­ful­ly to make way for qual­i­ty of our exis­tence after death. Can you explain how you used the lack of the heaven/​hell ​"escape hatch" as a for­mal con­straint for the Gold sib­lings? How did it affect their approach­es to mortality?
CB: This was a dichoto­my that real­ly inter­est­ed me. Judaism seems like one of the only reli­gions that makes no promis­es about the here­after, and I couldn't help but won­der how that would affect the Golds. Chris­tians have this pret­ty idyl­lic idea of the after­life, which would, I imag­ine, make it eas­i­er to face one's mor­tal­i­ty. But with­out that imag­i­na­tive escape hatch, the Golds feel a much greater sense of urgency. As far as they know, here and now is all there is.
KP: The Romani dias­po­ra is an impor­tant part of The Immor­tal­ists; the Romani psychic's pre­dic­tions are respon­si­ble for the entire tra­jec­to­ry of the nov­el. In read­ing The Immor­tal­ists, I won­dered if you used this plot­line to draw a par­al­lel between the Roma­n­is' mar­gin­al­ized place in soci­ety and the Golds' feel­ing of oth­er­ness as Jew­ish immi­grants try­ing to estab­lish them­selves in New York City?
CB: Def­i­nite­ly. In gen­er­al, I want­ed to write a fic­tion­al world that reflects the diver­si­ty of the real world. Jews, as a group, have endured tremen­dous suf­fer­ing. But I want­ed to widen the lens, to show how oth­er mar­gin­al­ized groups have made their way, too. The Romani have a lot of real­ly inter­est­ing sim­i­lar­i­ties to Jews, I think. They faced per­se­cu­tion in the Holo­caust, but more than that, they are a tra­di­tion­al­ly itin­er­ant group that has spread through­out the world by way of neces­si­ty and inven­tion. And just as anti-Semi­tism remains a strong and trag­i­cal­ly grow­ing pres­ence, the Romani face an immense amount of dis­crim­i­na­tion and xeno­pho­bia today.
While I have Jew­ish her­itage — and grew up expe­ri­enc­ing Jew­ish tra­di­tions, thanks to my step­moth­er, Ellen — I don't have any such link to the Romani, and I was very ner­vous about whether I had the right to write about their com­mu­ni­ty. I didn't want to write a book that was filled only with peo­ple of my demo­graph­ic, but I also didn't want to speak for a group that wasn't mine. Ulti­mate­ly, I think that the project of fic­tion is to imag­ine your way into oth­er lives, and that the best we fic­tion writ­ers can do is to be dili­gent in our research so that we don't fall into por­tray­ing stereotypes.
KP: Varya and Klara are both dri­ven by meta­phys­i­cal pur­suits — sci­ence (pri­ma­tol­ogy) and mag­ic, respec­tive­ly. Did you con­scious­ly choose their occu­pa­tions to con­trast with the rigid brand of Judaism they expe­ri­enced in their youth? Or do you think they were attract­ed to such extreme dis­ci­plines because of their Jew­ish upbring­ing? Does super­sti­tion play into this at all?
CB: That's so inter­est­ing — I hadn't thought of Varya's work falling into that frame­work, but the nov­el def­i­nite­ly has meta­phys­i­cal con­cerns, Klara's sec­tion espe­cial­ly. In Klara's view, though, mag­ic is actu­al­ly con­nect­ed to her Jew­ish upbring­ing. Despite Judaism's aver­sion to sooth­say­ers and div­ina­tion, Klara finds in reli­gion a pow­er­ful sto­ry of trans­for­ma­tion and belief. Varya would like to think she's more ratio­nal, but she engages in mag­i­cal think­ing of her own via OCD. Most of the char­ac­ters in the book vac­il­late between faith and super­sti­tion. In the lat­ter, there's an ele­ment of fear and rit­u­al, as in Varya's OCD: If I do this, I can stop that from hap­pen­ing. Main­stream reli­gion dis­avows super­sti­tion, but I think they're intertwined.
KP: Simon's sto­ry­line was a rich and dev­as­tat­ing account of the gay expe­ri­ence in San Fran­cis­co at the onset of the AIDS epi­dem­ic. There is a tremen­dous amount of schol­ar­ship and fic­tion devot­ed to the AIDS epi­dem­ic, but the added lay­er of Simon's deser­tion of his tra­di­tion­al, New York Jew­ish child­hood was remark­ably fresh. It also made me curi­ous as to whether or not you were per­son­al­ly invest­ed in telling his par­tic­u­lar sto­ry. Was Simon com­plete­ly made up? Did your ties to San Fran­cis­co have some­thing to do with his character's tra­jec­to­ry? What kind of research did you do in order to cre­ate his tex­tured but short life?
CB: Simon's sto­ry is at once very much not my own — I'm not a gay man in the sev­en­ties and eight­ies, of course — and immense­ly per­son­al. I grew up in San Fran­cis­co with two sets of par­ents: one gay (my mom and her long­time part­ner, Mol­ly), and one straight (my dad and Ellen). From the time I was a child, the LGBT com­mu­ni­ty was a huge part of my upbring­ing, and so was a sub­tle but per­sis­tent anx­i­ety about how oth­er peo­ple per­ceived my fam­i­ly. You'd think that wouldn't be an issue in the nineties and ear­ly 2000s, and in San Fran­cis­co espe­cial­ly, but we encoun­tered plen­ty of pas­sive-aggres­sive (and some­times aggres­sive!) disapproval.
It was impor­tant for me to tell Simon's sto­ry with com­pas­sion and nuance, and a lot of research. I looked at archival mate­ri­als, from TV footage to old news­pa­pers and pho­tos, in order to get a sense of how that time looked and felt. I read mem­oirs and non­fic­tion, and watched doc­u­men­taries. I inter­viewed men whose expe­ri­ences mir­rored Simon's, and talked with peo­ple who were alive dur­ing the epi­dem­ic. I also researched the his­to­ry of sex and sex work in San Fran­cis­co more widely.
KP: Did you learn any­thing new about Judaism — his­tor­i­cal­ly, social­ly, or cul­tur­al­ly—while writ­ing The Immor­tal­ists?
CB: One of the things I found real­ly pro­found is the empha­sis that Judaism places on words and sto­ries. In a sense, Jews are their sto­ry. Lan­guage is a source of iden­ti­ty, sus­te­nance, sol­i­dar­i­ty, and con­tin­u­ance. The Hebrew that is writ­ten on scrolls thou­sands of years old is the same Hebrew read today. It's no won­der that Jews, as a dias­poric group, have such rich intel­lec­tu­al tra­di­tions: sto­ries are portable and, dare I say, immor­tal. When I inter­nal­ized that, I wrote a sec­tion about the pow­er of words — how you can't keep them cap­tive — that feels like the heart of the nov­el. As a writer with Jew­ish lin­eage, there's noth­ing more inspir­ing than that.
Karah Preiss is a con­tent cre­ator and the cofounder of the online read­ing com­mu­ni­ty Bel­letrist. She lives and works in New York City.