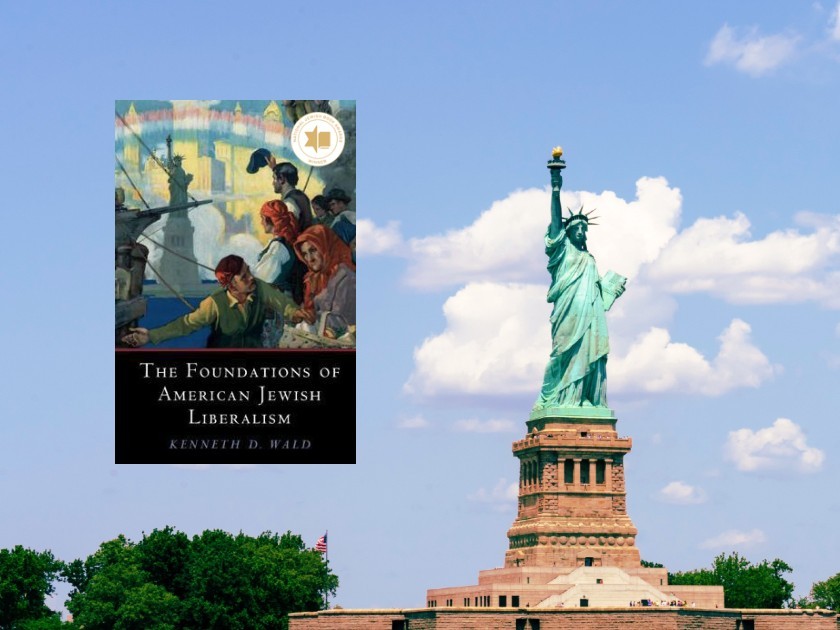 When I grew up in Lin­coln, Nebras­ka, the city prob­a­bly had more Native Amer­i­cans than Black peo­ple. I was aware of the Civ­il Rights Move­ment from broad­casts of angry white police rain­ing down trun­cheons on peace­ful Black demon­stra­tors, but a fam­i­ly vaca­tion to Kansas City, some­time in the 1960s, was the first time I came face to face with large num­bers of Black people.
As an inquis­i­tive boy, I nat­u­ral­ly asked my father what I thought was a sim­ple ques­tion: Why do so many white peo­ple hate Black peo­ple? There was no such prej­u­dice evi­dent in my home and I couldn't under­stand where it came from.
My father paused for a few moments while for­mu­lat­ing an answer. He admit­ted he didn't know why there was so much racial big­otry among white peo­ple. But, he told me with a con­vic­tion lat­er rein­forced by social sur­veys, those who hat­ed Black peo­ple usu­al­ly hat­ed Jews, too.
As a Jew, a child of Holo­caust sur­vivors, and grand­child of Holo­caust vic­tims, that was all I need­ed to know to deter­mine where I stood in pol­i­tics. I felt a kin­ship with Black peo­ple based on our com­mon dis­crim­i­na­tion and knew that I inher­it­ed a respon­si­bil­i­ty to sup­port racial justice.
This sen­si­bil­i­ty was not tied to par­ti­san­ship at the time. My father was a Repub­li­can, large­ly because of busi­ness issues, but held decid­ed­ly un-Repub­li­can views about such things as nation­al health insur­ance and pub­lic trans­porta­tion. He sup­port­ed both because they were busi­ness-friend­ly poli­cies to keep work­ers healthy and enable them to get to their jobs. Fol­low­ing an almost iron­clad law of polit­i­cal sci­ence that young chil­dren inher­it par­ti­san­ship from their par­ents, I was a Repub­li­can as late as the 1964 elec­tion, when Bar­ry Gold­wa­ter was the GOP pres­i­den­tial nom­i­nee. I was the only Repub­li­can among my Jew­ish friends.
I only real­ized years lat­er that my social iden­ti­ty as a Jew led me in time to reject the GOP and embrace the Demo­c­ra­t­ic Par­ty. My lib­er­al­ism flow­ered, even while I attend­ed a con­ser­v­a­tive state uni­ver­si­ty. As South­ern seg­re­ga­tion­ists began to flee the Demo­c­ra­t­ic Par­ty in the 1970s, I felt more and more at home in my par­ty. Even when I real­ized the imper­fec­tions in my sim­ple syl­lo­gism about Jews and Black peo­ple — dis­cov­er­ing Jews who hat­ed blacks and blacks who traf­ficked in anti­semitism — my polit­i­cal sym­pa­thies remained on the left.
In social sci­en­tif­ic terms, I devel­oped a pos­i­tive valence toward Democ­rats and lib­er­als that con­nect­ed with my iden­ti­ty as a Jew, and I also devel­oped a feel­ing of kin­ship to fel­low Jews. Just as polit­i­cal sci­ence the­o­ries would pre­dict, the two lines of attrac­tion gen­er­at­ed the third side of a tri­an­gle, link­ing my per­son­al attach­ment to Jews with my good feel­ings toward lib­er­al pol­i­tics and the Demo­c­ra­t­ic par­ty. As exper­i­men­tal research demon­strates, social iden­ti­ty enhances pos­i­tive atti­tudes to an in-group and often pro­motes neg­a­tive feel­ings toward com­pet­ing groups. In my case, iden­ti­fy­ing as a Jew and a Demo­c­rat stim­u­lat­ed an adverse reac­tion to the GOP.
I only real­ized years lat­er that my social iden­ti­ty as a Jew led me in time to reject the GOP and embrace the Demo­c­ra­t­ic Par­ty. My lib­er­al­ism flow­ered, even while I attend­ed a con­ser­v­a­tive state university.
Although direct­ed at dif­fer­ent objects, social iden­ti­ty is cen­tral to explain­ing the polit­i­cal behav­ior of Amer­i­can Jews today. In Foun­da­tions of Amer­i­can Jew­ish Lib­er­al­ism, win­ner of the 2019 Nation­al Jew­ish Book Award in Amer­i­can Jew­ish Stud­ies, I try to solve three puz­zles: Why are Jews, an afflu­ent group who should the­o­ret­i­cal­ly be attract­ed to Repub­li­can eco­nom­ic poli­cies, still so dis­pro­por­tion­ate­ly attached to the Demo­c­ra­t­ic Par­ty? Why are Amer­i­can Jews the only dias­po­ra com­mu­ni­ty that is still pre­dom­i­nant­ly on the left side of its country's polit­i­cal spec­trum? Final­ly, why does the liberalism/​Democratic attach­ment of Jews, strong as it is, some­times waver and then recover?
To make a com­pli­cat­ed argu­ment sim­ple, I argue that Amer­i­can Jews are lib­er­als because they are Amer­i­can Jews. That is, they live in a soci­ety that does not define cit­i­zen­ship offi­cial­ly in terms of race or eth­nic­i­ty. Their polit­i­cal sys­tem, in sharp dis­tinc­tion to many coun­tries where Jews live, tends to uphold the prin­ci­ple that the state should nei­ther con­fer ben­e­fits nor costs based on traits like race, reli­gion, or nation­al ori­gin. This per­cep­tion of a sec­u­lar state based on equal treat­ment with­out regard to extra­ne­ous traits is the essence of clas­si­cal lib­er­al­ism. It has been, I argue, the foun­da­tion of the Amer­i­can Jew­ish polit­i­cal cul­ture since the found­ing of the Unit­ed States in the late 18th century.
Amer­i­can Jews were lib­er­als before they became Democ­rats. Their ​"con­ver­sion" to the par­ty, which began almost a cen­tu­ry ago in the late 1920s, was dri­ven large­ly by eco­nom­ic con­cerns stim­u­lat­ed by the Great Depres­sion. So why does this belief in clas­si­cal lib­er­al­ism man­i­fest itself today as sup­port for the Demo­c­ra­t­ic Party?
The tumult of the 1960s and 1970s weak­ened Demo­c­ra­t­ic par­ti­san­ship among Jews, as it did for the oth­er com­po­nents of what was known as the New Deal Coali­tion: trade union­ists, Roman Catholics, blue col­lar work­ers, and white South­ern­ers. For many Jews at the time, even those com­mit­ted to equal oppor­tu­ni­ty, the Democ­rats' com­mit­ment to Affir­ma­tive Action appeared to vio­late tra­di­tion­al lib­er­al prin­ci­ples, by appor­tion­ing gov­ern­ment ben­e­fits and bur­dens based on race.
Unlike the oth­er four groups, which remained per­ma­nent­ly estranged, Jews returned in large num­bers to the Demo­c­ra­t­ic Par­ty in the mid- to late-1980s. They gave its pres­i­den­tial nom­i­nees an aver­age of eighty per­cent of their two-par­ty vote in the five elec­tions between 1992 and 2008.
The pro-Demo­c­ra­t­ic surge among Jews in the late 1980s had mul­ti­ple caus­es, but it devel­oped as Jews iden­ti­fied a new and more potent threat to the sec­u­lar state of clas­sic lib­er­al­ism. The mobi­liza­tion of polit­i­cal­ly con­ser­v­a­tive Chris­tians by evan­gel­i­cal groups, like Moral Major­i­ty and Chris­t­ian Coali­tion, struck them as dan­ger­ous to Jew­ish inter­ests and norms.
Many Evan­gel­i­cal Protes­tants pushed poli­cies to pro­mote orga­nized prayer in pub­lic schools, to make tax-sup­port­ed grants to faith-based social ser­vices with mis­sion­ary aims, and to oppose abor­tion and gay mar­riage on the­o­log­i­cal grounds. Jews con­sid­ered these ini­tia­tives con­trary to the prin­ci­ple that the state should be neu­tral in all mat­ters of reli­gious faith. The per­ceived dan­gers grew more omi­nous when Evan­gel­i­cals became the core of the con­tem­po­rary Repub­li­can Par­ty and, in turn, the GOP became the instru­ment to achieve their aims. The new base prompt­ed lead­ing Repub­li­cans to resus­ci­tate the long-dor­mant con­cept of the Unit­ed States as a Chris­t­ian nation.
The Jew­ish reac­tion fol­lows a script laid out by social iden­ti­ty the­o­ry, devel­op­ing (or rein­forc­ing) cog­ni­tive ties between the com­po­nents of self — Jew­ish group mem­ber­ship — and sup­port for a polit­i­cal par­ty which Jews saw as a reli­able guar­an­tor of a sec­u­lar state from threats by politi­cized evan­gel­i­cal Protes­tants and their Repub­li­can allies. Any­one who observes the poli­cies of Pres­i­dent Trump, sur­round­ed by a coterie of Evan­gel­i­cal pas­tors who pro­mote a Chris­t­ian nation plat­form, will not be sur­prised that Jews remain firm­ly plant­ed around the liberal/​Democratic pole of the par­ti­san spectrum.
Of course, not all Jews devel­op this type of social iden­ti­ty nor its polit­i­cal col­oration. Most Jews who immi­grat­ed as adults from the for­mer Sovi­et Union after 1989 and the Ortho­dox sub-com­mu­ni­ties have large­ly aligned with the GOP. The for­mer are dri­ven most­ly by admi­ra­tion for Ronald Reagan's role in end­ing com­mu­nism in Rus­sia, the lat­ter by a mix of hawk­ish pro-Israel sen­ti­ments and con­ser­v­a­tive social val­ues. But these remain rel­a­tive­ly small fac­tors and the chil­dren of the post-1989 Russ­ian emi­gra­tion have increas­ing­ly come to resem­ble their Amer­i­can-born core­li­gion­ists in polit­i­cal matters.
When he wrote that pol­i­tics is about ​"who hates who," Kevin Phillips may have spo­ken too broad­ly, but the nub of the idea is sound: polit­i­cal choic­es are dri­ven, in part, by neg­a­tive feel­ings to groups that are believed to threat­en the inter­ests or val­ues of the groups with which we iden­ti­fy per­son­al­ly. In the case of Jews, the drift to Repub­li­can­ism in the 1970s and ear­ly 1980s was arrest­ed and reversed by the emer­gence of a new­ly empow­ered group who chal­lenged the endur­ing Amer­i­can Jew­ish polit­i­cal cul­ture root­ed in clas­si­cal liberalism.
Ken­neth D. Wald is Dis­tin­guished Pro­fes­sor Emer­i­tus of Polit­i­cal Sci­ence and the Samuel Shorstein Pro­fes­sor Emer­i­tus of Amer­i­can Jew­ish Cul­ture and Soci­ety at the Uni­ver­si­ty of Flori­da. His books include Reli­gion and Pol­i­tics in the Unit­ed States (8th ed.) and The Pol­i­tics of Cul­tur­al Dif­fer­ences: Social Change and Vot­er Mobi­liza­tion Strate­gies in the Post-New Deal Peri­od. He is cur­rent­ly work­ing on a mem­oir about the impact of the Holo­caust on three gen­er­a­tions of his family.