Ear­li­er this week, Michelle Braf­man wrote about water and the mik­vah in Judaism as well as the tahara, Jew­ish bur­ial rit­u­als. She is the author of the debut nov­el Wash­ing the Dead and has been blog­ging here all week for Jew­ish Book Coun­cil's Vis­it­ing Scribe series.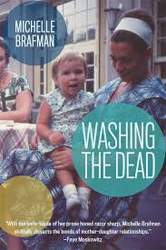 My tor­ment­ed rela­tion­ship with the mechitzah sab­o­taged numer­ous drafts of my nov­el Wash­ing the Dead. This came as a sur­prise to me because it had been years since I'd giv­en thought to the wood­en bar­ri­er that sep­a­rat­ed the men's and wom­en's sec­tions in the Ortho­dox syn­a­gogue of my youth.
As a child the mechitzah nev­er both­ered me, per­haps because I was an unusu­al­ly tall girl, and from a young age I could see over it. I liked sit­ting with my moth­er and my friends and nev­er pon­dered this gen­der seg­re­ga­tion, not even when my fam­i­ly had to join a Con­ser­v­a­tive syn­a­gogue in order for me to become a bat mitzvah.
My first semes­ter in col­lege, how­ev­er, a fiery phi­los­o­phy pro­fes­sor intro­duced me to the likes of San­dra Bartky and Andrea Dworkin, and a fem­i­nist was born. I became attuned to the myr­i­ad ways women were mar­gin­al­ized. I scoffed at the Ortho­dox ratio­nale that women did not need to per­form rit­u­als in the syn­a­gogue because we are more spir­i­tu­al­ly evolved or that our ener­gies are best direct­ed toward keep­ing the dietary laws, edu­cat­ing the chil­dren, and light­ing the Sab­bath can­dles. I steered clear of mechitzahs and held on tight­ly to my resent­ment until well into writ­ing my novel.
Wash­ing the Dead is set in a Ortho­dox Mil­wau­kee syn­a­gogue and tells the sto­ry of the main char­ac­ter Bar­bara's fierce yearn­ing to return to this com­mu­ni­ty from which she was exiled. My smart ear­ly read­ers all said that they did­n't under­stand Bar­bara's desire to return to a world I'd been describ­ing so crit­i­cal­ly. I could­n't locate the crit­i­cism on the page until my daugh­ter and I attend­ed a bar mitz­vah at a shul with a mechitzah. She went off to find her friends, and I stood alone star­ing out into this sea of women, pret­ty hats cov­er­ing their hair, their heads lean­ing into each oth­er dur­ing con­ver­sa­tion. Mem­o­ries flood­ed me. The wom­en's sec­tion was the beat­ing heart of my child­hood shul, where the reg­u­lars shared news of preg­nan­cies, divorces, and ill­ness­es and deaths in their fam­i­lies. And these women had kept track of me.
Lucette Lagna­do described my sen­ti­ments beau­ti­ful­ly in her mem­oir The Arro­gant Years, ​"What I'd failed to real­ize was that for the women of my child­hood, the world with­in our closed-off area was every bit as rich and vivid as the uni­verse beyond it; and the bar­ri­er in fact fos­tered and inten­si­fied feel­ings of kin­ship and inti­ma­cy. Inside was a world that was remark­ably col­le­gial and embrac­ing and kind."
After the bar mitz­vah, I went home and reread my pages, and I under­stood how my dis­dain for the tra­di­tions of my for­mer shul was insid­i­ous­ly embed­ded in the sim­plest descrip­tions. I, and per­haps the spir­it of Andrea Dworkin, were talk­ing over Bar­bara, insert­ing polit­i­cal com­men­tary about the mechitzah.
Unlike Bar­bara, I was nev­er exiled from my com­mu­ni­ty. But in the moment of return­ing to the mechitzah with my daugh­ter, I felt a pull toward a spir­i­tu­al home that I'd left, a home that I do not wish to return to, but that tugs at me enough to write, with truest feel­ing, the long­ing my char­ac­ter felt for the mechitzah of her youth.
Michelle Braf­man's essays and short sto­ries have appeared in the Wash­ing­ton Post, Slate, Tablet, Lilith Mag­a­zine,the min­neso­ta review, and else­where. She teach­es fic­tion writ­ing at the Johns Hop­kins MA in Writ­ing Pro­gram. Vis­it her web­site at www​.michelle​braf​man​.com.
Relat­ed Content:
Michelle Brafman's fic­tion and essays have appeared in The Wash­ing­ton Post, Slate, Tablet, and oth­ers. A reg­u­lar con­trib­u­tor to the Lilith Mag­a­zine blog, she has led its salon dis­cus­sions at the­aters and arts cen­ters through­out the Wash­ing­ton, DC area. She teach­es fic­tion writ­ing at Johns Hop­kins Uni­ver­si­ty and lives in Glen Echo, Mary­land with her hus­band and two children.