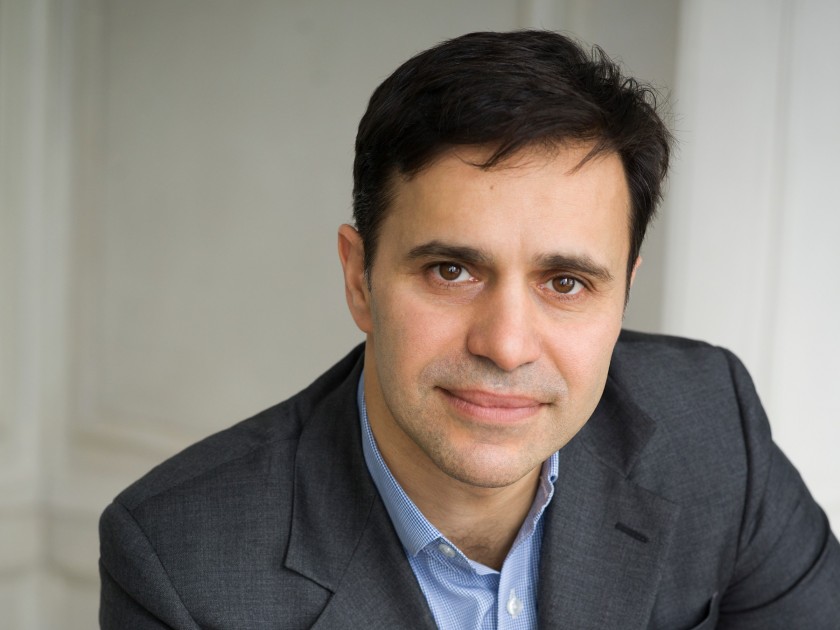 A Ter­ri­ble Coun­try is Kei­th Gessen's long-await­ed sec­ond nov­el, which comes a decade after his cel­e­brat­ed debut, All the Sad Young Lit­er­ary Men. It's an aus­pi­cious book about a marked­ly inaus­pi­cious time and place — Rus­sia cir­ca 2008, a set­ting Gessen knows well. He lived in Moscow before his family's immi­gra­tion to Boston in 1981, and then returned to a trans­formed ver­sion of the city for a year in the new millennium.
Gessen's pro­tag­o­nist is Andrei Kaplan, a Sovi­et-born Jew and strug­gling Russ­ian lit­er­a­ture PhD who also immi­grat­ed to Boston with his fam­i­ly as a child. When we first meet Andrei, he's an arche­typ­al sad-sack aca­d­e­m­ic: his girl­friend has dumped him; his advis­er thinks his research stinks (and read­er, it kind of does). Mean­while, his con­tri­bu­tion to the Life of the Mind con­sists of answer­ing emails around the clock from the stu­dents in his paid mas­sive open online course, for which he earns an embar­rass­ing pittance.
When Andrei's old­er broth­er has to flee Rus­sia after the fail­ure of his lat­est get-rich-quick scheme, he asks Andrei to return to Moscow in order to take care of their ail­ing grand­moth­er, Baba Seva.
So how much worse could Rus­sia real­ly be? At least he'll have a free place to stay — so what if his child­hood bunk beds take up most of the space? And he can play hock­ey there … right? (Sort of.) By the time we bid Andrei до свидания about a year lat­er, he has both suc­ceed­ed and failed on sev­er­al fronts: help­ing Baba Seva, mak­ing a bunch of excit­ing new Social­ist friends, advanc­ing his career-of-sorts, and under­stand­ing whether — and if so, how — Rus­sia real­ly is a ter­ri­ble country.
Rebec­ca Schu­man: The run­ning gag with Andrei's aca­d­e­m­ic ambi­tions is the extreme vague­ness of his research top­ic, ​"Rus­sia and Moder­ni­ty," which seems des­tined for fail­ure. But the joke's on us, because A Ter­ri­ble Coun­try is, of course, a very effec­tive book about … Rus­sia and moder­ni­ty. And Rus­sia, of course, is all over the news now.
Kei­th Gessen: It was a very strange feel­ing the last few years as I final­ly got clos­er to fin­ish­ing the book. I began it in late 2009, when very few peo­ple in the U.S. cared much about Rus­sia. Then Rus­sia annexed Crimea in 2014, and I thought, ​"Oh no, I wish I'd fin­ished my book already — peo­ple tem­porar­i­ly care about Rus­sia again." (I mean, I also thought, ​"This is hor­ri­ble, why are the Rus­sians invad­ing Ukraine?") And then, luck­i­ly for me — but very unluck­i­ly for our coun­try and basi­cal­ly all of human­i­ty — the Rus­sians inter­fered in the elec­tion, and now it's all Rus­sia, all the time.
RS: How do you think your read­ers will react, now that Russia's in the top tier of Amer­i­can freak-out topics?
KG: I don't know how that's going to play out — whether they'll be curi­ous enough about Rus­sia to read the book, or dis­ap­point­ed that it's not ​"tough enough" on the coun­try or doesn't have Putin appear­ing at the end with a gun in his hand. My hope is that it gives non-Russ­ian read­ers some sense of what liv­ing there is actu­al­ly like — how it's not just tor­ture cham­bers and exe­cu­tions on the street, even as it is also those things. I think that's what Andrei strug­gles so much to get his head around — and what his grand­moth­er has been deal­ing with her whole life: how to live in a coun­try that you think is ter­ri­ble, but is nonethe­less your coun­try and not one you're will­ing to leave.
My hope is that it gives non-Russ­ian read­ers some sense of what liv­ing there is actu­al­ly like — how it's not just tor­ture cham­bers and exe­cu­tions on the street, even as it is also those things.
RS: Since I'm a failed aca­d­e­m­ic myself, Andrei's strug­gles with the job mar­ket evoke a world with which I am painful­ly famil­iar — but you had the good sense not to get a Russ­ian lit­er­a­ture doc­tor­ate, so clear­ly you did a bunch of deep dives into the milieu of aca­d­e­m­ic detri­tus like me. Why put your­self through this when you don't have to? Why make Andrei an academic?
KG: I did try, in var­i­ous drafts, to make Andrei a writer or jour­nal­ist or trans­la­tor, which is more what I was doing when I was over in Rus­sia. But it felt kind of dead on the page. It's not that I have a the­o­ret­i­cal prob­lem with what's come to be known as aut­ofic­tion, where the main char­ac­ter basi­cal­ly is the author. I think Sheila Heti's last two nov­els, for exam­ple, have been ter­rif­ic, and I real­ly admire the way she man­ages to do away with so much fic­tion­al scaf­fold­ing and explain­ing, and instead just gets straight to her point: how should we live our lives? What kind of peo­ple should we be? How can we tell? But that approach didn't work for me.
Once I made Andrei an aca­d­e­m­ic, it real­ly opened up a lot of pos­si­bil­i­ties. I'd had Andrei the jour­nal­ist read­ing var­i­ous books and learn­ing about Rus­sia, which was kind of plod­ding, where­as Andrei the aca­d­e­m­ic could already know stuff about Russ­ian his­to­ry and lit­er­a­ture, and I didn't need to explain why. At the same time, he's not a know-it-all in the way Andrei the jour­nal­ist might be. He under­stands Russ­ian his­to­ry, but he's not very famil­iar with con­tem­po­rary Rus­sia, so that gives him an oppor­tu­ni­ty to learn about it. And in gen­er­al, that's a
nice thing about a char­ac­ter in acad­e­mia: he's rel­a­tive­ly smart, he knows a lot of things, but he doesn't know some essen­tial thing.
RS: There are few failed careerists who elic­it less sym­pa­thy than failed aca­d­e­mics. Did you play off this pre­con­cep­tion in your por­tray­al of Andrei?
KG: I don't think aca­d­e­mics are unsym­pa­thet­ic! Some of my best friends are aca­d­e­mics. But the aca­d­e­m­ic life does allow oppor­tu­ni­ties for humor and mis­un­der­stand­ings and absur­di­ty, which I enjoyed. It also opens up a lot of room for descrip­tions of resent­ment and jeal­ousy. Obvi­ous­ly, as a writer, I am aware that those feel­ings are not con­fined to acad­e­mia. But there's some­thing real­ly dra­mat­ic, and awful, about the zero-sum nature of the aca­d­e­m­ic job mar­ket. The win­ners get jobs at Ivy League schools at a mid­dle-class salary, and the losers get noth­ing — adjunct posi­tions at state schools at a pover­ty wage.
But the aca­d­e­m­ic life does allow oppor­tu­ni­ties for humor and mis­un­der­stand­ings and absur­di­ty, which I enjoyed.
RS: Despite being a fourth-gen­er­a­tion Russ­ian Jew myself, I am woe­ful­ly under­read in the canon, so I didn't get what I'm sure are many spe­cif­ic and clever allu­sions. But it just so hap­pens that the only work of Russ­ian lit­er­a­ture I have read in the orig­i­nal Russ­ian is Tolstoy's short sto­ry ​"God Sees the Truth, But Waits" — and I saw a lot of sim­i­lar­i­ties! Was this intentional?
KG: I actu­al­ly had a dif­fer­ent Tol­stoy work in mind when I was writ­ing this, an ear­ly nov­el called The Cos­sacks. I was also think­ing of Chekhov's play The Cher­ry Orchard. I mean, obvi­ous­ly I think of A Ter­ri­ble Coun­try as an Amer­i­can nov­el, but I'd be very hap­py if some Rus­sian­ness rubbed off on it.
It should be said, more recent Russ­ian fic­tion is fun­nier than Tol­stoy. Venedikt Yero­feyev, Sergei Dovla­tov, Vladimir Sorokin, Vik­tor Pelevin — these are all men — they're essen­tial­ly humorists. It's the women — the best and best-known are the two Lud­mi­las, Petru­shevskaya and Ulit­skaya — who write the more ambi­tious, more depress­ing books. There was one male nov­el­ist, Zakhar Prilepin, who was try­ing to revive the tra­di­tion of the Russ­ian social nov­el, and he wrote a cou­ple of okay nov­els, but then he turned out to be a total fas­cist and now he's in East­ern Ukraine fight­ing for the sep­a­ratists. I'll read a fas­cist writer if he's real­ly excel­lent, but Prilepin isn't near­ly that excellent.
RS: Where do you see your­self in the Russ­ian-Amer­i­can-Jew­ish lit­er­ary continuum?
KG: I have to admit, I think of my cohort as being very much the Russ­ian Jew­ish — or real­ly Sovi­et Jew­ish — one: Yele­na Akhtiorskaya, David Bez­mozgis, Sana Krasikov, Ellen Lit­man, Lara Vap­n­yar, Anya Ulinich, and of course Shteyn­gart. And oth­ers. I read all their work with great plea­sure and recog­ni­tion. And it's inter­est­ing — I feel like in pre­vi­ous gen­er­a­tions, Russ­ian Jew­ish writ­ers iden­ti­fied more as Jews than as Rus­sians. Saul Bel­low was born in St. Peters­burg, and Philip Rahv, the cofounder of the Par­ti­san Review, was born in what is now Ukraine. But I sus­pect both of them knew more Yid­dish than Russ­ian. Where­as, of course, my cohort doesn't know any Yid­dish at all. We were heav­i­ly Rus­si­fied. We have at least as much in com­mon with Rus­sians of our gen­er­a­tion as we do with Amer­i­can Jews of our gen­er­a­tion. But that's the sto­ry of the twen­ti­eth cen­tu­ry, and not just in Rus­sia. We are the prod­ucts of that sto­ry. We are also now, for var­i­ous his­tor­i­cal rea­sons — not least the activist work of Amer­i­can Jew­ry — in a posi­tion to reflect on it. I hope we don't blow it.
I have to admit, I think of my cohort as being very much the Russ­ian Jew­ish — or real­ly Sovi­et Jew­ish — one: Yele­na Akhtiorskaya, David Bez­mozgis, Sana Krasikov, Ellen Lit­man, Lara Vap­n­yar, Anya Ulinich, and of course Shteyngart.
RS: Mild spoil­er alert: the end­ing of A Ter­ri­ble Coun­try is trag­ic in a per­fect way, by which I mean that Andrei gets what he want­ed all along, and it is the worst pos­si­ble thing (after all, this is a book about, among oth­er things, Russ­ian literature).
KG: That's a great way of putting it. I've found this true about life in gen­er­al: peo­ple tend to get what they want, but rarely in the way that they want it, and usu­al­ly too late. I did want there to be room for the read­er to feel like they might have done it dif­fer­ent­ly. Some read­ers have been very angry with Andrei, but it sounds like you were more under­stand­ing, and just kind of sad, for him and for all of human­i­ty. Also a good response.
RS: Baba Seva is always dis­miss­ing peo­ple she sees in her neigh­bor­hood as anti-Semi­tes, and Andrei seems to view this as part of her gen­er­al crotch­eti­ness. But it turns out that she's right in at least one painful instance.
KG: It's a tricky thing about Rus­sia. Jews have been very much a part of Russ­ian cul­ture, espe­cial­ly in the twen­ti­eth cen­tu­ry — Babel, Cha­gall, Joseph Brod­sky, Stalin's ene­my Trot­sky, and Stalin's hench­man Kaganovich. Jews made the Rev­o­lu­tion and ben­e­fit­ed from it, but even­tu­al­ly many were destroyed by it. Stalin's Sovi­et Union saved the Jews from Hitler (with the help of the many Jews who fought in the Red Army) and then turned around and start­ed plan­ning to exile the Jews to the Far East. And in the post-Sovi­et peri­od, in the tumult of the first years after the col­lapse, many Jews were able to use their links to the gray and black economies, which they had been forced into dur­ing Sovi­et times because of the lim­it­ed oppor­tu­ni­ties afford­ed them in the offi­cial Sovi­et sys­tem, to win large mar­ket shares and become very wealthy. At the same time there was a sig­nif­i­cant Jew­ish exo­dus. You can't feel it as much in a place like Moscow, but there are towns in Ukraine where a huge pro­por­tion of the Jews left after 1989.
On the one hand, the Russ­ian atti­tude to this exo­dus is, ​"We miss the Jews." On the oth­er, it's, ​"We knew it. Sovi­et pro­pa­gan­da always said they were dis­loy­al, and now they've proved it." And toward the Jews who remain — or who return, as Andrei does — there's always this kind of sus­pi­cion, well below the sur­face, that they might not be ful­ly ​"loy­al" to Rus­sia. And of course the Jews feel the same way: ​"Yes, this is where we've lived for gen­er­a­tions, but they don't want us, let's leave."
Jews made the Rev­o­lu­tion and ben­e­fit­ed from it, but even­tu­al­ly many were destroyed by it.
RS: I read this nov­el, in many ways, as a book about moth­er­hood. The per­son­al tragedy of Andrei's moth­er — her absence — pred­i­cates much of the story.
KG: That's a great read­ing. I hadn't thought of it that way. It's def­i­nite­ly the case, as you say, that the death of Baba Seva's daugh­ter — Andrei's moth­er — is what makes their even­tu­al rela­tion­ship pos­si­ble. It's the rup­ture in the generations.
RS: Then of course, we have the oth­er, even big­ger moth­er: Moth­er Rus­sia, who, as none oth­er than Vladimir Putin him­self says on the radio in the book, is ​"sick." And both of those moth­ers con­verge in the fig­ure of Baba Seva — who is also sick in her old age, and must be moth­ered by the rel­a­tive­ly incom­pe­tent care­giv­er, Andrei.
KG: I hadn't thought of the con­nec­tion between the moth­ers in Andrei's fam­i­ly and Moth­er Rus­sia, both of whom loom as some­what hec­tor­ing or guilt-induc­ing fig­ures in the book.
RS: As I read of the chal­lenges in get­ting Baba Seva down the stairs, or how Andrei would go through all this trou­ble to schlep her to the park only to have her hate it, or how she would only wear, like, two things, I also could not help but be remind­ed of my daugh­ter, who is three — of how sim­i­lar we are at the begin­ning and end of life.
KG: I start­ed writ­ing the book when I was thir­ty-four and unmar­ried, but about two-thirds of the way through the process, our son was born. I won't say it was some kind of rev­o­lu­tion in my under­stand­ing of fic­tion or of Andrei's rela­tion­ship with his grand­moth­er … but it did help. One of the things I start­ed think­ing more about was touch — how with lit­tle chil­dren, a lot of the time, you just need to hug them and hold them, because oth­er ways of com­mu­ni­cat­ing are not yet avail­able. And the same can be true in very old age. It was true of my own grand­moth­er when I was tak­ing care of her, espe­cial­ly as she descend­ed fur­ther into demen­tia. She couldn't remem­ber any­thing and she couldn't real­ly hear any­thing, but she still want­ed to be touched, to have her hand held, to be hugged. She loved to be hugged.
RS: Is that also the best approach to Moth­er Russia?
KG: Moth­er Rus­sia is a dif­fer­ent sort of moth­er. More bear­like. You shouldn't go
around hug­ging bears.
Rebec­ca Schu­man is an author, essay­ist, and trans­la­tor based in St. Louis, MO. Her work appears in Slate, the Atlantic, the Chron­i­cle of High­er Edu­ca­tion, The Hair­pin, and more. She holds a PhD in Ger­man from the Uni­ver­si­ty of Cal­i­for­nia-Irvine where she com­plet­ed a dis­ser­ta­tion on Franz Kaf­ka and Lud­wig Wittgenstein.