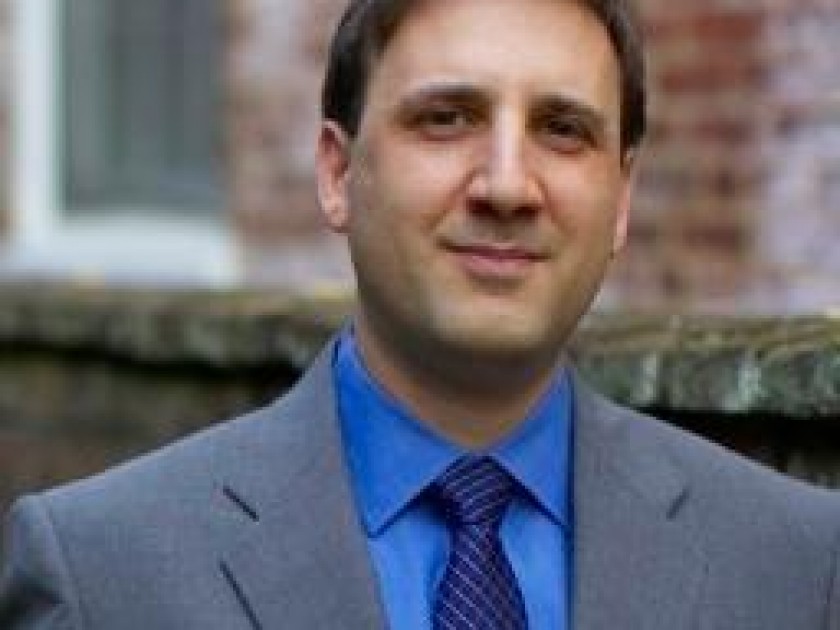 Cel­e­brate Jew­ish Book Month with #30days30authors! JBC invit­ed an author to share thoughts on #Jew­Lit for each day of Jew­ish Book Month. Watch, read, enjoy, and dis­cov­er!
This week, we are fea­tur­ing the final­ists and win­ner of the Natan Book Award at Jew­ish Book Coun­cil.
Today, James Loef­fler, the author of the forth­com­ing book Root­ed Cos­mopoli­tans: Jews and Human Rights in the Twen­ti­eth Cen­tu­ry, writes about his dis­cov­ery of ​"The Third Roth."
It was some­time in my first year of col­lege when I dis­cov­ered I had nev­er heard of the great­est Jew­ish writer of the twen­ti­eth cen­tu­ry. Or so I learned one day from a pre­co­cious friend with a sub­scrip­tion to the New York Review of Books. Have you read Joseph Roth? They say he's the great­est Jew­ish writer of the cen­tu­ry. You must mean Philip Roth? I respond­ed. No, Joseph Roth. I paused, flum­moxed. Then I tried again. Oh, you mean Hen­ry Roth, the mod­ernist immi­grant bard, author of Call It Sleep? No, Joseph Roth. He's Cen­tral Euro­pean. The phrase con­jured up Kaf­ka. But I still drew a blank. Intrigued, I head­ed for the library to find out what was so spe­cial about this unknown Roth.
From the first pages of Joseph Roth's mag­is­te­r­i­al 1932 nov­el Radet­zsky March, I was hooked. Here was an author noth­ing like the oth­er Roths or even Kaf­ka. He didn't play with lan­guage or styl­ize real­i­ty. Instead, he peered direct­ly into the ter­rors of his­to­ry, even as he sweet­ly eulo­gized his beloved Hab­s­burg Empire and its anguished, expec­tant Gali­cian Jews. In place of the two dom­i­nant images of Jew­ish East­ern Europe — shtetl sen­ti­men­tal­ism and pre-Holo­caust shad­ows — he offered a dif­fer­ent Old World: majes­tic and cru­el, vio­lent and grace­ful. For many mod­ern Jew­ish writ­ers, irony was an escape from a harsh world. For Roth, it was a scalpel to cut still more deeply into the flab­by tis­sue of the present.
What he exposed in those surg­eries shocked me. I still recall my aston­ish­ment at see­ing Roth men­tion Hitler by name in his first nov­el – from 1923! Already he sensed Europe was lurch­ing towards an abyss, the Nazis were a dan­ger­ous new kind of polit­i­cal evil, and the Jews were the prover­bial canary in the coal mine. The same held true for his poignant non-fic­tion. In his bril­liant 1927 col­lec­tion, Wan­der­ing Jews, he rec­og­nized in the uproot­ing of East Euro­pean Jews after World War I a new kind of human cat­e­go­ry: the refugee. He went on to point out in his ear­ly 1930s writ­ings that Jews were des­tined to suf­fer not only because of Nazi anti­semitism or West­ern indif­fer­ence but because of Europe's own cri­sis. ​"Let me say it loud and clear," he wrote in 1933 in ​"The Auto-da-Fe of the Mind," his essay on Nazi book-burn­ing, ​"The Euro­pean mind is capit­u­lat­ing. It is capit­u­lat­ing out of weak­ness, out of sloth, out of apa­thy, out of lack of imagination."
Euro­pean Jews, how­ev­er, did not suf­fer for lack of imag­i­na­tion. In my forth­com­ing book, Root­ed Cos­mopoli­tans: Jews and Human Rights in the Twen­ti­eth Cen­tu­ry, I show how hard inter­na­tion­al Jew­ish lawyers fought in the 1920s and 1930s to cre­ate new kinds of law to pro­tect minor­i­ty groups from pre­cise­ly the kind of ris­ing ter­ror of the times. In a sense, mod­ern human rights began with these for­got­ten efforts. Yet these ear­ly human rights activists found them­selves stymied by Euro­pean pol­i­tics at the new­ly cre­at­ed League of Nations.
I took the title of my third chap­ter, ​"Gold­en Shack­les," from a pas­sage in Roth's Wan­der­ing Jews. There he writes already in the 1920s of how the League of Nations is pow­er­less to help the Jews of Europe. In spite of fan­cy titles and new laws, the League is ham­strung by the ​"gold­en shack­les that its best-inten­tioned com­mis­sion­ers wear," unable to issue basic papers to pro­tect imper­iled Jews. The same geopo­lit­i­cal forces that gave rise to the League held it hostage at the moment when it was need­ed most. ​"Ani­mal wel­fare groups enjoy more pop­u­lar­i­ty in every coun­try, and with every lev­el of the peo­ple, than does the League of Nations," he adds bitterly.
"Gold­en Shack­les" nice­ly sums up the fate of Jew­ish human rights activists before World War II. Much like the bureau­crats in Gene­va, the Jew­ish rights-defend­ers found them­selves hand-cuffed, in their case by the shiny bonds of British impe­r­i­al pol­i­tics. The one Euro­pean pow­er strong enough to stop anti-Jew­ish per­se­cu­tion in Europe and sup­port the inter­war Jew­ish human rights vision viewed Jews as a polit­i­cal lia­bil­i­ty because of the Arab-Jew­ish con­flict in British Manda­to­ry Palestine.
It is often said that Jews were the last true Aus­tri­ans. Long after every oth­er Hab­s­burg cit­i­zen had become only a Ger­man, a Czech, a Pole or a Ukrain­ian, Jews like Joseph Roth held onto a broad­er lib­er­al ide­al of an Aus­tria unit­ed in its diver­si­ty. But more than a nos­tal­gia for a lost Aus­tria, Joseph Roth also reminds us that Jews like him were arguably also the last Euro­peans. In fight­ing for inter­na­tion­al pro­tec­tion at the League of Nations, these Jews were the few remain­ing foot-sol­diers who had yet to aban­don ​"the noble ranks of the Euro­pean army."
Today, as we strug­gle to under­stand a new world of Mid­dle East­ern refugees, ris­ing anti­semitism, and an unceas­ing Israeli-Pales­tin­ian con­flict, it makes sense to re-read Hen­ry Rothon the trau­mat­ic Amer­i­can Jew­ish expe­ri­ence of immi­gra­tion and Phillip Roth on the com­plex Amer­i­can Jew­ish rela­tion­ship to Zion­ism. But we should also not neglect Joseph Roth. His sober com­men­taries remind us that the sto­ry of mod­ern human rights, too, has a Jew­ish past whose begin­nings can be found in inter­war Europe.
James Loef­fler is Asso­ciate Pro­fes­sor of His­to­ry and Jew­ish Stud­ies at the Uni­ver­si­ty of Vir­ginia, for­mer Robert A. Savitt Fel­low at the Unit­ed States Holo­caust Memo­r­i­al Muse­um, and for­mer Dean's Vis­it­ing Schol­ar at the George­town Uni­ver­si­ty Law Center.