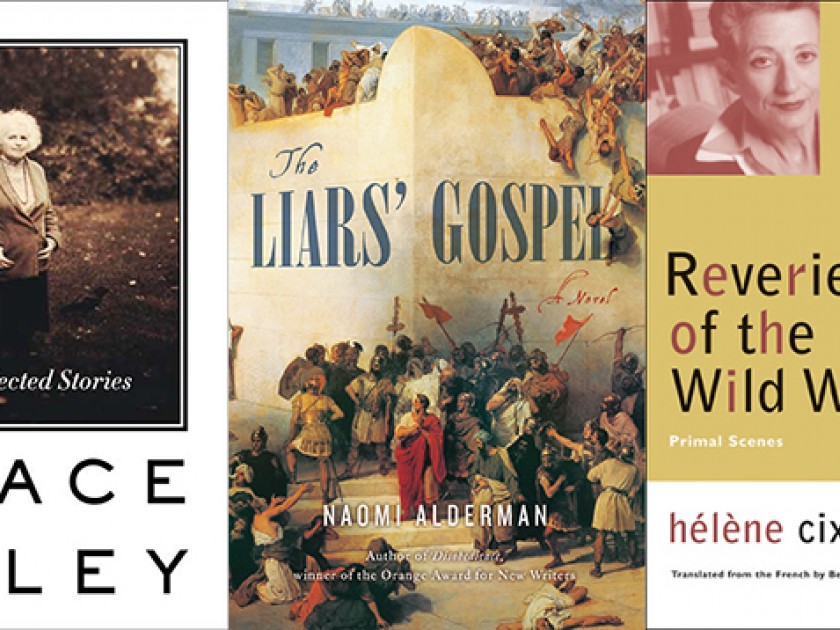 Ear­li­er this week, Devo­rah Baum wrote about the twelve most stereo­typ­i­cal Jews in lit­er­a­ture. Today, she explores five books that counter the ​"neg­a­tive" nar­ra­tive of Jew­ish lit­er­a­ture. She is the author of the book Feel­ing Jew­ish (a Book for Just About Any­one), out this week from Yale Uni­ver­si­ty Press. She will be blog­ging here all week for Jew­ish Book Coun­cil's Vis­it­ing Scribe series.
Grace Paley – Col­lect­ed Stories
Every­one should read Grace Paley. She deals with tough stuff with wit, vital­i­ty, and grace, and she tem­pers what many would con­sid­er trag­ic sto­ry­lines with an insis­tence that where there is life there can always be ​"enor­mous changes at the last minute." Unlike the dom­i­nant male voic­es in Amer­i­can Jew­ish let­ters, who've tend­ed to resist the label­ing of either them­selves or their fic­tions as Jew­ish, Grace Paley showed no such com­mit­ment pho­bia: ​"I like being Jew­ish" she once — shock­ing­ly — said.
Hélène Cixous – Rever­ies of the Wild Woman, Pri­mal Scenes
In which the injus­tices suf­fered on account of her Jew­ish­ness – in the Alge­ria where she was born and raised, and which she con­tin­ues to love — become the vital means by which she becomes a sin­gu­lar­ly cre­ative, orig­i­nal, ​"wild," and empa­thet­ic voice capa­ble of inter­pret­ing, under­stand­ing and enter­ing into all sides of every con­flict of a (civ­il) war whose unfold­ing dynam­ic offi­cial­ly ascribed those with her ances­try no legal stand­ing at all. Yet it's on the basis of this nowhere-to-stand that she learns by degrees to feel her way everywhere.
Avi­vah Got­tlieb Zorn­berg – The Mur­mur­ing Deep: Reflec­tions on the Bib­li­cal Unconscious
Return­ing to the ancient Jew­ish sources accom­pa­nied by Avi­vah Zornberg's insight and sen­si­bil­i­ty has been one of my life's great gifts. By read­ing Tanach, Tal­mud and midrash along­side mod­ern lit­er­a­ture, psy­cho­analy­sis and phi­los­o­phy, she makes them live, she makes them sing, and she makes them speak direct­ly to you, no mat­ter who you are.
Nao­mi Alder­man – The Liar's Gospel
Deep knowl­edge of the Jew­ish sources of the peri­od when Christ was preach­ing, teach­ing, and gain­ing a fol­low­ing, plus a remark­able ear for the rhythms and melodies of Hebra­ic scrip­tures and their exeget­i­cal tra­di­tions, has enabled this novelist's dis­tinct­ly Juda­ic vision of the dawn of the new reli­gion and of the key per­son­al­i­ties involved. Once you've read Alderman's psy­cho­log­i­cal­ly nuanced, polit­i­cal­ly aware, and pro­found­ly sym­pa­thet­ic take on Judas (amongst oth­ers), you'll find that the nor­ma­tive­ly prej­u­di­cial telling of reli­gious his­to­ry in the West has been effec­tive­ly unravelled.
Simon Schama – The Sto­ry of the Jews, Vol 1.
Simon Schama tells Jew­ish his­to­ry as it's nev­er been told before, chal­leng­ing many of its rehearsed clichés and assump­tions and locat­ing Jew­ish life in far flung and rarely not­ed cor­ners of the ancient world. He cites, for exam­ple, copi­ous evi­dence that images and aes­thet­ics have played a greater role through­out Jew­ish his­to­ry than is nor­mal­ly rec­og­nized. With ref­er­ence to, for exam­ple, the beau­ti­ful mosaics inlaid on the floors of the archae­o­log­i­cal remains of syn­a­gogues of antiq­ui­ty, Schama claims that Jew­ish lives have been at least as sen­su­al as they've been cere­bral, and as much in thrall to beau­ty as to the law.
Devo­rah Baum is a lec­tur­er in Eng­lish Lit­er­a­ture at the Uni­ver­si­ty of Southamp­ton, UK, and affil­i­ate of the Parkes Insti­tute for the Study of Jew­ish/Non-Jew­ish Rela­tions. She is the co-direc­tor of the doc­u­men­tary fea­ture film The New Man (2016) and the author of Feel­ing Jew­ish (a Book for Just About Any­one), pub­lished by Yale Uni­ver­si­ty Press.