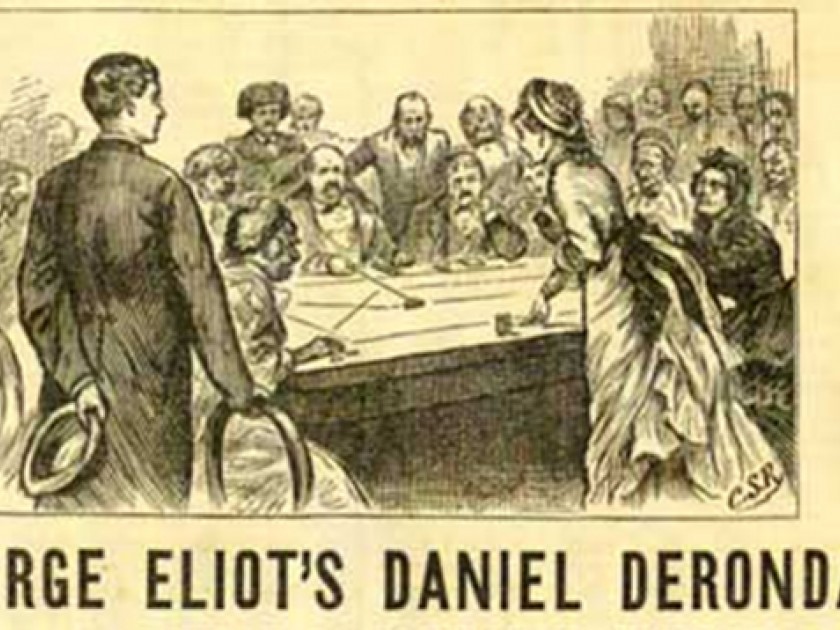 Devo­rah Baum is the author of Feel­ing Jew­ish (a Book for Just About Any­one), out this week from Yale Uni­ver­si­ty Press. She will be blog­ging here all week for Jew­ish Book Coun­cil's Vis­it­ing Scribe series.
Daniel Deron­da – You've heard of the ​"mag­i­cal Negro", well here is George Eliot​'s mag­i­cal Jew (pos­i­tive). A philo-Semite's vision of the Jew as man­i­fest­ing radi­ant spir­i­tu­al­i­ty, wis­dom, moral­i­ty, Zion­ist long­ing and soul­ful­ness. F. R. Leav­is thought the nov­el would be excel­lent if only the ​"bad half," i.e. the sen­ti­men­tal bit fea­tur­ing Deron­da him­self, could be removed.
Sven­gali – the mag­i­cal Jew (neg­a­tive) – And then there's the anti-Semite's vision (George du Maurier's) of the wicked, mys­te­ri­ous arch-manip­u­la­tor: the immi­grant for­eign­er who spoils the puri­ty of the good peo­ple of Eng­land, and not least the inno­cent young girl he seduces.
Cohen of Trin­i­ty – The late nine­teenth cen­tu­ry Anglo-Jew­ish char­ac­ter in Amy Levy​'s short sto­ry by the same name is every­thing you'd expect from one of the only Jew­ish stu­dents in a Cam­bridge col­lege: hys­ter­i­cal, fas­ci­nat­ing, grotesque, bewil­der­ing, self-con­scious and self-hat­ing.
Tevye the Milk­man – The love­able, super kvetchy Jew­ish patri­arch and shtetl dweller on very inti­mate if not com­bat­ive terms with God: ​"You help com­plete strangers – why not me?"
Joseph K. – Kaf­ka doesn't explic­it­ly say he's Jew­ish, but we can't but sus­pect that he is (just as we don't doubt that that strange insect in the Meta­mor­phoses must be, sure­ly). Joseph K. is the exis­ten­tial Jew, for­ev­er on tri­al for he knows not what.
Shi­mon Susskind — Bernard Mala­mud​'s refugee char­ac­ter in his short sto­ry ​"The Last Mohi­can" is anoth­er wan­der­ing Jew who first appears to the Amer­i­can Jew who has come to Europe as a wide-eyed tourist as a less than pleas­ing hang­er-on: a schlemiel, a schnor­rer, a hus­tler, and a social embar­rass­ment. Yet these same qual­i­ties are ulti­mate­ly trans­formed into the means by which Susskind, by the end of the sto­ry, is estab­lished as a moral guide, a his­to­ry les­son, and a reli­gious revelation.
Micòl Finzi-Con­ti­ni – The beau­ti­ful young daugh­ter of the Finzi-Con­ti­ni fam­i­ly with whom the nar­ra­tor falls help­less­ly in love in Giror­gio Bassani's mag­is­te­r­i­al rep­re­sen­ta­tion of that oth­er stereo­type, the rich Jew. The Finzi-Con­ti­ni fam­i­ly live behind high walls in a man­sion open­ing on to a gar­den of earth­ly delights. But though they sep­a­rate them­selves as much as pos­si­ble from the rest of the Jew­ish com­mu­ni­ty and the world at large, their rich­es and high walls ulti­mate­ly fail to save them from the gath­er­ing fas­cist storm that will remove them all to a con­cen­tra­tion camp in Germany.
Rosa – Cyn­thia Ozick​'s fic­tions have dared to imag­ine the inte­ri­or life of more than one Holo­caust sur­vivor. In her short sto­ry, ​"The Shawl," it's the fig­ure of Rosa, who becomes a ​"walk­ing cra­dle" for her baby before the child is seized by a con­cen­tra­tion camp guard and hurled to her death against an elec­tric fence, who con­tin­u­ous­ly haunts me.
Her­zog – Like James Joyce's ear­li­er incar­na­tion of the wan­der­ing Jew, Leopold Bloom, we have rich access to the stream of con­scious­ness of Saul Bel­low​'s much more cere­bral but no less pro­fane Her­zog, whose phys­i­cal wan­der­ing is pro­pelled by his wild­ly wan­der­ing mind. Her­zog is a mad genius in the throes of a break­down that casts, as Bellow's fic­tions invari­ably cast, a crit­i­cal but reveal­ing light on the soci­ety in which he wanders.
Sophie and Alexan­der Port­noy – In Philip Roth​'s book length com­e­dy of the Oedi­pus-Schmedi­pus rela­tion, it's impos­si­ble to sep­a­rate the cas­trat­ing Jew­ish moth­er from the long-suf­fer­ing Jew­ish son who acts out and blames his moth­er. Irv­ing Howe once sug­gest­ed that it's because immi­grant fam­i­lies are forced, in the con­text of an alien and hos­tile world, to fall back on them­selves, that they tend to exhib­it more symp­toms of Oedi­pal angst than most.
Jacob Bloch – Mov­ing from the far right to the lib­er­al left, the pro­tag­o­nist of Jonathan Safran Foer​'s nov­el, Here I Am, is a con­tem­po­rary Amer­i­can Jew unsure of his pur­pose or place — in his­to­ry, in geog­ra­phy, in pol­i­tics, in reli­gion, in his work life, in his fam­i­ly life, in his roman­tic life, in his own life. Like Abra­ham and Joseph K., he feels life is a tri­al, and per­haps too he feels he's obscure­ly guilty of a crime he hasn't alto­geth­er com­mit­ted. He knows that he's had the great for­tune to have been posi­tioned in one of the bet­ter, as in eas­i­er, chap­ters of Jew­ish his­to­ry, and with that in mind he's sought to be always on the right side of his­to­ry (as in the left side of his­to­ry), but he's no less crushed and in cri­sis, and he sens­es that his Jew­ish­ness (and his his­tor­i­cal com­fort­a­bil­i­ty) might have some­thing to do with it. Since it's not clear, how­ev­er, what part Jew­ish­ness plays, or needs to play, or what may be done about it, all he can do is pour his heart and mind and fan­tasies and fears and lusts and guts out, thus iron­i­cal­ly resum­ing the posi­tion of the bib­li­cal patri­arch Abra­ham whose respon­sive word to the call of God – ​"Hineni" – we can inter­pret in this mod­ern Amer­i­can nov­el as an asser­tion not of iden­ti­ty but of its anni­hi­la­tion: since I do not know who I am, all I can say is here I am.
Devo­rah Baum is a lec­tur­er in Eng­lish Lit­er­a­ture at the Uni­ver­si­ty of Southamp­ton, UK, and affil­i­ate of the Parkes Insti­tute for the Study of Jew­ish/Non-Jew­ish Rela­tions. She is the co-direc­tor of the doc­u­men­tary fea­ture film The New Man (2016) and the author of Feel­ing Jew­ish (a Book for Just About Any­one), pub­lished by Yale Uni­ver­si­ty Press.