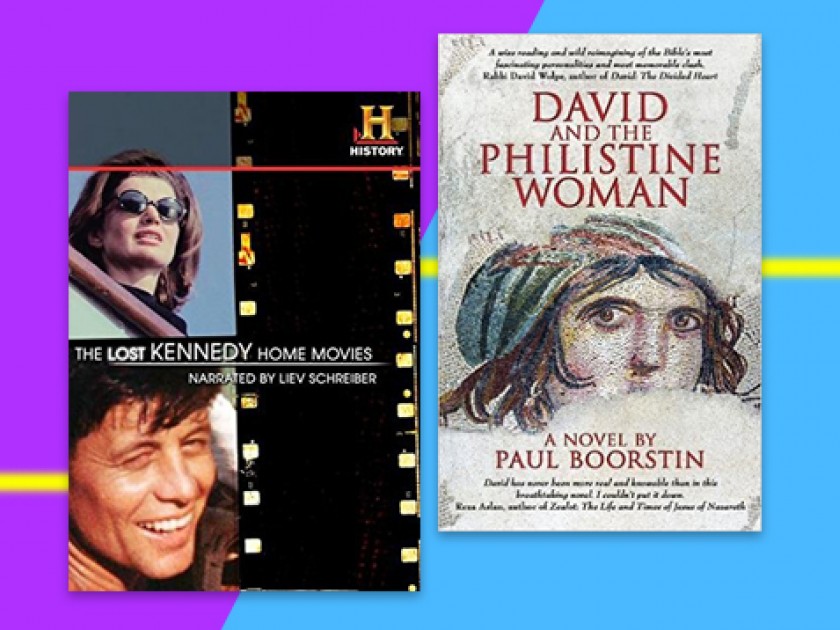 Ear­li­er this week, Paul Boorstin wrote about why he decid­ed to tell David's sto­ry in his nov­el David and the Philis­tine Woman. Today, he explores how his back­ground as a doc­u­men­tary film-mak­er impact­ed upon his writ­ing. Boorstin has been blog­ging here for Jew­ish Book Coun­cil's Vis­it­ing Scribe series all week.
As a writer, pro­duc­er and direc­tor of tele­vi­sion doc­u­men­taries, I've made Nation­al Geo­graph­ic TV spe­cials about big cats in India and baboons in Africa. I've trav­eled up the Ama­zon and yes, to Tim­buk­tu in the Sub-Sahara. I've made MSNBC doc­u­men­taries about con­vict­ed mur­der­ers in super­max pris­ons, and a His­to­ry Chan­nel doc­u­men­tary about the Kennedys in the White House.
Work­ing with cam­era crews around the world under dif­fi­cult and some­times dan­ger­ous con­di­tions, I learned that what is hap­pen­ing out­side the nar­row per­spec­tive of the cam­era lens — both behind the scenes, and in the human heart — can be more reveal­ing than what final­ly appears on film or video. In the same way, when I wrote David and the Philis­tine Woman, I felt I had to reach beyond the few para­graphs of the nar­ra­tive in the Hebrew Bible to ful­ly under­stand its mean­ing. I was con­vinced that there was more to the sto­ry of how David the boy becomes David the leader of his people.
I drew on lessons I had learned while mak­ing doc­u­men­taries about the his­to­ry of our own time — in par­tic­u­lar, research­ing and writ­ing The Lost Kennedy Home Movies. This two hour His­to­ry Chan­nel doc­u­men­tary, shown annu­al­ly on the anniver­sary of the JFK assas­si­na­tion, explored the pri­vate lives of the Kennedy fam­i­ly. I learned that there were many inti­mate events that hap­pened just ​"off cam­era" — secret loves and pow­er strug­gles, tri­umphs and defeats. I real­ized how much of what takes place is hid­den, lost for­ev­er to history.
Guid­ed by that expe­ri­ence, while writ­ing David and the Philis­tine Woman, I set out to reimag­ine the jour­ney of young David with both a scope and an inti­ma­cy that it had not been told before. Over the years, I've learned that for a doc­u­men­tary to deliv­er in depth, it must use both a wide-angle and a close-up lens. That was my mis­sion with this nov­el: to cap­ture the broad panora­ma of the epic strug­gle between the Israelites and the Philistines, while zoom­ing in on the tur­bu­lent rela­tion­ships of David, Jonathan and Saul, and the mur­der­ous psy­che of Goliath.
Like a pow­er­ful doc­u­men­tary, a his­tor­i­cal nov­el can plunge us into a deci­sive moment in his­to­ry, make us feel that we are there. It is that inten­si­ty, that total immer­sion in a dis­tant time and place, which I was deter­mined to bring to David and the Philis­tine Woman.
I have devot­ed much of my life to the demand­ing craft of doc­u­men­tary film-mak­ing. I respect the pow­er of that unfor­giv­ing medi­um. But a nov­el can do things that a doc­u­men­tary can­not: evoke the soft­ness of a lamb's fleece, the del­i­cate aro­mas of spices in a Jerusalem mar­ket, or the stench of rot­ting corpses on a bat­tle­field. Even more impor­tant, a nov­el can reveal a character's most pri­vate thoughts and feel­ings too inti­mate to ever con­fess on-camera.
I believe that those inner con­flicts, the demons that we human beings all wres­tle with, have not changed in the thou­sands of years since that fate­ful moment when David picked up his stone from the dust of the Val­ley of Elah. Evil exists now, as it did back then, and that cold fact places a bur­den on all of us. Because whether or not we look to God for mir­a­cles, it is for us to do all that is in our pow­er to fight the good fight in our own time, as young David did in his.
Learn more about Paul Boorstin here.
Paul Boorstin is an award-win­ning writer and film­mak­er whose TV doc­u­men­taries have exam­ined Bib­li­cal his­tor­i­cal and envi­ron­men­tal sub­jects for A&E Dis­cov­ery the His­to­ry Chan­nel and Nation­al Geo­graph­ic. His screen­plays have been pro­duced as motion pic­tures by Para­mount and 20th Cen­tu­ry Fox. He is also a blog­ger for the Huff­in­g­ton Post and a con­trib­u­tor to the Los Ange­les Times.
For Paul's pre­sen­ta­tion, his wife Sharon, a past JBC cook­book author, has cre­at­ed recipes for a ​"David's Feast" fea­tur­ing the authen­tic foods and fla­vors of David's time.