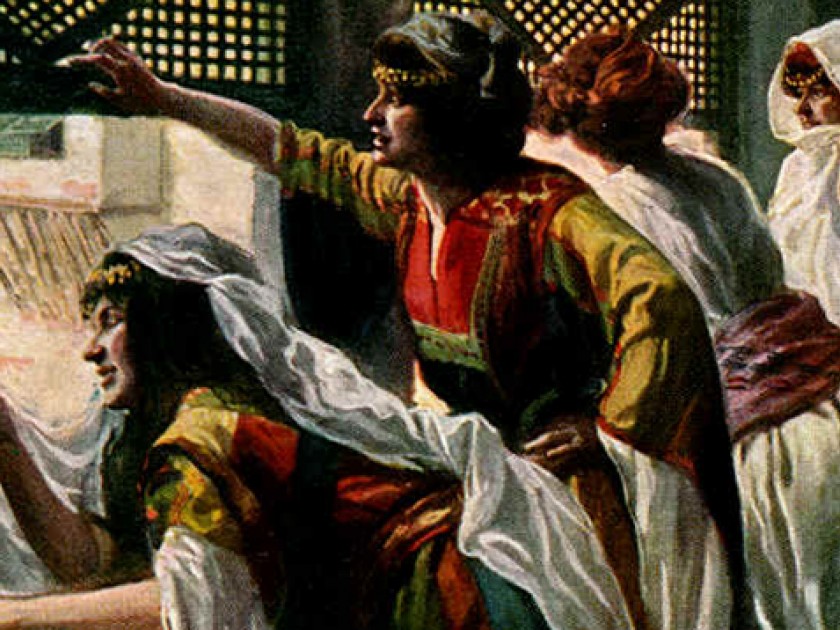 Ear­li­er this week, Paul Boorstin wrote about why he decid­ed to tell David's sto­ry in his nov­el David and the Philis­tine Woman and how his back­ground as a doc­u­men­tary film-mak­er impact­ed upon his writ­ing. In his final post, Boorstin explores the women who stood behind David. He has been blog­ging here for Jew­ish Book Coun­cil's Vis­it­ing Scribe series all week.
I believe that the role of women as a moral anchor in the Hebrew Bible can­not be over­stat­ed. Of course, that role was not as open­ly dis­cussed in ancient times as it is today. When I set out to reimag­ine the sto­ry of David and Goliath in David and the Philis­tine Woman, I saw the part played by women as crucial.
On the sur­face, the epic clash of the Israelites and the Philistines does not involve women. And yet, my book is as much about extra­or­di­nary women as it is about David's own remark­able jour­ney. As I envi­sion his sto­ry, young David would nev­er have been able to sur­vive his rite of pas­sage from shep­herd to king, if it wasn't for the strong women who offered their sup­port and risked their lives for him.
First, I decid­ed to include David's moth­er. I was sur­prised to learn that her name is not even men­tioned in the Hebrew Bible, though it is giv­en as ​"Nitzevet" in the Tal­mud. Know­ing from the bib­li­cal text how David's father, Jesse, favored his old­er broth­ers over him, it was easy to imag­ine that David's firm moral ground­ing came from Nitzevet, a strong and lov­ing moth­er. Despite her omis­sion from the bib­li­cal account, I want­ed to show how I believe that her influ­ence on David would have been significant.
I was also fas­ci­nat­ed by Saul's youngest daugh­ter, Michal. She lat­er becomes David's first wife, and is the only woman in the Hebrew Bible of whom it is explic­it­ly said that she loves a man. (I Samuel, 18:20): ​"Now Saul's daugh­ter Michal loved David." Though Michal nev­er bears David a child, the Bible recounts how she saves his life, help­ing him to escape Saul's assas­sins (I Samuel, 19:11). Michal's actions in my nov­el illus­trate her heart­felt devo­tion to him despite mor­tal danger.
And then, there is per­haps the book's biggest sur­prise: Nara — the ​"Philis­tine woman" of the title. I was so intrigued by the notion of a female Philis­tine pro­tag­o­nist, that Nara was the first char­ac­ter I con­ceived. While Goliath the Philis­tine is one of history's most despised vil­lains, I want­ed to show that this much-maligned peo­ple also could have fos­tered heroes. And why not a woman?
As depict­ed in the nov­el, Nara is the tallest, strongest young Philis­tine woman. She is forced to mar­ry Goliath to bear him war­rior sons. But Goliath abus­es her. Mean­while, young David is des­tined to face Goliath in com­bat. Though they are from dif­fer­ent worlds, David and Nara help each oth­er to sur­vive against impos­si­ble odds. It is a mes­sage of hope for our own divi­sive times. Togeth­er, David and Nara share a bond that is more pro­found than phys­i­cal love — their mis­sion to help their war­ring peo­ples sur­vive to live in peace.
In David and the Philis­tine Woman, the women of David's time, like women today, risk their lives for what they believe is right, whether or not they get the cred­it they deserve.
Learn more about Paul Boorstin here.
Paul Boorstin is an award-win­ning writer and film­mak­er whose TV doc­u­men­taries have exam­ined Bib­li­cal his­tor­i­cal and envi­ron­men­tal sub­jects for A&E Dis­cov­ery the His­to­ry Chan­nel and Nation­al Geo­graph­ic. His screen­plays have been pro­duced as motion pic­tures by Para­mount and 20th Cen­tu­ry Fox. He is also a blog­ger for the Huff­in­g­ton Post and a con­trib­u­tor to the Los Ange­les Times.
For Paul's pre­sen­ta­tion, his wife Sharon, a past JBC cook­book author, has cre­at­ed recipes for a ​"David's Feast" fea­tur­ing the authen­tic foods and fla­vors of David's time.