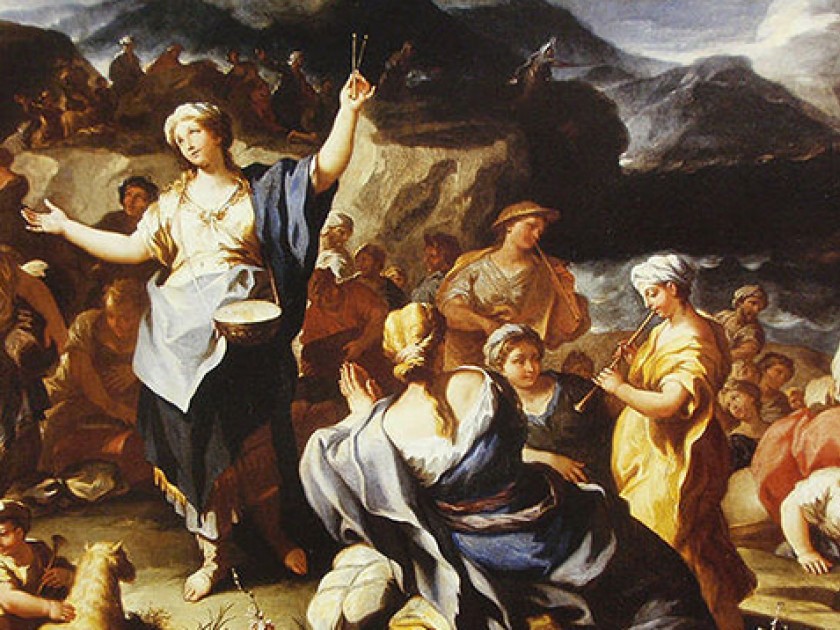 Rab­bi Bar­ry L. Schwartz is the author of Path of the Prophets: The Ethics-Dri­ven Life. He is writ­ing here as part of Jew­ish Book Coun­cil's Vis­it­ing Scribe series.
In an inter­view short­ly before his death, the great the­olo­gian and activist Abra­ham Joshua Hes­chel was asked if he was a prophet. Hes­chel demurred and replied, ​"Let us hope and pray that I am wor­thy of being a child of the prophets." In doing so, Hes­chel was reflect­ing Hillel's clas­sic teach­ing ​"But leave it to Israel: if they are not prophets, yet they are the chil­dren of prophets." (Pesachim 66a)
The ques­tion of who is a prophet is no small pre­oc­cu­pa­tion in Jew­ish thought. The Torah ends with the cau­tion, ​"Nev­er again did there arise in Israel a prophet like Moses — whom the Lord sin­gled out, face to face." (Deut. 34:10) The Book of Deuteron­o­my also warns about false prophets, as does Jere­mi­ah: ​"They are delud­ing you…they speak from their own minds" (23:16), and Ezekiel: ​"My hand will be against the prophets who proph­esy false­hood and utter lying div­ina­tion" (13:9).
Yet, the prophets play an out­side role in bib­li­cal Judaism. The most com­mon Hebrew word for prophet, navi, is found in the Bible over three hun­dred times. Schol­ars link this word to the Akka­di­an nabu, ​"to call," and sig­ni­fies, in the words of bib­li­cal schol­ar Nachum Sar­na, ​"one who receives the (divine call) or one who pro­claims, a spokesman. The prophet is the spokesman for God to man; but inter­ces­sion before God in favor of man is also an indis­pens­able aspect of his func­tion." This is the clas­si­cal def­i­n­i­tion of the prophet (which has lit­tle to do with pre­dict­ing the future — a more mod­ern usage of the word). Indeed, the prophets who fit this def­i­n­i­tion, like Isa­iah and Jere­mi­ah, Ezekiel, Amos, and Hosea, are often referred to as the ​"clas­si­cal" prophets.
How­ev­er, there are oth­er expres­sions in the Bible that point to peo­ple who pos­sess prophet-like qual­i­ties. These include ro-eh (seer), khozeh (vision­ary), and ish-Elo­him (man of God). Read­ers of the Bible will also encounter oth­er peo­ple who are not explic­it­ly called prophets but are described as bear­ing God's spir­it. Caleb is one of my favorite exam­ples. While Caleb nev­er for­mal­ly com­mu­ni­cates God's mes­sage, his words and actions cer­tain­ly do. He is called ​"My ser­vant" and is said to pos­sess ​"a dif­fer­ent spirit."
Oth­er bib­li­cal fig­ures may not be prophets in the clas­si­cal sense, but are exem­plars of the Bible's high­est eth­i­cal ideals. My broad def­i­n­i­tion of a prophet includes all who illu­mi­nate the ethics-dri­ven life and thus walk the prophet­ic path. That is why I believe we should include, for exam­ple, Judah (the path of repen­tance), Joseph (the path of for­give­ness), and Caleb (the path of faith). It is also why we should include the prophet­ic voic­es of often over­looked women in the Bible, from Shiprah and Puah (the path of civ­il dis­obe­di­ence), and Miri­am (the path of joy), to Han­nah (the path of prayer) and Ruth (the path of kind­ness). With this new, broad­er def­i­n­i­tion of prophet, we can much more read­i­ly iden­ti­fy with a diverse group of men and women who expe­ri­enced a call­ing or moment that changed lives — and might inspire ours. This is what I do in my book, Path of the Prophets: The Ethics-Dri­ven Life, which looks at the prophet­ic moment in the lives of eigh­teen bib­li­cal figures.
My goal is to have us per­son­al­ly con­nect with these auda­cious men and women who spoke truth to pow­er. As Rab­bi Shai Held writes in his new book, The Heart of Torah, ​"The Torah wants us to know that it is not just prophets who must step for­ward; what is true of Abra­ham and Moses ought to be true of us as well. Even the chil­dren of the prophets…must argue for jus­tice and plead for mer­cy." The prophet­ic spir­it lives on in those who, as Hes­chel so apt­ly put it in his final inter­view, express ​"a very deep love, a pow­er­ful dis­sent, a painful rebuke, with unwa­ver­ing hope." In the process, we too become wor­thy of being called chil­dren of the prophets.
Rab­bi Bar­ry L. Schwartz is direc­tor of The Jew­ish Pub­li­ca­tion Soci­ety and rab­bi of Con­gre­ga­tion Adas Emu­no, Leo­nia, New Jer­sey. He is the author of Judaism's Great Debates: Time­less Con­tro­ver­sies from Abra­ham to Her­zl and Jew­ish Heroes, Jew­ish Val­ues, among oth­er volumes.