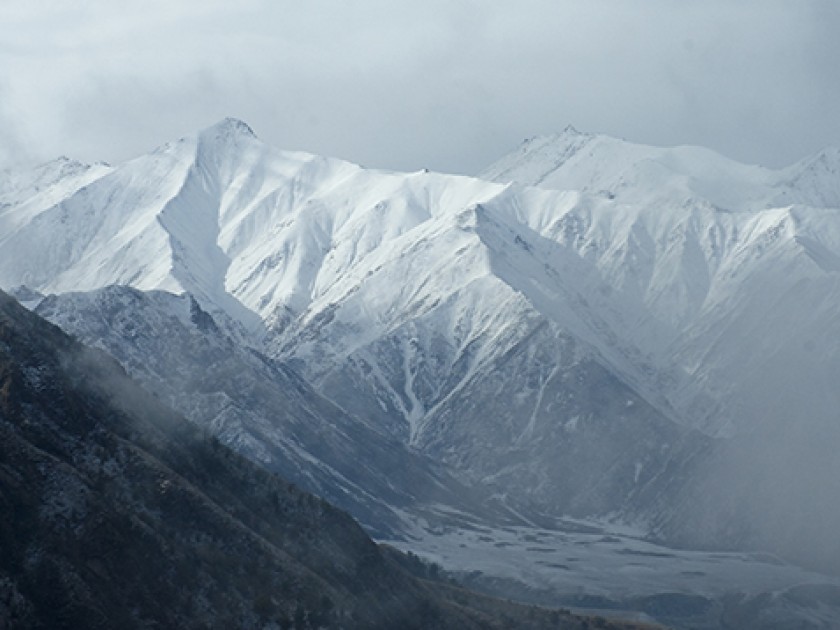 It's a bit­ing­ly cold morn­ing on a bar­ren plain in West­ern Sichuan province. Though tech­ni­cal­ly part of Chi­na, this is an eth­ni­cal­ly Tibetan area sit­ting on the east­ern reach­es of the Tibetan plateau. A friend and I have been slow­ly mak­ing our way across the province on a pro­longed back­pack­ing adven­ture — a long vaca­tion for me wedged in between the past five years that I've been work­ing as a pedi­atric oncol­o­gist in Jerusalem, and the next year in which I'll be doing advanced train­ing in pedi­atric pal­lia­tive care in Boston. The book I would come to write, This Nar­row Space, which revolves heav­i­ly around cul­tur­al atti­tudes to ill­ness, loss, and heal­ing, was still just a seed of an idea wait­ing to be coaxed into existence.
The pre­vi­ous after­noon, at our near­by vil­lage guest­house, the recep­tion­ist had asked whether we might be inter­est­ed in see­ing a Tibetan sky bur­ial. With­out even ask­ing exact­ly what that was, we jumped at the chance to get a close-up view of some local cul­ture. The name alone sound­ed so cool — who wouldn't want to see that? I had spent much of my pro­fes­sion­al life exposed to death and mourn­ing; though most chil­dren with can­cer do sur­vive, my cho­sen area of sub­spe­cial­ty often meant that I worked with a high­er pro­por­tion of chil­dren fac­ing end of life. Hav­ing been present through the decline of so many patients, I was already inti­mate­ly famil­iar with the dying process, but this was an oppor­tu­ni­ty to get a win­dow into a total­ly dif­fer­ent cul­tur­al approach to that process.
Read­ing up in my guide­book that night, I learned that the sky bur­ial was a rit­u­al born of neces­si­ty — an adap­ta­tion of reli­gious prac­tice to the phys­i­cal real­i­ties of life at high alti­tude. Up here, not enough wood grows to make cre­ma­tion fea­si­ble, and the earth is frozen pret­ty much year-round, mak­ing bur­ial imprac­ti­cal. So the locals, who prac­tice Bon, a form of Bud­dhism mixed with ancient ani­mist beliefs, devel­oped the sky bur­ial, where­by the body is returned to nature.
The rit­u­al begins at home, as a per­son is dying. Through­out the dying process (and sev­er­al days beyond what we would in the West iden­ti­fy as ​"time of death"), prayers are con­tin­u­ous­ly chant­ed over the body. By the end of that peri­od, the spir­it is believed to have moved on, and the body rep­re­sents just earth­ly flesh. At that point Bud­dhist monks remove the body and bring it to what­ev­er local spot has been set aside for the ​"bur­ial." Fam­i­ly typ­i­cal­ly do not attend, but remain at home pray­ing with their community.
And that's how I end up stand­ing in the mid­dle of nowhere, at dawn, one Novem­ber morn­ing. The plains and low hills stretch out to the hori­zon — end­less gray sky above; hard, frozen earth under my feet, the cold com­ing up through my boots, and only the small town, still vis­i­ble a cou­ple of miles away, attest­ing to any human presence.
After stand­ing around for a while won­der­ing whether we'd been duped for taxi fare, a small trac­tor crests the adja­cent hill, tow­ing behind it a small wag­on with what is clear­ly, from the feet stick­ing out, a body wrapped in a tarp. The trac­tor stops, and the monks car­ry the body down the hill­side, clos­er to where I am stand­ing. They care­ful­ly lay it out, cut­ting away the clothes and set­ting them aside in a bag, which will be burned after­wards. The body is then secured by tying its out­stretched arms to a stake in the ground. At this point, it's hard to ignore the vul­tures gath­er­ing just a few dozen meters up the hill. There are so many of them — mul­ti­ply­ing by the minute — and they're huge, beyond any­thing I'd imag­ined. Their ani­mal phys­i­cal­i­ty and raw ener­gy in such prox­im­i­ty to a dead human is jar­ring. Their num­bers grow until there seems to be just one giant, pul­sat­ing mass of feath­ers, beaks, and claws as the ani­mals jos­tle for position.
One of the monks takes out a long knife and begins carv­ing long, deep cuts into the body. I know that the flesh at this point is stiff­ened by rig­or mor­tis, the blood con­gealed, so it doesn't sur­prise me that there is no bleed­ing, that the flesh doesn't just pull away. And yet, the scene is shock­ing. Typ­i­cal­ly, after one of my patients in Jerusalem dies, I help the nurs­es wash the body and gen­tly remove any tubes or wires left over from our treat­ments, prepar­ing the body for final moments with loved ones before the bur­ial soci­ety takes it away for funer­al prepa­ra­tions. In the West, what I am see­ing here would be a des­e­cra­tion, a violation.
Just as I'm digest­ing this mat­ter of the cut­ting of the bod­ies, the monk takes a few steps back and in one fell swoop, all of the vul­tures descend in one feath­ered cloud onto the body. Where just a sec­ond ago there was a human body now is just a fran­tic horde of birds. After about fif­teen min­utes the monk approach­es again, shoo­ing away the vul­tures. They quick­ly retreat to the crest of the hill. All that is left behind is a skele­ton with a few loose strips of ten­don and con­nec­tive tis­sue. The monk gath­ers these rem­nants and sits next to a flat stone. He takes out a small hatch­et and places a bag of bar­ley meal at his side. He then uses the head of the hatch­et to method­i­cal­ly pul­ver­ize the remains, crush­ing them on the stone. As each piece is reduced to pulp, he paus­es to mix it with bar­ley meal, mak­ing a sort of pat­ty which he then toss­es to the wait­ing vul­tures. Soon, noth­ing is left of the body. Noth­ing. The spir­it has moved on and the flesh has returned to nature.
Com­pared to every­thing I've ever expe­ri­enced around death and bur­ial, this is so dif­fer­ent, so par­tic­u­lar to this envi­ron­ment and cul­ture. I think back to my grandfather's funer­al, the first I ever attend­ed. The first dull ​"thunk" of earth slid­ing from my shov­el onto the pine box. The man­i­cured green lawns and care­ful­ly pruned hedges of the sub­ur­ban Long Island ceme­tery. How far from all that I am now. I won­der what the peo­ple here would think if they had seen that funer­al. Would they have react­ed with the same alien won­der, amazed that a cul­ture could show such dis­re­spect for a body, throw­ing dirt on it and leav­ing it to decom­pose? And yet, as I take it all in, despite all of the ele­ments that seem so unique to this par­tic­u­lar place and cul­ture, there are uni­ver­sal ele­ments that res­onate. The solem­ni­ty sur­round­ing the recog­ni­tion of a person's pass­ing. The recog­ni­tion that the flesh, imper­ma­nent as it is, returns to nature. The hope that the spir­it or soul sur­vives in some form. I see sim­i­lar­i­ties between the Jew­ish tra­di­tion of shemi­ra, or watch­ing over the body between death and funer­al, and the Tibetan Bud­dhist tra­di­tion of pray­ing over the body for sev­er­al days. In both cus­toms there is the recog­ni­tion that death is a process, a pas­sage to be marked by rit­u­al, and not just a fixed moment in time. Par­tic­u­lar, but universal.
We hike back into town where a local, who was also at the bur­ial, points out the home of the fam­i­ly of the deceased. A large met­al door set into a stone wall is ajar, reveal­ing a court­yard crowd­ed with peo­ple sit­ting and chant­i­ng prayers. Some­one beck­ons us in. A few peo­ple slide over on a bench to make room for us. We sit there for a long time, two West­ern­ers among a crowd of eth­nic Tibetans, feel­ing the thrum of prayers and prayer wheels around us. Like the Kad­dish dec­la­ra­tion of God's mer­cy in the face of sor­row, the cease­less­ly spin­ning prayer wheels seem to attest to the pos­si­bil­i­ty of renew­al, even growth, in the face of loss.
Image via Tsem­do Thar/​Flickr
Elisha Wald­man is asso­ciate chief, divi­sion of pedi­atric pal­lia­tive care, at the Ann and Robert H. Lurie Chil­dren's Hos­pi­tal of Chica­go. He was for­mer­ly med­ical direc­tor of pedi­atric pal­lia­tive care at the Mor­gan Stan­ley Chil­dren's Hos­pi­tal at Colum­bia Uni­ver­si­ty Med­ical Cen­ter in New York. He received his BA from Yale Uni­ver­si­ty and his med­ical degree from the Sack­ler School of Med­i­cine in Tel Aviv. He also trained at Mount Sinai Med­ical Cen­ter and Memo­r­i­al Sloan Ket­ter­ing Can­cer Cen­ter in New York, and at Boston Chil­dren's Hos­pi­tal. His writ­ing has appeared in Belle­vue Lit­er­ary Review, The Hill, The Wash­ing­ton Post, The New York Times, and Time. He lives in Chicago.