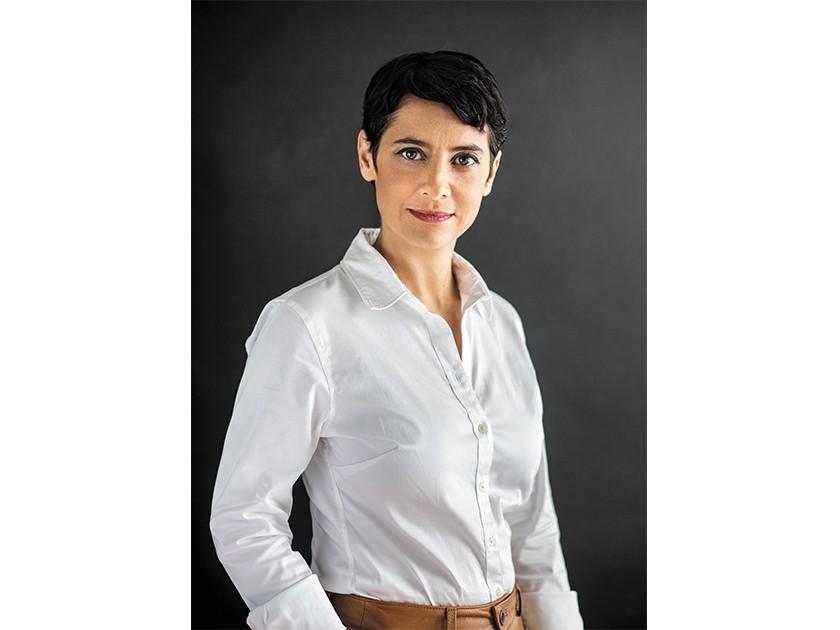 As a true white and blue, hum­mus-eat­ing, chutz­pah-infused Israeli, with over twen­ty years of expe­ri­ence in the flour­ish­ing Israeli tech sec­tor as an exec­u­tive and entre­pre­neur, I became deter­mined to apply my expe­ri­ences and cre­ate a fresh def­i­n­i­tion of what it means to be an entre­pre­neur. Start­ing with ask­ing myself ques­tions such as, where does this spe­cif­ic char­ac­ter type and dri­ve stem from? How are entre­pre­neur­ial traits ben­e­fi­cial to every­one? What role can mod­ern Israel play in the glob­al focus on entre­pre­neur­ship as a growth engine for economies?
My answers to these ques­tions led me to share with the world my vision on what I believe are the roots of entre­pre­neur­ship, and how they can be applied any­where, anytime.
Ten years ago, I began lead­ing lec­tures on the top­ic of Israeli inno­va­tion to var­i­ous inter­na­tion­al insti­tu­tions, and lat­er intro­duced these ideas to larg­er orga­ni­za­tions, start-ups, glob­al busi­ness­es and gov­ern­ment lead­ers, ana­lyz­ing how Israeli cul­ture breeds risk-tak­ing and entre­pre­neur­ship from the very ripe age of four. From the AIPAC, JFN, and var­i­ous oth­er Jew­ish com­mu­ni­ties, to MIT Sloan, the Lon­don Busi­ness School and INSEAD stu­dents; from the world's largest insur­ance com­pa­nies and health­care providers' exec­u­tives, to the emerg­ing tech entre­pre­neurs of South Korea; they are all seek­ing advice on how to apply and devel­op their own set of inno­v­a­tive skills. Imag­ine how sur­prised they are when I open my keynotes with an image of a stan­dard slide in a play­ground? By the end of the talk they under­stand there is noth­ing stan­dard in this slide.
The audience's inter­est led me to write my first book, Chutz­pah: Why Israel is a Hub of Inno­va­tion and Entre­pre­neur­ship. Writ­ing my book was in itself an entre­pre­neur­ial ven­ture, to which I applied the prin­ci­ples I dis­cuss and ana­lyze with­in the text.
In Chutz­pah,I begin by ana­lyz­ing and explain­ing how Israel, a tiny coun­try almost the size of New Jer­sey, has the high­est per­cent­age of start-ups per capi­ta world­wide and is rais­ing gen­er­a­tions of inno­va­tors and inven­tors who are bring­ing about mas­sive change through inno­va­tion and dis­rupt­ing mar­kets around the globe; for exam­ple, Waze, the Pill­Cam, Fiverr and so many more. Chutz­pah reveals the ways in which Israelis par­ent, edu­cate, and adjust to a vari­ety of sit­u­a­tions — pro­vid­ing invalu­able tips, real-life exam­ples, and inter­views with promi­nent Israeli entre­pre­neurs and inno­va­tors, such as Dov Moran and Che­mi Peres, and proven strate­gies for suc­cess to the audience.
For many years, the com­mon belief was that the IDF, the Israeli Defense Force, was the rea­son for the entre­pre­neur­ial mind­set that exists in the coun­try. It's par­tial­ly cor­rect. More impor­tant than the IDF, is the tool­box, the per­son­al­i­ty traits, and mind­set that Israelis prac­tice and nur­ture from a very young age — as young as four enjoy­ing a slide in a play­ground. Risk tak­ing, cre­ativ­i­ty, resource­ful­ness and team work are few exam­ples of these traits. They then bring these qual­i­ties to the IDF at the age of 18. Liv­ing with chutz­pah from a young age pro­vides Israelis with the oppor­tu­ni­ty to con­stant­ly prac­tice the soft skills defined by the World Eco­nom­ic Forum as the Skills for the Future: crit­i­cal think­ing, prob­lem-solv­ing, and deci­sion mak­ing — key char­ac­ter­is­tics of suc­cess­ful entrepreneurs.
I take Chutzpah's read­er on a deep­er jour­ney into how to actu­al­ly apply these cul­tur­al expe­ri­ences into every­day life and strate­gize the life­cy­cle of a start­up through five stages: Dis­cov­ery, Val­i­da­tion, Effi­cien­cy, Scale and Sus­tain­abil­i­ty, and Renewal.
Although the pri­ma­ry objec­tive of the book is to pro­vide insights to busi­ness­es exec­u­tives and start-up founders, many of the prin­ci­ples described in Chutz­pah can be applied to our every­day lives as human beings. Through­out the book I sprin­kle in Hebrew/​Israeli essence words, or sta­ples of the sabra soci­ety, describ­ing what it means to live in mod­ern Israel.
Here are some of the basic Chutz­pah Prin­ci­ples to live by in order to add some healthy chaos and prob­lem-solv­ing tech­niques into your life:
● Bal­a­gan: the con­stant state of chaos. In Israel, the only cer­tain thing is uncer­tain­ty. We train for cop­ing with chaos on a dai­ly basis.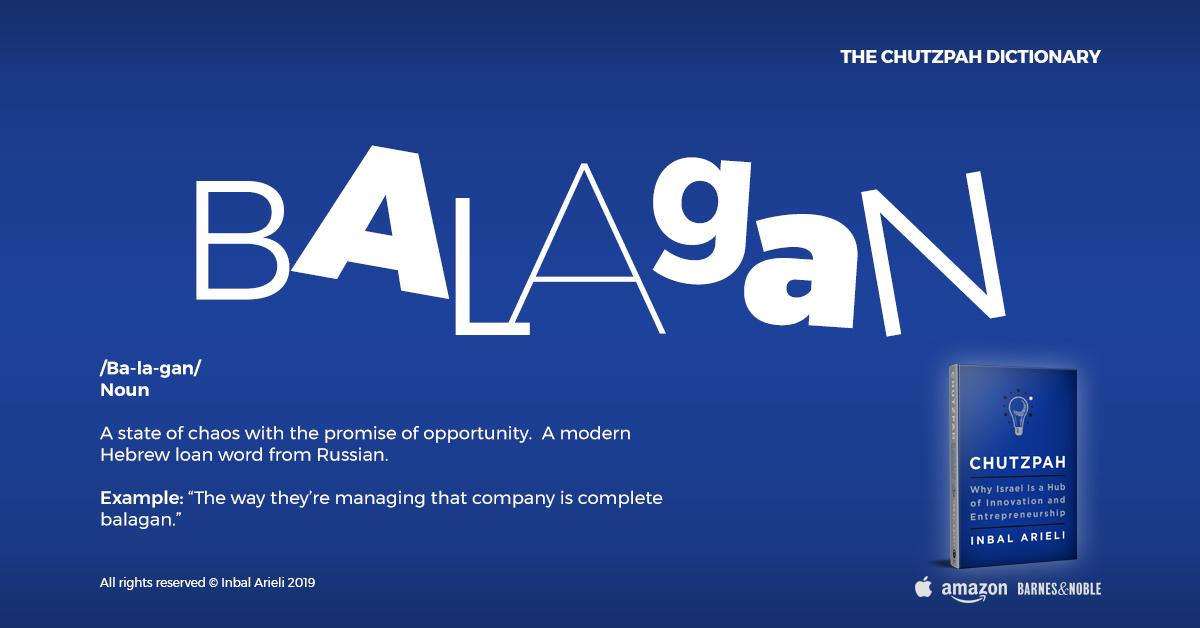 ● Davka: to spite or to do the oppo­site. In oth­er words, the major­i­ty of Israelis rarely do what they're told. Check out this sign which says ​"DAN­GER, do not pass" in Hebrew. Looks like they're going in any­way. Typical!
● Tach­les: the direct trans­la­tion is, ​"Bot­tom Line." Israelis are blunt. To the point. We don't ​"beat around the bush" —and that is why we are so effi­cient in times of chaos.
● Leezrom: go with the flow and leave room for the unex­pect­ed. Too much struc­ture can hurt you— learn to let go, and then dis­ap­point­ment will even­tu­al­ly melt away. After all, Israel did land on the moon, yes crash-land­ed, but that won't stop us from giv­ing it anoth­er try!
● Yihiye Beseder: mean­ing ​"every­thing will be ok," or as Pum­baa from the Lion King says ​"Haku­na Mata­ta". If you know that every­thing in the end will even­tu­al­ly work out one way or the oth­er, then a bump along the road will not bring you down.
If you would like to gain a more in-depth under­stand­ing of the chutz­pah mind­set, join me by read­ing the book and I'd be hap­py to take you on a jour­ney through a typ­i­cal Israeli child­hood and beyond to show you how to unveil your own chutzpah.
More About Me:
I fos­tered my entre­pre­neur­ial skills dur­ing a manda­to­ry mil­i­tary ser­vice, serv­ing as a lieu­tenant in Unit 8200, the Israel Defense Forces' elite intel­li­gence corps — the equiv­a­lent of the NSA. After com­plet­ing my mil­i­tary duties, I not only embraced lead­ing exec­u­tive roles in the Israeli tech sec­tor, but also found­ed a series of pro­grams for innovators.
Cur­rent­ly, I am the Co-CEO of Syn­the­sis, a lead­er­ship assess­ment and devel­op­ment com­pa­ny that helps exist­ing and future lead­ers reach their full poten­tial, by pro­vid­ing lead­er­ship assess­ment and agile peo­ple devel­op­ment to pri­vate equi­ty and ven­ture cap­i­tal firms, CEOs and board directors.
And most impor­tant­ly, I am the moth­er of three Israeli boys. At home, we prac­tice chutz­pah on a dai­ly basis.
Ser­i­al entre­pre­neur and for­mer offi­cer in the Israeli Defense Forces, Elite Intel­li­gence Unit 8200, Inbal Arieli held numer­ous exec­u­tive posi­tions in lead­ing Israeli tech com­pa­nies, found­ed a series of pro­grams for inno­va­tors, has led the Strate­gic Part­ner­ships for Start-Up Nation Cen­tral, and is cur­rent­ly Founder and CO-CEO of Syn­the­sis. She and her hus­band and three sons live in Tel Aviv.