Stacey Bal­lis' newest book, Good Enough to Eat
, will be avail­able Sep­tem­ber 7th. Check back all week for more deli­cious posts from Stacey for the Jew­ish Book Coun­cil and MyJew­ish­Learn­ing​'s Vis­it­ing Scribe.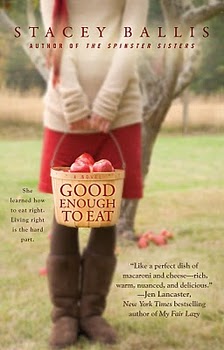 When peo­ple ask me what I love most about being Jew­ish, the images flash before my eyes.
Suc­cu­lent slices of slow cooked brisket, moist with rich tomato‑y gravy. Latkes, crisp on the out­side, melt­ing in the mid­dle, with apple­sauce and sour cream. Light as air mat­zo balls, float­ing in a pool of gold­en chick­en soup, dense sweet noo­dle kugel.
I mean, yes, of course I love being a part of a reli­gion that allows so many dif­fer­ent ways to wor­ship, that holds such a long tra­di­tion of phil­an­thropy and artistry, that has such inter­est­ing tra­di­tions and rit­u­als. Even though I have nev­er been par­tic­u­lar­ly obser­vant, I chose Bran­deis as an under­grad­u­ate in large part because the school rep­re­sent­ed the best of edu­ca­tion­al excel­lence and social activism. Get­ting all the Jew­ish hol­i­days off didn't hurt my feel­ings, either. But while my matric­u­la­tion there did won­ders for my Yid­dish vocab­u­lary, it didn't make me any less sec­u­lar. For me, some­one whose upbring­ing always felt a lit­tle bit Jew-ish, as opposed to real­ly Jew­ish, food is where I have always felt most con­nect­ed to my peo­ple and my history.
Don't get me wrong, we aren't non-prac­tic­ing, we just found our own style. We may not have belonged to a tem­ple, but my sis­ter and I were both bat mitz­va­hed, we just did it with a pri­vate tutor instead of Hebrew school and with a bor­rowed torah at our week­end place instead of on a tra­di­tion­al bimah. And for mine, a Chi­nese buf­fet lun­cheon to follow.
We share the major hol­i­days with friends and fam­i­ly, choos­ing read­ings from books in the liv­ing room over syn­a­gogue ser­vices. Our Passover seders may be brief, but they have deep mean­ing and we take them seri­ous­ly, adding our own tra­di­tions over the years. But always, the cel­e­bra­tion cen­ters on food.
In my writ­ing, my hero­ines have always been Jew­ish, at vary­ing lev­els of obser­van­cy, but always con­nect­ed to the culi­nary his­to­ry of our peo­ple. In my new book, Good Enough to Eat, Melanie Hoff­man is a chef spe­cial­iz­ing in healthy gourmet food, and dur­ing the course of the book we see her make a pil­grim­age to the Holo­caust Muse­um, speak at a JUF lun­cheon, and make brisket for her boyfriend's fam­i­ly seder. Even though the char­ac­ter is only half-Jew­ish, and non-obser­vant in the reli­gious sense, she is con­nect­ed to her her­itage through her cook­ing. Because for me, and by proxy, my char­ac­ters, food, both the specifics of tra­di­tion­al recipes, and the gener­ic feel­ing of gath­er­ing friends and fam­i­ly around the table, is always some­thing of a Jew­ish expe­ri­ence at its core. Break­ing of bread, or mat­zo where appro­pri­ate, shar­ing of sto­ries, the sense of uni­ty cre­at­ed around a din­ner table, this is where I feel the most direct link to our shared past. I have always believed that when a peo­ple have been forced to work hard at main­tain­ing com­mu­ni­ty, bring­ing peo­ple togeth­er for meals becomes an essen­tial part of how you keep faith.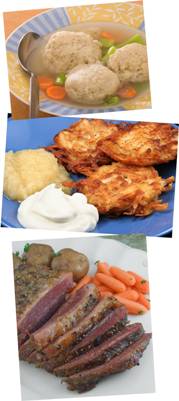 Rosh Hashanah has always been one of my favorite hol­i­days. Chica­go weath­er tends to be love­ly, the first inkling of fall in the air, crisp and cool but not yet cold. We usu­al­ly spend it with our best fam­i­ly friends, once we were two cou­ples and five kids, now there are sev­en cou­ples and sev­en grand­kids with anoth­er on the way! We have spent the day walk­ing the Botan­i­cal Gar­dens or at a local state park. We have gone to the zoo, or been out in the coun­try. We have gone apple pick­ing for the apples we lat­er dip in local hon­ey as part of the hol­i­day meal. I asso­ciate the hol­i­day with love and laugh­ter and the great out­doors, and an amaz­ing dinner!
As you look to the Jew­ish New Year, I hope you take a moment to be grate­ful for your bless­ings, and remem­ber to bring sweet­ness into the com­ing year.
Good Enough to Eat
is now available.