Ear­li­er this week, Ilan Mochari wrote about the auto­bi­o­graph­i­cal ele­ments in his nov­el, Zin­sky the Obscure (Fomite Press). He will be blog­ging here all week for Jew­ish Book Coun­cil and MyJew­ish­Learn­ing.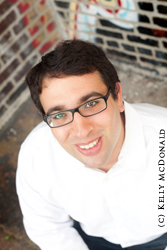 A few months ago I fin­ished Pete Townshend's auto­bi­og­ra­phy, Who I Am. I can't say I was sur­prised to read the following:
"We shared our house with the Cass fam­i­ly, who lived upstairs and, like many of my par­ents' clos­est friends, were Jew­ish. I remem­ber noisy, joy­ous Passovers with a lot of Gefilte fish, chopped liv­er and the aro­ma of slow-roast­ing brisket" (11).
Why was I not sur­prised? As a life­long fan of The Who, I've often felt there was some­thing inef­fa­bly Jew­ish in their themes and melodies. I'm think­ing in par­tic­u­lar of the devo­tion­al litany from Tom­my:
"Lis­ten­ing to you, I get the music / Gaz­ing at you, I get the heat / Fol­low­ing you, I climb the moun­tain / I get excite­ment at your feet / Right behind you, I see the mil­lions / On you, I see the glo­ry / From you, I get opin­ions / From you, I get the story."
In the way it builds, in the way it dei­fies, in the way it mounts and repeats, it has always remind­ed me of Ein Kelo­heinu and Adon Olam.
And here's my con­fes­sion: I like singing this part of Tom­my. A lot. As in, every day. As if it's a prayer I can't live with­out. It owns me. Even though I'm a sec­u­lar cat. Even though I'd hes­i­tate to call myself spiritual.
I have often won­dered why Tom­my has such a grip on me. My best guess? I think it stems from my six sum­mers at B'nai B'rith Perl­man Camp in Starlight, Pennsylvania.
BBPC was a place where you could get in seri­ous trou­ble — you'd get ​"docked" from can­teen or a team sport, and you'd get a dozen ​"dead arms" from your coun­selor — if you didn't sing with the prop­er lev­els of respect and pas­sion. It didn't mat­ter what the song was. It might be the ​"Birkat Hama­zon"; it might be ​"The Cir­cle Game"; it might be your col­or war team's anthem.
This mild form of cul­tur­al haz­ing left a mark. To this day, I get annoyed at Passover when not every­one is pulling his weight on ​"Echad Mi Yodea." And I get annoyed at music shows when the lead vocal­ist isn't ​"bring­ing it" with every­thing he has.
And it all has to do with the belief — cul­ti­vat­ed at BBPC — that singing is not to be done in a half-assed man­ner. It doesn't mat­ter if it's the Passover table or a sta­di­um con­cert. Sing it like you mean it, or don't sing at all.
That last sen­tence is The Who in gen­er­al, and Tom­my in particular.
And so here I am, more than 20 years past my sum­mer camp days. I'm an adult who almost nev­er goes to tem­ple. For all intents and pur­pos­es, I'm an athe­ist. But when I sing songs from Tom­my, I feel like I'm regain­ing a pre­cious piece of my child­hood puz­zle. It might not be a piece that belongs, strict­ly speak­ing, to the Jew­ish tra­di­tion; but it belongs to a les­son that I first learned in a Jew­ish set­ting. It is a les­son about pas­sion, and a les­son about effort. And it is a les­son that has stayed with me, ever since.
Ilan Mochar­i's nov­el, Zin­sky the Obscure (Fomite Press), is now avail­able. He is Chief Writer for The Build Net­work and a con­trib­u­tor to Cognoscen­ti, the online mag­a­zine for Boston's NPR News Sta­tion. Read more about Ilan here.
Ilan Mochar­i's debut nov­el,
Zin­sky the Obscure
(Fomite), is avail­able on Ama­zon, which earned rave reviews from Pub­lish­ers Week­ly, Kirkus Reviews, and Book­list. Boston's
NPR
sta­tion has named it one of its ​
"
Good Reads For The Sum­mer." His short sto­ries have appeared in
Key­hole
,
Stymie
, and
Ruthie's Club
. He is a con­trib­u­tor to
Cognoscen­ti
, the online mag­a­zine for Boston's
NPR
Sta­tion. He has a B.A. in Eng­lish from Yale. He used it to wait tables for nine years in the Boston area.