Adam Langer​'s fourth nov­el, The Thieves of Man­hat­tan
, is now avail­able. He will be blog­ging for the Jew­ish Book Coun­cil and MyJew­ish­Learn­ing.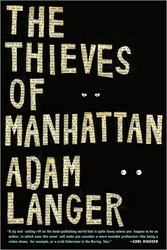 I had been on the West Coast, stay­ing in a hov­el just a few blocks away from one of my favorite places and fin­ish­ing up research on a mem­oir about my father and speak­ing to a very promi­nent Jew­ish orga­ni­za­tion. The mem­oir was emo­tion­al­ly dif­fi­cult work, and I knew that for my next project, I would want to do some­thing fun. A screen­play sound­ed like a good change of pace, so I met with my agent in his plush office just for a few moments before he had to meet with a far more cel­e­brat­ed client. He told me briefly about screen­play struc­ture — how a script needs to have three acts, last about 120 pages, and have an ​"eleven o'clock" moment on page 90. Before he left, he gave me a stack of screen­plays, which I read on the plane ride home; one of the scripts was rumored to be a Tom Cruise vehi­cle.
My ini­tial idea was to see if I could adapt one of my nov­els into a script, but I had trou­ble moti­vat­ing myself to revis­it an old work and, instead, turned my atten­tion to a nov­el idea I had aban­doned — a com­ic thriller set in my neigh­bor­hood on the Upper West Side of Man­hat­tan and told in a hyper-lit­er­ary patois. I enjoyed the pace of the writ­ing and the made-up lan­guage I was using (I had spent more than enough time read­ing hard-boiled thrillers that used their own hard-to-deci­pher lin­go and want­ed to pay those writ­ers back). But the sto­ry, which had some­thing to do with man­u­script authen­ti­ca­tion, nev­er coa­lesced in my mind, and I didn't get much fur­ther than the first scene, set in a fic­tion­al­ized ver­sion of a cof­fee shop where I like to write. Oth­er writ­ers, Jew­ish and oth­er­wise, seem to enjoy the atmos­phere at this cof­fee shop as well.
I wasn't sure exact­ly what I want­ed to write in my screen­play. I talked about col­lab­o­rat­ing with a writer friend of mineon an update of a Hen­ry James nov­el, but we nev­er made it past a quick con­ver­sa­tion about it while walk­ing around a fair­ly grotesque Chica­go food fes­ti­val. With­out nec­es­sar­i­ly know­ing where I was going, I began work on a script about a frus­trat­ed young barista named Ian, who finds him­self embroiled in a con­fi­dence game when he con­sid­ers putting his name to a fake mem­oir. I love films about con games and thought that the lit­er­ary world would be a great place to set one. I found myself inspired by a great Scan­di­na­vian film about the writ­ing life, which I saw with a fel­low Jew­ish writer, and a clas­sic Hol­ly­wood satire, which I saw with a fel­low not-so-Jew­ish edi­tor. After a few months of work, I wasn't sure whether I had a great script or not, but I did have one with three acts and 120 pages and an ​"eleven o'clock moment" round about page 90.
View Adam's first dab­blings in screen­play writing:
His most recent nov­el, The Thieves of Man­hat­tan
, is now avail­able. Vis­it his offi­cial web­site here and check back all week for his posts on the Jew­ish Book Coun­cil and MyJew­ish­Learn­ing​'s author blog­ging series.
Adam Langer is a jour­nal­ist, an edi­tor, and the author of a mem­oir and five nov­els includ­ing the inter­na­tion­al­ly best-sell­ing nov­el Cross­ing Cal­i­for­nia. A fre­quent con­trib­u­tor to the New York Times, he cur­rent­ly serves as cul­ture edi­tor at The For­ward.