Ali­na Bli­u­mis received her BFA from the School of Visu­al Art in 1999 and a diplo­ma from the Advanced Course in Visu­al Arts in Fon­dazione Anto­nio Rat­ti, Como, Italy in 2005, with vis­it­ing pro­fes­sor Alfre­do Jaar. She is the co-author of the book From Self­ie to Groupie and will be blog­ging here all week for the Jew­ish Book Coun­cil's Vis­it­ing Scribe series.
When I moved from Min­sk, Belarus, to New York 20 years ago, I noticed a cer­tain ​'iden­ti­ty cri­sis' with­in the Russ­ian-Jew­ish com­mu­ni­ty in the Unit­ed States: Amer­i­cans often con­sid­er mem­bers of this com­mu­ni­ty to be Russ­ian, Rus­sians con­sid­er them to be Amer­i­cans, and some Jew­ish Amer­i­cans are not quite sure how to relate to this sub­set of their own com­mu­ni­ty, still strug­gling to fit into the larg­er Jew­ish-Amer­i­can con­text. The ques­tion of how peo­ple define their own iden­ti­ty com­pelled my part­ner and col­lab­o­ra­tor Jeff Bli­u­mis and I to under­take our artis­tic anthro­po­log­i­cal inquiry into Brooklyn's Russ­ian-Jew­ish immi­grant pop­u­la­tion — we want­ed to hear from peo­ple firsthand.
One morn­ing, on a sun­ny July week­end in 2007, we drove to Brooklyn's pre­dom­i­nant­ly Jew­ish, Russ­ian-speak­ing Brighton Beach to ask beach­go­ers to define their iden­ti­ties. Each par­tic­i­pant was asked to pose for a pho­to­graph with any or all of three signs read­ing ​"Russ­ian," ​"Jew­ish," and ​"Amer­i­can," or to come up with his or her own self-def­i­n­i­tion by cre­at­ing a unique sign with a mark­er and a paper pad.
We didn't know what to expect. Would peo­ple be will­ing to inter­act? Would they feel com­fort­able pub­licly shar­ing their iden­ti­ty or be will­ing to be pho­tographed, con­sid­er­ing the his­to­ry of Sovi­et Jews hid­ing they Jew­ish iden­ti­ty for decades?
We start­ed at 6 in the morn­ing, as we want­ed to get a few shots of the three signs on a desert­ed beach. While we were pho­tograph­ing the signs, a sev­en­ty-some­thing-year-old man named Alex walked by (from my expe­ri­ence in New York, passers­by don't usu­al­ly get involved in oth­er peo­ple's busi­ness, but that rule does­n't apply in Brighton Beach). The man stopped and asked ​"Chto vu zdes' delaete?" (what are you doing here?). Again, any­where else this ques­tion or the fact that he didn't attempt to ask it in Eng­lish might be strange but not in Brighton Beach. We explained that we were artists and told him about the project, ask­ing him if he was will­ing to par­tic­i­pate. He quick­ly replied ​"it is easy, I have an Amer­i­can pass­port, so I am Amer­i­can." He took the ​"Amer­i­can" sign and posed.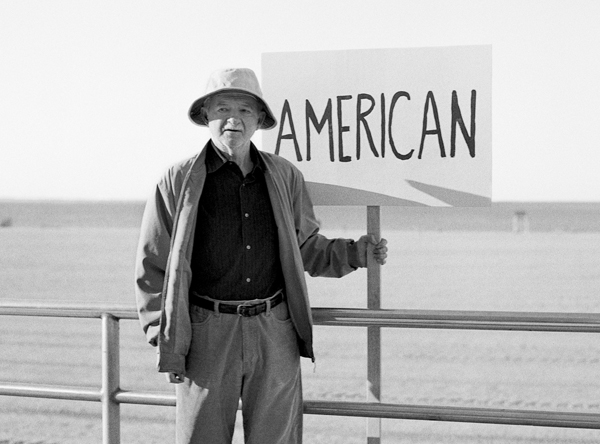 We took his pho­to, and then as Alex was telling us his ​"immi­gra­tion" sto­ry two more men, also in their sev­en­ties, walked by and asked: ​"Chto vu zdes' delaete?" Once again we explained, and they both picked up all three iden­ti­ties and posed for a pho­to­graph. One of the men, Boris, explained ​"We are Jew­ish, we fought in the Russ­ian army dur­ing Word War II, and we have Amer­i­can pass­ports, so we chose all three signs."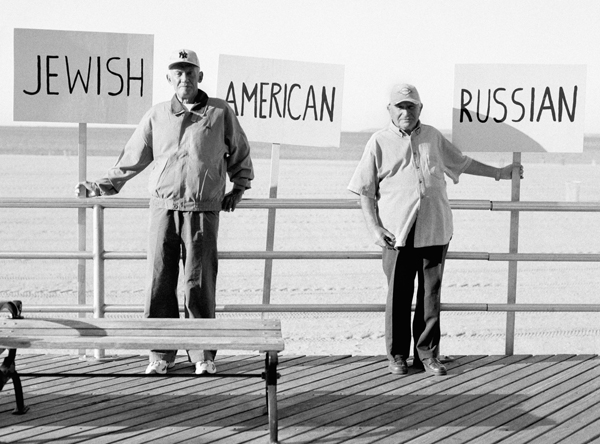 Alex wasn't sat­is­fied with Boris's answer, though, and argued that once you move to a new coun­try, you have to for­get your past and move for­ward. Boris and his friend dis­agreed, and the con­ver­sa­tion became more heat­ed. At that moment we under­stood that it might be an inter­est­ing day ahead of us.
Each inter­ac­tion took about 15 – 30 min­utes: we intro­duced our­selves and our project, talked about where we came from, lis­tened to where the participant(s) came from, talked about fam­i­ly his­to­ry, occu­pa­tion, inter­est, health, assim­i­la­tion, polit­i­cal views, etc., and then we would final­ly, at the end of the con­ver­sa­tion, we would ask them to par­tic­i­pate and pose for a pho­to­graph. To our delight, most of the par­tic­i­pants would say ​"yes," although some­times it took some per­sua­sion. For exam­ple, one young women believed that it is bad ​"kar­ma" to take a pho­to, so we explained to her that her voice (via the iden­ti­fi­ca­tion mark­ers) was what mat­tered and she could cov­er her face, if she want­ed. She did.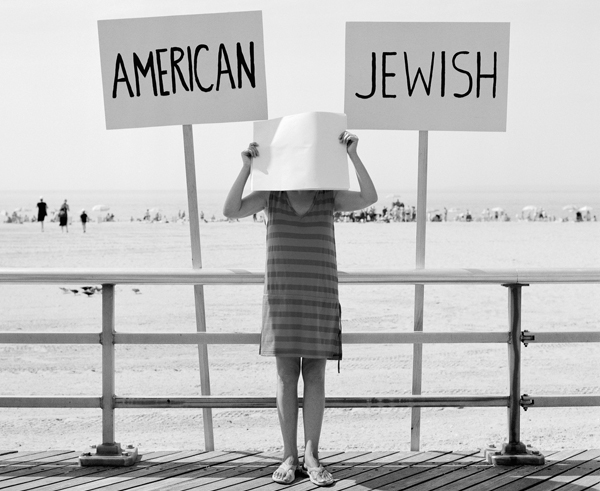 By 3 in the after­noon, 52 peo­ple had posed, and 44 por­traits were taken.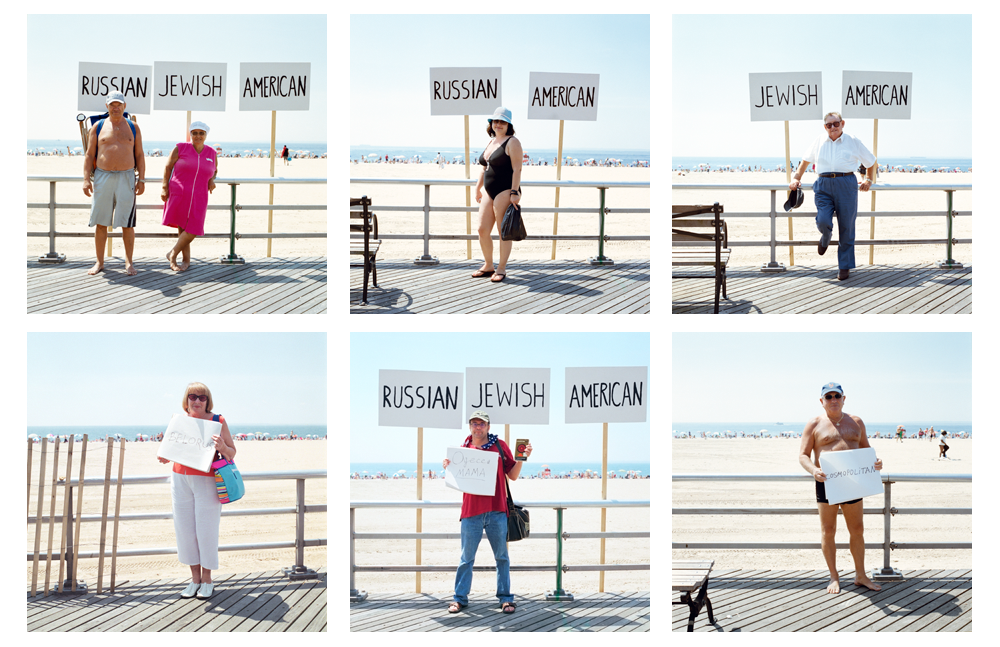 And while the pho­tos present part of the sto­ry, the expla­na­tions of the par­tic­i­pants adds an addi­tion­al lev­el of nuance to the ques­tion of how one self-iden­ti­fies. A few of these expla­na­tions can be found below:
"When I was liv­ing in the for­mer Sovi­et Union, we had to hide the fact that we were Jew­ish. I wouldn't want to make it pub­lic and talk about it open­ly. When my fam­i­ly moved to the USA and became cit­i­zens, I was able to say open­ly and proud­ly that I am an Amer­i­can Jew."
"I am an Amer­i­can cit­i­zen but I don't feel Amer­i­can. I like liv­ing here but I haven't assim­i­lat­ed, didn't learn the lan­guage well, and don't have a deep under­stand­ing of Amer­i­can culture."
"A writer is con­demned to work with his own iden­ti­ty, shaped by lan­guage. In my par­tic­u­lar case, Russ­ian and Eng­lish are the tools of this Sovi­et-born and Amer­i­can-raised author from Odessa."
"In the Sovi­et Union, a ​'root­less cos­mopoli­tan' was some­one who lacks patri­o­tism and betrays his birth­place. They were wrong: a cos­mopoli­tan is some­one who believes that all peo­ple are equal, no mat­ter where they come from."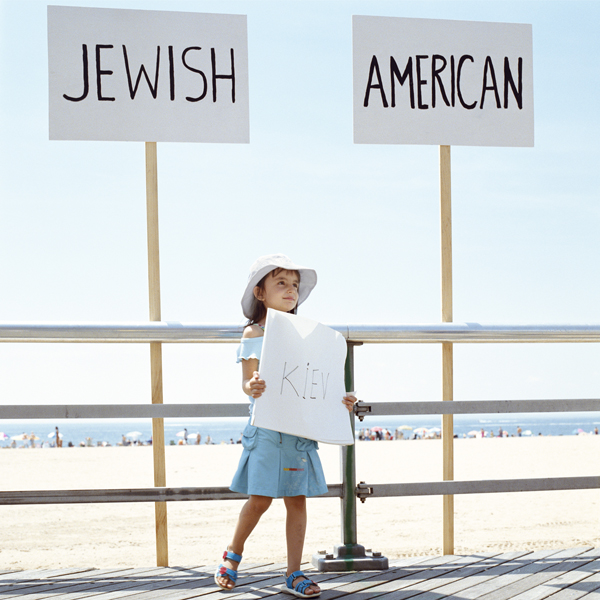 Find out more about this project and the com­pan­ion book, From Self­ie to Groupie, here. In NYC? You can par­tic­i­pate in a pop-up ver­sion of this pho­tog­ra­phy project at Jew­ish Book Coun­cil's May 19th Unpack­ing the Book event, ​"Sovi­et Roots, Amer­i­can Branch­es." Reg­is­ter here (it's free!).
Relat­ed Content:
Ali­na Bli­u­mis is a New York-based artist has been col­lab­o­rat­ing with her part­ner, Jeff, since 2000. Their works are in var­i­ous pri­vate and pub­lic col­lec­tions, includ­ing Moscow Muse­um of Mod­ern Art, Muse­ums of Bat-Yam, the Saatchi Col­lec­tion, the Har­vard Busi­ness School, the Muse­um of Immi­gra­tion His­to­ry, and the Vic­to­ria and Albert Museum.