Ear­li­er this week, Ali­na Bli­u­mis wrote about the Amer­i­can-Russ­ian-Jew­ish iden­ti­ty cri­sis and a pho­tog­ra­phy series she shot, along with her part­ner and col­lab­o­ra­tor Jeff Bli­u­mis, in Brighton Beach to explore this cri­sis as well as pho­tograph­ing a por­trait of the Amer­i­can Jew­ish com­mu­ni­ty. Today she writes about turn­ing these visu­al projects into a book. Ali­na is the co-author of the recent­ly pub­lished book From Self­ie to Groupie and has been blog­ging here all week for Jew­ish Book Coun­cil's Vis­it­ing Scribe series.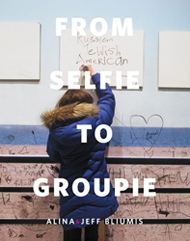 After amass­ing a large col­lec­tion of pho­tographs explor­ing Amer­i­can Jew­ish iden­ti­ty and Amer­i­can Russ­ian Jew­ish iden­ti­ty, the next step was to turn the visu­al project into a book n order to share all those won­der­ful voic­es (and images) that we gath­ered over the years with the pub­lic. Gen­e­sis Phil­an­thropy Group stepped in to pro­vide the nec­es­sary sup­port to make pub­li­ca­tion pos­si­ble. A year-long process start­ed — we had to choose 240 images from 7,160 pho­tographs and 1,910 peo­ple for the pub­li­ca­tion. We were work­ing with edi­tor Joshua Elli­son and com­mis­sioned orig­i­nal essays from David Scheer and Anya Ulinich as well as a ​"survery" from Jenya Gorbatsevich.
In the pub­li­ca­tion, Joshua Elli­son intro­duc­ing the project and reflect­ing on some key themes. His essay reflects on this project's time­li­ness and res­o­nances with our cul­ture of shar­ing and self-pre­sen­ta­tion: the age of the self­ie. In the era of Face­book and Insta­gram, does a tra­di­tion­al approach to por­trai­ture still sat­is­fy us eth­i­cal­ly and artis­ti­cal­ly? Or is it now our inalien­able right as individuals/​subjects to decide how we ought to be represented?
David Shneer, the acclaimed schol­ar and crit­ic of Russ­ian-Jew­ish cul­ture, con­tributes vital con­text for read­ers, includ­ing the his­to­ry and char­ac­ter of the Brighton Beach neigh­bor­hood and its sig­nif­i­cance to the Russ­ian-Jew­ish expe­ri­ence in Amer­i­ca. The essay recounts the Sovi­et and post-Sovi­et migra­tion to the Unit­ed States and con­nect that his­to­ry to the images in the book.
Anya Ulinich's bril­liant essay ​"Where are you from?" pret­ty much sum up how many mem­bers of Russ­ian-Jew­ish com­mu­ni­ty often feel, and at the same time she also describes her fam­i­ly his­to­ry, con­tribut­ing her own per­son­al reflec­tions on iden­ti­ty and its complexities.
A research soci­ol­o­gist, Jenya Gor­bat­se­vich cre­ates a data­base of all 1,860 images to be used as raw data for a visu­al sur­vey— syn­the­siz­ing the quan­ti­ta­tive meth­ods of soci­ol­o­gy with the expres­sive mate­r­i­al of pho­tographs. The analy­sis con­sid­ers basic demo­graph­ics, like age and gen­der, as well are more nuanced infor­ma­tion like bod­i­ly ges­tures and word choic­es. Based on dozens of data points, the essay includes graphs and sta­tis­tics, com­par­ing our results with find­ings from the Pew Research Project's A Por­trait of Jew­ish Amer­i­cans.
The pub­li­ca­tion is also includes a his­tor­i­cal essay by Kon­rad Bercovi­ci, ​"The Trou­bles of A Per­fect Type" (pub­lished in 1919), giv­ing us a humor­ous look on ​"impor­tance of hold­ing on to one's own unique iden­ti­ty." He tells us a sto­ry that takes place on Low­er East Side of New York City and the begin­ning of twen­ti­eth century.
At the same time, iden­ti­ty is still a top­ic of obses­sive inter­est in the Jew­ish-Amer­i­can world. The demo­graph­ics and val­ues of the com­mu­ni­ty are chang­ing, pro­vok­ing anx­i­ety in many quar­ters and prompt­ing a deep reck­on­ing over what the future holds for Jews in Amer­i­ca. In the book, even though a sub­ject in a pho­to­graph express­es their own self iden­ti­ty, tak­en all togeth­er, the pho­to col­lec­tion builds up a pic­ture of a group identity.
From Self­ie to Groupie is an artist project, case study, a sort of visu­al soci­o­log­i­cal research. Span­ning eight years and 2,000 par­tic­i­pants, it cap­tures a glance of today's Jew­ish Americans.
Find out more about this project and the com­pan­ion book, From Self­ie to Groupie, here. In NYC? You can par­tic­i­pate in a pop-up ver­sion of this pho­tog­ra­phy project at Jew­ish Book Coun­cil's May 19th Unpack­ing the Book event, ​"Sovi­et Roots, Amer­i­can Branch­es." Reg­is­ter here (it's free!).
Relat­ed Content:
Ali­na Bli­u­mis is a New York-based artist has been col­lab­o­rat­ing with her part­ner, Jeff, since 2000. Their works are in var­i­ous pri­vate and pub­lic col­lec­tions, includ­ing Moscow Muse­um of Mod­ern Art, Muse­ums of Bat-Yam, the Saatchi Col­lec­tion, the Har­vard Busi­ness School, the Muse­um of Immi­gra­tion His­to­ry, and the Vic­to­ria and Albert Museum.