Ear­li­er this week, Ali­na Bli­u­mis wrote about the Amer­i­can-Russ­ian-Jew­ish iden­ti­ty cri­sis and a pho­tog­ra­phy series she shot, along with her part­ner and col­lab­o­ra­tor Jeff Bli­u­mis, in Brighton Beach to explore this cri­sis. Today she writes about the expan­sion of the project to include ques­tions around Amer­i­can-Jew­ish iden­ti­ty. Ali­na is the co-author of the recent­ly pub­lished book From Self­ie to Groupie and will be blog­ging here all week for Jew­ish Book Coun­cil's Vis­it­ing Scribe series.
Over the next few years, while we were pub­licly show­ing pho­tographs from our Brighton Beach pho­tog­ra­phy series, we became inter­est­ed in this ques­tion: Con­sid­er­ing that Russ­ian-speak­ing Jew­ish-Amer­i­cans are look­ing to fit into the Jew­ish-Amer­i­can com­mu­ni­ty at large, what does it mean to be Jew­ish-Amer­i­can today?
When Joshua Perel­man invit­ed us to show select­ed pho­tographs from the series at the Nation­al Muse­um of Amer­i­can Jew­ish His­to­ry in Philadel­phia in 2013, we saw it as a per­fect oppor­tu­ni­ty to expand our visu­al sur­vey to the wider Jew­ish-Amer­i­can com­mu­ni­ty, beyond the Russ­ian-Jew­ish dias­po­ra. We want­ed to ask as many peo­ple as pos­si­ble to describe their iden­ti­ty and record every indi­vid­ual voice that would even­tu­al­ly become a brush­stroke in a com­mu­ni­ty portrait.
At that time we also came up with an inter­ac­tive set­up for the exhi­bi­tion, so that muse­um vis­i­tors could write their iden­ti­ty and take their own pho­tographs with­out our pres­ence. We print­ed an 8 x 8 feet vinyl pho­to back­drop depict­ing a view of Brighton Beach and sent along three white erase boards — the boards were blank so any­one could write their own group iden­ti­ty with mark­ers. A cam­era was mount­ed on a tri­pod in front and direc­tions for how to par­tic­i­pate and take a pho­to were on the wall.
By the end of the show, Shi­ra Gold­stein (who was work­ing close­ly with Joshua on the show) send us a disk with 720 pho­tographs — about 460 peo­ple par­tic­i­pat­ed in the project. We were ecsta­t­ic with the num­ber of par­tic­i­pants and images, the range of voic­es and expres­sions, and all of those thought­ful or sil­ly iden­ti­ty def­i­n­i­tions. Here are few of them: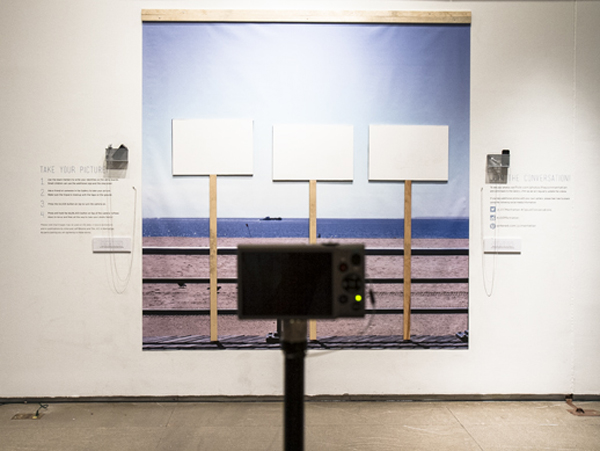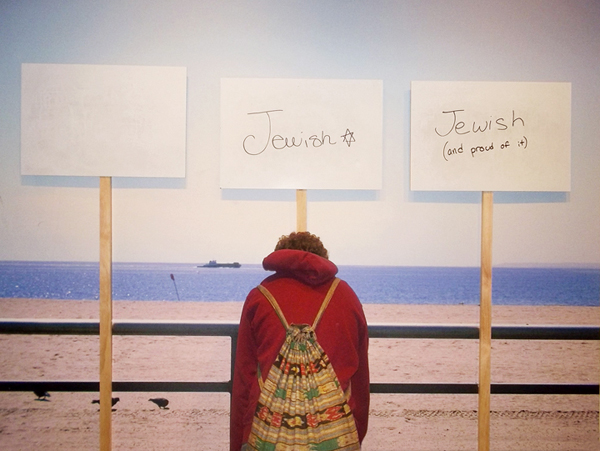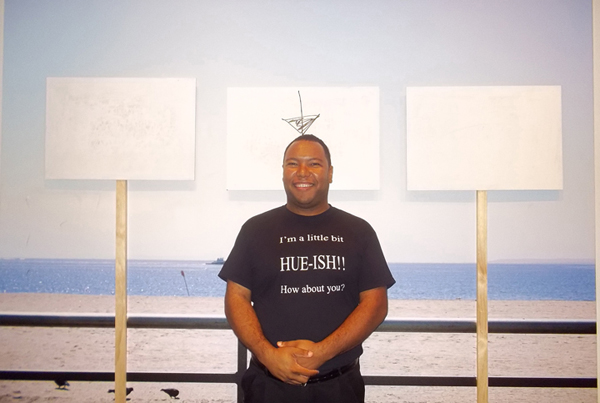 The next step for us was to con­tin­ue the project in oth­er loca­tions, thanks to Vita Anesh intro­duc­ing us to Audrey David, the amaz­ing leader of the Gen­er­a­tionR pro­gram at JCC Man­hat­tan, and in col­lab­o­ra­tion with Megan Whit­man, gallery direc­tor of The Lau­rie M. Tisch Gallery at the JCC, as well as the sup­port of the JCC staff, our Casu­al Con­ver­sa­tion exhi­bi­tion was open­ing at the gallery in JCC Man­hat­tan's lob­by. Say­ing that every cor­ner of this com­mu­ni­ty cen­ter is in use is an under­state­ment; a ton of peo­ple pass through the lob­by every­day, and more peo­ple trans­lates to more par­tic­i­pants. Soon enough, the back­drop start­ed to look like one big graf­fi­ti and Avi (who was work­ing with Megan) would start clean­ing it every­day. Ulti­mate­ly, though, the image with all graf­fi­ti would be turned into the cov­er of our recent­ly pub­lished book From Self­ie to Groupie. We loved that par­tic­i­pants took the time to ​"play around," writ­ing, danc­ing, singing, etc. Look­ing at all the ​"in-between" pho­tographs we had a sneak pick of their inter­ac­tions. At the end of exhi­bi­tion we had 2,070 pho­tographs and 1,049 participants.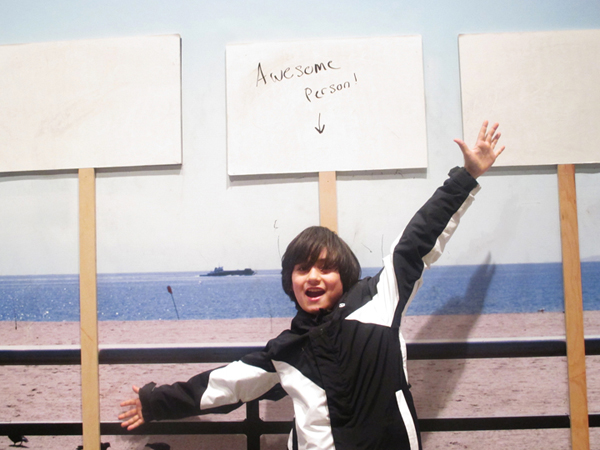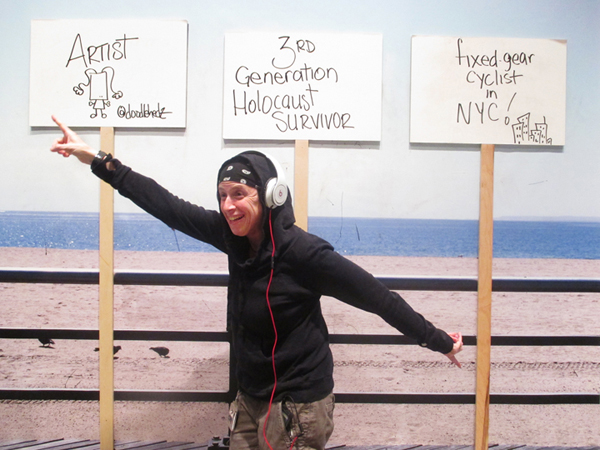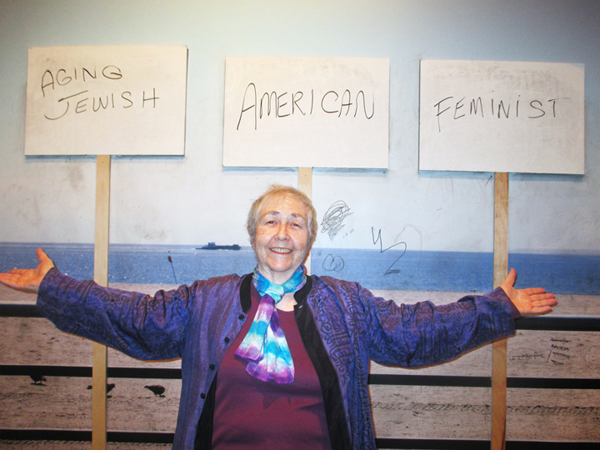 Our next stop were pho­to ses­sions at Lim­mud NY, Lim­mud Bay Area and Jew­ish Fun­ders Net­work's inter­na­tion­al con­fer­ences, with our last stop being an event orga­nized by Ilana Volo­darsky at JCC St. Paul, MN. It was an evening full of ener­gy and music. All those loca­tions where pos­si­ble to vis­it thanks to the ded­i­ca­tion of local orga­niz­ers (Mila Wichter and the Lim­mud Bay Area team, David Ezer and the JFN team, Ella Shtein­gart, the Lim­mud NY team) and gen­er­ous sup­port of the Gen­e­sis Phil­an­thropy Group.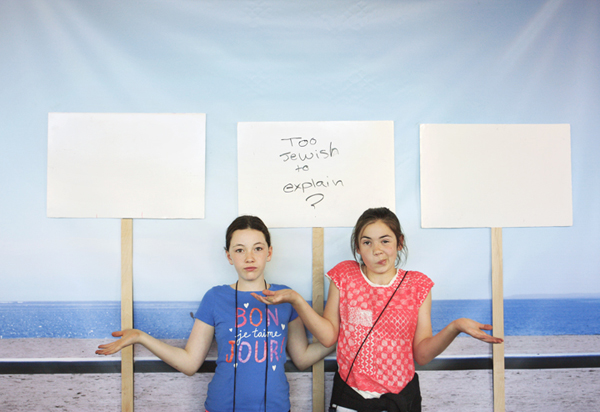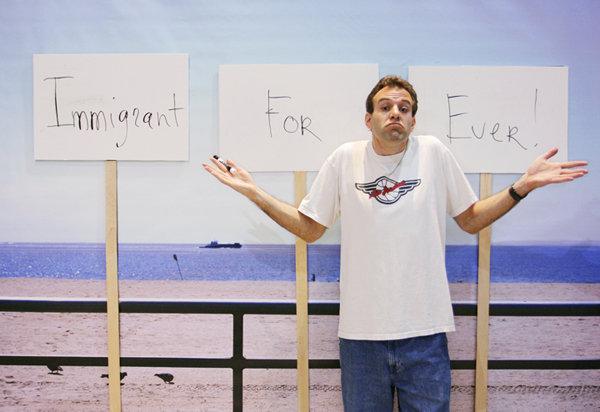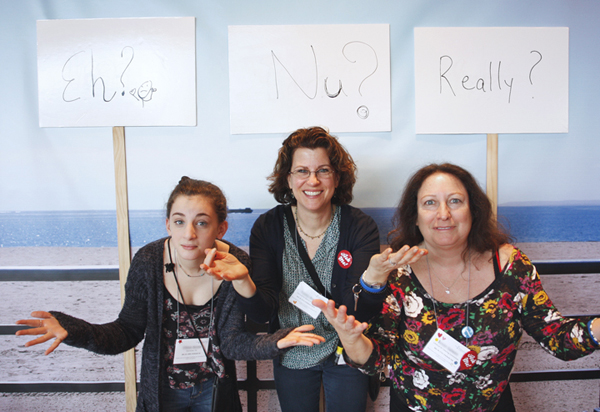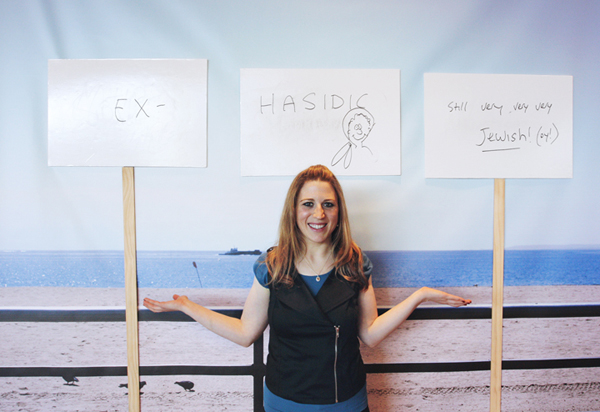 In total, 1,922 peo­ple par­tic­i­pat­ed in cre­at­ing a por­trait of the com­mu­ni­ty — in its many shades, shapes, and sizes — and a col­lab­o­ra­tive state­ment about col­lec­tive iden­ti­ty. Par­tic­i­pants ranged from a two-year-old girl who iden­ti­fied her­self as a ​"future pres­i­dent" to vice pres­i­den­tial can­di­date Joseph Lieber­man, who iden­ti­fied him­self as ​"a proud and grate­ful Jew­ish American."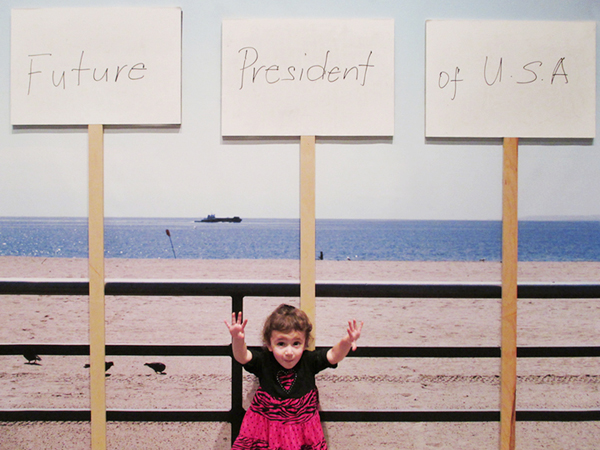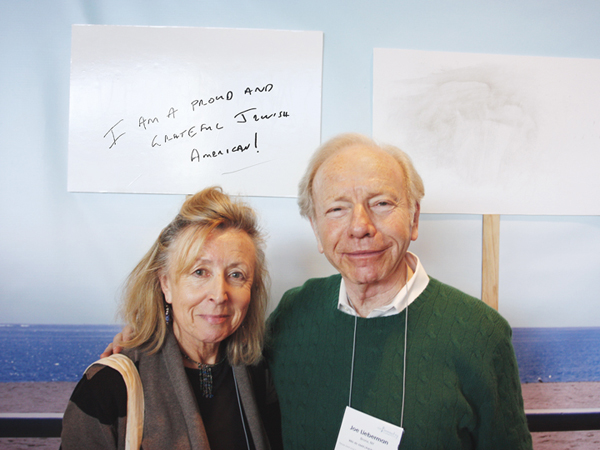 Find out more about this project and the com­pan­ion book, From Self­ie to Groupie, here. In NYC? You can par­tic­i­pate in a pop-up ver­sion of this pho­tog­ra­phy project at Jew­ish Book Coun­cil's May 19th Unpack­ing the Book event, ​"Sovi­et Roots, Amer­i­can Branch­es." Reg­is­ter here (it's free!).
Relat­ed Content:
Ali­na Bli­u­mis is a New York-based artist has been col­lab­o­rat­ing with her part­ner, Jeff, since 2000. Their works are in var­i­ous pri­vate and pub­lic col­lec­tions, includ­ing Moscow Muse­um of Mod­ern Art, Muse­ums of Bat-Yam, the Saatchi Col­lec­tion, the Har­vard Busi­ness School, the Muse­um of Immi­gra­tion His­to­ry, and the Vic­to­ria and Albert Museum.