Ear­li­er this week, Joe Black wrote about how he came to write a book of lim­er­icks for every Torah por­tion. His newest book, There Once Was a Man From Canaan: The Five Books of Lim­er­ick, is now avail­able. He has been blog­ging here all week for Jew­ish Book Coun­cil's Vis­it­ing Scribe series.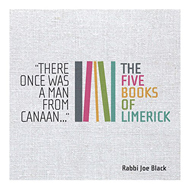 Our tra­di­tion teach­es that each chap­ter, verse and even let­ter of the Torah has great pow­er and sig­nif­i­cance. And yet, from a homilet­ic and ped­a­gog­ic per­spec­tive, some parashot are eas­i­er to digest and teach than oth­ers. We recent­ly had a shab­ba­ton at our syn­a­gogue for fam­i­lies who had chil­dren that were enter­ing into the process of becom­ing B'nai Mitz­vah. At this par­tic­u­lar event, each upcom­ing Bar Mitz­vah boy and Bat Mitz­vah girl were assigned the Torah por­tion for their par­tic­u­lar Shab­bat. Once they received their date and parasha, each fam­i­ly was giv­en an oppor­tu­ni­ty to glance over the chap­ters of Torah that would be read at their ser­vice. They were then giv­en an assign­ment to share with the rest of the fam­i­lies and stu­dents a few key points of their parasha.
Those who were assigned nar­ra­tives from Gen­e­sis and Exo­dus had no prob­lem under­stand­ing their Torah por­tions. The stu­dent who received parashat Lech Lecha (Gen­e­sis 12:1 – 17:27) for exam­ple – where God tells Abram to leave all that he knows and trav­el to a new land that God would show him – had an easy time explain­ing their text. Oth­ers, how­ev­er, found it more dif­fi­cult. The child who received Tazria Met­zo­ra (Leviti­cus 12:1 – 15:33) – which deals with lep­rosy, skin afflic­tions and sex­u­al organ mal­func­tions – had a more restrained lev­el of excitement.
Here's where a good Torah Lim­er­ick can come in handy:
When study­ing Par­shat Met­zo­ra
You learn to nev­er ignore… a
Pecu­liar emis­sion
Or painful con­di­tion
That's explained in detail in the Torah.
Some por­tions are sim­ply dri­er than oth­ers. For exam­ple, Tzav (Leviti­cus 6:1 – 8:36) con­tains myr­i­ad details about the Ordi­na­tion of Aaron and his sons and how the Priests who offi­ci­at­ed in the Tem­ple ser­vice must dress. Once again – a Torah Lim­er­ick to the rescue:
Aaron and sons are ordained
Their job is care­ful­ly explained
It's oily and bloody
Messy and mud­dy
No won­der their robes get all stained!
There's no rea­son that study­ing Torah can't be both fun and mean­ing­ful. Torah Lim­er­icks are one more way to inspire and engage everyone.
Joe Black serves as Senior Rab­bi of Tem­ple Emanuel in Den­ver, CO. He also is an author of children's books and a gui­tarist/singer-song­writer of orig­i­nal Jew­ish music. For more infor­ma­tion about Rab­bi Black, go to www​.emanuelden​ver​.org/, www​.rab​bi​joe​black​.com or www​.the5​book​sofLim​er​ick​.com
Relat­ed Content: