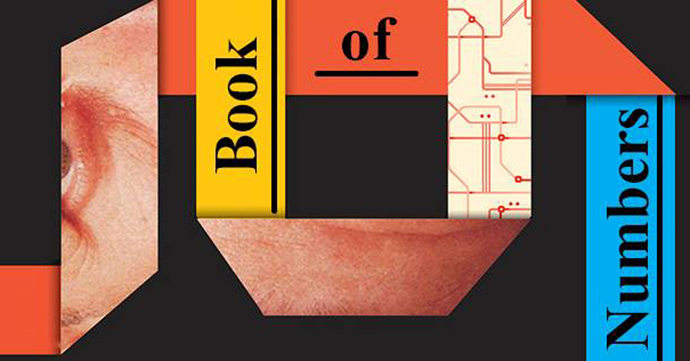 Joshua Cohen​'s most recent nov­el, Book of Num­bers, will be pub­lished this week by Ran­dom House. He is blog­ging here today for Jew­ish Book Coun­cil's Vis­it­ing Scribe series.
The Torah is a stick­ler for chronol­o­gy, and all its he-begot-she's, and she-begot-he's, are as much attempts at estab­lish­ing a lin­eage as they are at estab­lish­ing author­i­ty — doc­u­men­ta­tion issu­ing from the Father of Fathers, God. There are ten gen­er­a­tions between Adam, the first man, and Noah, the sec­ond first man, and then ten gen­er­a­tions again between Noah and Abra­ham — whose son was Isaac, whose son was Jacob, whose sons went down to Egypt, where their descen­dants were enslaved.
To insist on this prove­nance is to insist that the peo­ple Moses led out of Pharaohnic bondage were a Peo­ple—Israelites or, once they've received the Torah, Jews. In Hebrew, the fourth book of the Torah is called Ba-Mid­bar, lit­er­al­ly ​"In the wilder­ness" — though in Eng­lish the title is Num­bers, after the cen­sus with which it begins. God orders Moses to poll the mem­bers of each tribe: Moses thinks he's rais­ing an army, God knows he's count­ing the dead. None of the num­bered will be allowed to cross the Jor­dan into Canaan — none will sur­vive to ful­fill the Promise of the Land. The Torah's penul­ti­mate book is rife with the ulti­mate, as the new­ly lib­er­at­ed are con­demned to drag through the desert for forty years — a generation's span — until all who'd hes­i­tat­ed at the shore of the Red Sea, and revolt­ed at Sinai and wor­shipped the calf, have expired. Slaves don't get king­doms, is the rab­binic inter­pre­ta­tion — either be born into free­dom, or die from its lack.
This, then, was my source: a sto­ry about how sto­ry breaks down — with the sym­bol­ism of Gen­e­sis and Exo­dus sac­ri­ficed to the lit­er­al­ist bureau­cra­cy of Leviti­cus, which ren­dered it unto smoke, and accoun­tan­cy. With the last of the great char­ac­ters pun­ished and per­ished (Moses' sis­ter, Miri­am, fol­lowed by Moses' broth­er, Aaron), the mass­es are left lug­ging the taber­na­cle around until they too have wast­ed away — into corpses com­put­ed like so many shekels, ger­ahs, ephahs, and cubits.
After Num­bers, nothing's left. Deuteron­o­my isn't a book, but what hap­pens after books: just recaps (in case you missed the action since Sinai), sum­maries (in case you missed the action at Sinai), instruc­tions (What Thou Shalt Do, and What Thou Shalt Not Do, Beyond Moab), and lists (The Top Ten Commandments)…
To read about Num­bers' doomed gen­er­a­tion was to read about my own — a gen­er­a­tion born in the 1980s enslaved to the page, but by the mil­len­ni­um freed by the screens, to search — or, in alter­nate terms, to wan­der. The Cloud now guides us by day and guards us by night, secur­ing while sur­veilling — our man­na is data, infor­ma­tion, the con­tent that nev­er quite con­tents us. Because for all the sites of our sojourn­ing, we keep mov­ing on: noth­ing can hold us, noth­ing sus­tains. It's as if we're always seek­ing a site just beyond — a text that stills us, but that can still be passed on.
Book of Num­bers is my attempt at writ­ing just that: a nov­el that encrypts my expe­ri­ence of this tran­si­tion, from the cul­ture of the book, which I con­tin­ue to idol­ize, to an online Zion — a Zion 2.0 — that will remain in Beta for­ev­er. The forty years of Num­bers became 1971 (the microchips) through 2011 (the leaks). The sand of the desert became the Sil­i­con of the Val­ley. My com­pa­ny in peripety is a search com­pa­ny — Tetra­tion (the num­ber four abounds). Moses — whom Freud regard­ed as a for­eign­er, an Egypt­ian prince — is Moe, an Indi­an engi­neer of genius. Korach, the rebel, is Kori, Tetration's treach­er­ous Pres­i­dent. The CEO is named Joshua Cohen, who just hap­pens to share that name with the failed nov­el­ist hired to ghost­write his mem­oirs (the JCs also share an age: almost forty). May you find what­ev­er cor­re­spon­dences you seek — but don't for­get Joshua the spy, who was sent out from the wilder­ness to the bor­ders of Canaan, to deter­mine whether or not it was conquerable.
Joshua Cohen was born in 1980 in Atlantic City. He has writ­ten nov­els (Witz), short fic­tion (Four New Mes­sages), and non­fic­tion for The New York Times, Lon­don Review of Books, Book­fo­rum, The For­ward, and oth­ers. He is a crit­ic for Harper's Mag­a­zine and lives in New York City.
Relat­ed Content:
Joshua Cohen was born in 1980 in Atlantic City. His books include the nov­els Mov­ing Kings, Book of Num­bers, Witz, A Heav­en of Oth­ers, and Caden­za for the Schnei­der­mann Vio­lin Con­cer­to; the short-fic­tion col­lec­tion Four New Mes­sages, and the non­fic­tion col­lec­tion Atten­tion: Dis­patch­es from a Land of Dis­trac­tion. Cohen was award­ed Israel's 2013 Matanel Prize for Jew­ish Writ­ers, and in 2017 was named one of Granta's Best Young Amer­i­can Nov­el­ists. He lives in New York City.