Yes­ter­day, Joshua Cohen told us how to write a book like Coney Island. His new nov­el, Witz, is now available.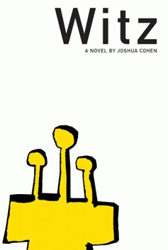 This sec­ond blog­post is about two expe­ri­ences with two ​"ceme­ter­ies." The first made it into my nov­el, Witz.
Years ago I was liv­ing in Prague — I was 21 — not quite earn­ing a liv­ing writ­ing arti­cles for a Jew­ish news­pa­per about Jews in East­ern Europe. Prob­lem was, there weren't any Jews in East­ern Europe, besides: Rus­sians who moved west to defraud with import-export; Hasidic emis­saries from New Jer­sey and Brook­lyn; and old peo­ple (Holo­caust sur­vivors). I was writ­ing about the Holo­caust, about the Holo­caust​'s lega­cy, approx­i­mate­ly six decades lat­er but for an insa­tiably inter­est­ed pub­lic. I told an edi­tor I need­ed new busi­ness cards. She sug­gest­ed a new title, ​"Dead Jews Correspondent."
I cov­ered the memo­ri­als and mon­u­ments, the syn­a­gogues rebuilt after the fall of com­mu­nism with mon­ey from Long Island, demo­c­ra­t­i­cal­ly elect­ed gov­ern­ments that destroyed ceme­ter­ies — clear­ing land for hock­ey sta­di­ums and hospitals.
One day a man I'd inter­viewed for an arti­cle about Holo­caust sur­vivors and health­care — a very kind and under­stand­ably strange man who sur­vived There­sien­stadt and Auschwitz and who offered me tea and his granddaughter's email address — died. I went the next after­noon to his funer­al; then, on the way out of the ceme­tery, stopped by the grave of Franz Kaf­ka. Why not? This is what you do when you're at the New Jew­ish Ceme­tery at Želivského.
I stood fac­ing the grave and read the inscrip­tion — the head­stone is not the orig­i­nal; the orig­i­nal is rumored to have been stolen and sold to the West by Czechoslo­vak com­mu­nist func­tionar­ies and remains lost to this day — I not­ed the plaque that memo­ri­al­ized Kafka's three sis­ters (Gabriela, Valerie, Otilie), who died in the camps. I can't remem­ber any thoughts — I've nev­er had a thought in a cemetery.
After a moment an Asian tourist approached the grave and stood along­side me snap­ping pho­tos. Then with­out say­ing a word he hand­ed me some­thing plas­tic and white.
He said, in Eng­lish, ​"For head."
He was mak­ing me wear a yarmulke.
He touched his head, touched my head.
I'd already tak­en my yarmulke off, stuffed it in a pocket.
I felt like explain­ing that I was a Cohen — of the caste of priests, who must keep pure for future ser­vice in the rebuilt Tem­ple. For­get not wear­ing a yarmulke, my biggest trans­gres­sion was being in a ceme­tery at all. I was being defiled, tech­ni­cal­ly speak­ing. I want­ed to yell at him, ​"I am being defiled, tech­ni­cal­ly speaking!"
I went home.
The next week I wrote a sec­tion of Witz that treats Kafka's grave to a Kafkan fic­tion. A man tries to gain entrance to the ceme­tery that holds the grave but is pre­vent­ed, at every oppor­tu­ni­ty delayed and rebuffed. I called the sec­tion ​"The Grave." At the end I say the stones that mourn­ers place atop head­stones — to mark their vis­it, to memo­ri­al­ize con­cern — are, in effect, the yarmulkes of headstones.
Last year, back in the States, I took a bik­eride on the board­walk, from Brighton Beach to Seagate.
On the pier at Coney, a hud­dled group. They stood at the edge, about to emp­ty ash­es into the water.
After­ward a few hung around.
I asked a man what hap­pened and he said his friend — the man in the urn — killed him­self two weeks ago.
I didn't ask for details but Mar­co said, ​"He was a life­guard. He loved swim­ming and movies."
He said, ​"The ocean is the biggest ceme­tery in the world."
As I turned to leave he repeat­ed, ​"Biggest ceme­tery in the world, biggest ceme­tery in the world."
All life comes from water. And if you don't believe sci­ence you at least believe that water was cre­at­ed before Man — wasn't actu­al­ly cre­at­ed but divid­ed: the waters above sep­a­rat­ed from the waters below…. What was most depress­ing about liv­ing in Europe — in Europe's east — was being so far from an ocean. But I dis­agree with Mar­co. Europe is the biggest ceme­tery in the world.
Joshua Cohen's most recent nov­el, Witz, is now avail­able. He will be blog­ging all week for the Jew­ish Book Coun­cil and MyJew­ish­Learn­ing. Vis­it his offi­cial web­site here.
Joshua Cohen was born in 1980 in Atlantic City. His books include the nov­els Mov­ing Kings, Book of Num­bers, Witz, A Heav­en of Oth­ers, and Caden­za for the Schnei­der­mann Vio­lin Con­cer­to; the short-fic­tion col­lec­tion Four New Mes­sages, and the non­fic­tion col­lec­tion Atten­tion: Dis­patch­es from a Land of Dis­trac­tion. Cohen was award­ed Israel's 2013 Matanel Prize for Jew­ish Writ­ers, and in 2017 was named one of Granta's Best Young Amer­i­can Nov­el­ists. He lives in New York City.