Sam Hoff­man, author of the forth­com­ing Old Jews Telling Jokes: 5,000 Years of Fun­ny Bits and Not-So-Kosher Laughs
(August, 2010), shares an anec­dote about his NET­WORK con­fer­ence experience.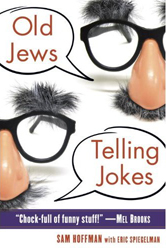 …[S]omething inter­est­ing hap­pened to me when I went upstairs to get some air and check my emails after speak­ing at the NET­WORK con­fer­ence. There is no cell ser­vice in the base­ment so I was at the top of the stairs tex­ting my wife that our much-rehearsed speech was now fin­ished when a con­cerned and some­what des­per­ate woman approached me. She said, ​"can you help us, we're only nine? We need a tenth for the minyan." I was flus­tered at first, of course, because I felt a respon­si­bil­i­ty to be down­stairs lis­ten­ing to my fel­low authors. Would the sight of my emp­ty seat some­how let them down? I stam­mered ​"I'm here with the book fair. I need to go back down­stairs." She looked beyond dis­ap­point­ed and went off in search of anoth­er tenth. I descend­ed the stairs, and by the time I got to the bot­tom, I thought to myself, ​"this is crazy. There are like three hun­dred Jews in this room and upstairs they can't find a tenth for a minyan?" I asked the girls out­side the door if they thought I could be excused for 15 min­utes and ran back upstairs. I found the woman search­ing the halls and announced ​"I can do it! They said it was ok!" Her whole demeanor changed, like her faith in human­i­ty had some­how been restored. I grabbed a yarmulke and joined the ser­vice. Eight grate­ful Jews and a Rab­bi nod­ded their thanks to me and, quite frankly, I was embar­rassed by their grat­i­tude. Most of them just want­ed to say Kaddish.
Vis­it Hoffman's web­site at http://​old​jew​stellingjokes​.com/