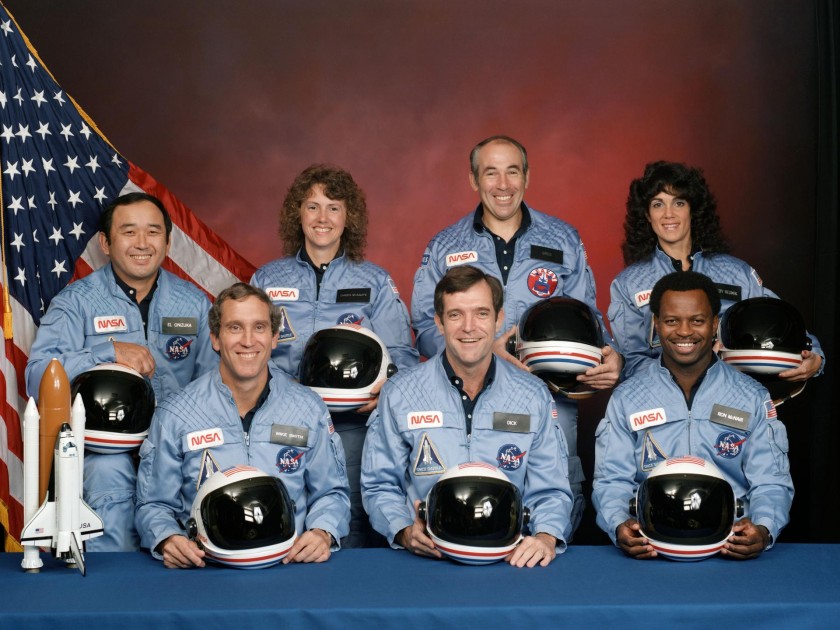 Writ­ing about a nation­al tragedy can be a daunt­ing task. One thing that kept me going dur­ing my work on The Burn­ing Blue: The Untold Sto­ry of Christa McAu­li­ffe and NASA's Chal­lenger Dis­as­ter was a duty I felt to tell read­ers about all sev­en mem­bers of the space-shut­tle crew that launched from Cape Canaver­al in 1986. Christa McAu­li­ffe, who was cho­sen over more than 11,000 oth­er appli­cants to be NASA's ​"Teacher in Space," became a celebri­ty in the run-up to the mis­sion, but her crew­mates were remark­able peo­ple, too.
Chal­lenger com­man­der Dick Scobee and pilot Mike Smith were red-hot fly­ers in the Chuck Yea­ger mold. Oth­er avi­a­tors liked to say Scobee could land a paper air­plane in a hur­ri­cane. The sci­en­tists onboard were bril­liant, fas­ci­nat­ing char­ac­ters. Mis­sion spe­cial­ist Elli­son Onizu­ka, the first Asian-Amer­i­can astro­naut, was plan­ning to study Halley's Comet in ultra­vi­o­let light for the first time ever. Mis­sion spe­cial­ist Ronald McNair, one of NASA's top laser physi­cists, was also a sax­o­phon­ist (he gigged with tour­ing musi­cians when they came through Hous­ton) and a black belt in karate. McNair enter­tained at par­ties by smash­ing con­crete blocks with a sin­gle chop of his bare hand. And then there was mis­sion spe­cial­ist Judith Resnik, an elec­tri­cal engi­neer who was accus­tomed to being the smartest per­son in any room she entered, and who had what one admir­er called, ​"the right­est stuff of them all."
Judith Arlene Resnik grew up in Ohio; her father was an optometrist and served as a can­tor in Akron's Beth El Con­gre­ga­tion. Mar­vin Resnik dot­ed on his k'tanah' — his lit­tle one — show­ing her how to take radios apart and put them back togeth­er. Gift­ed in math and music, young Judith Resnik out­per­formed her piano teach­ers and con­sid­ered study­ing at Juil­liard. Instead, after scor­ing 1600 on her SAT exam — one of a hand­ful of per­fect scores record­ed up to that time — she accept­ed a schol­ar­ship to Carnegie Tech (now Carnegie Mel­lon Uni­ver­si­ty), where she was one of three women in a fresh­man class of nine­ty students.
"Judy was bril­liant," recalls Mike Oldak, the col­lege class­mate she mar­ried in 1970. After grad­u­at­ing with hon­ors she went direct­ly into a Ph.D. pro­gram at the Uni­ver­si­ty of Mary­land, skip­ping a master's degree. ​"We both worked for RCA," dur­ing their stud­ies, he told me. ​"She got paid more than I did, and RCA applied for sev­er­al patents based on her work."
In 1984, Judith Resnik became the sec­ond female astro­naut and first Jew­ish astro­naut by fly­ing in the space shut­tle Dis­cov­ery.
They divorced in 1974. ​"We want­ed dif­fer­ent things," he says. Still they stayed close. Oldak was pleased when his ex-wife pub­lished a schol­ar­ly paper in the Jour­nal of the Opti­cal Soci­ety of Amer­i­ca, titled ​"A Nov­el Rapid Scan­ning Microspec­tropho­tome­ter and Its Use in Mea­sur­ing Rhodopsin Pho­to­prod­uct Path­ways and Kinet­ics in Frog Reti­nas." The details of how sig­nals trav­el from frogs' optic nerves to their brains got too tech­ni­cal for her optometrist father to fol­low, but he passed out copies to his friends.
At age twen­ty-eight, Dr. Judith Resnik was one of the most accom­plished young elec­tri­cal engi­neers in Amer­i­ca. Seek­ing a new chal­lenge, she applied to be an astronaut.
By then, NASA had sent sev­en­ty-three astro­nauts into space. All sev­en­ty-three were white men. Now the space agency want­ed to diver­si­fy its ranks. It chose her as one of six women in the 1978 class of trainees. She and Sal­ly Ride, a ten­nis cham­pi­on with a Ph.D. in physics from Stan­ford, were con­sid­ered the front-run­ners to be America's first female astro­naut. (But not the first woman in space — that was cos­mo­naut Valenti­na Tereshko­va, who orbit­ed Earth in 1963.) Mar­vin Resnik was dis­ap­point­ed when Ride was tabbed to fly first, but JR, as friends called her, was relieved. She loathed inter­views and press con­fer­ences. Thus it was Ride who had to field reporters' ques­tions about make­up and bras in space. Once, when a news­man asked Ride if she cried when pre­flight sim­u­la­tions went awry, she nod­ded to shut­tle pilot Rick Hauck and said, ​"Why doesn't any­one ask Rick these questions?"
In 1984, Judith Resnik became the sec­ond female astro­naut and first Jew­ish astro­naut by fly­ing in the space shut­tle Dis­cov­ery. She oper­at­ed the shuttle's 45-foot robot arm, pluck­ing satel­lites from the car­go bay and drop­ping them into orbit. Dur­ing a break between zero-grav­i­ty tasks she held up a sign for the TV cam­eras on the mid­deck: HI DAD.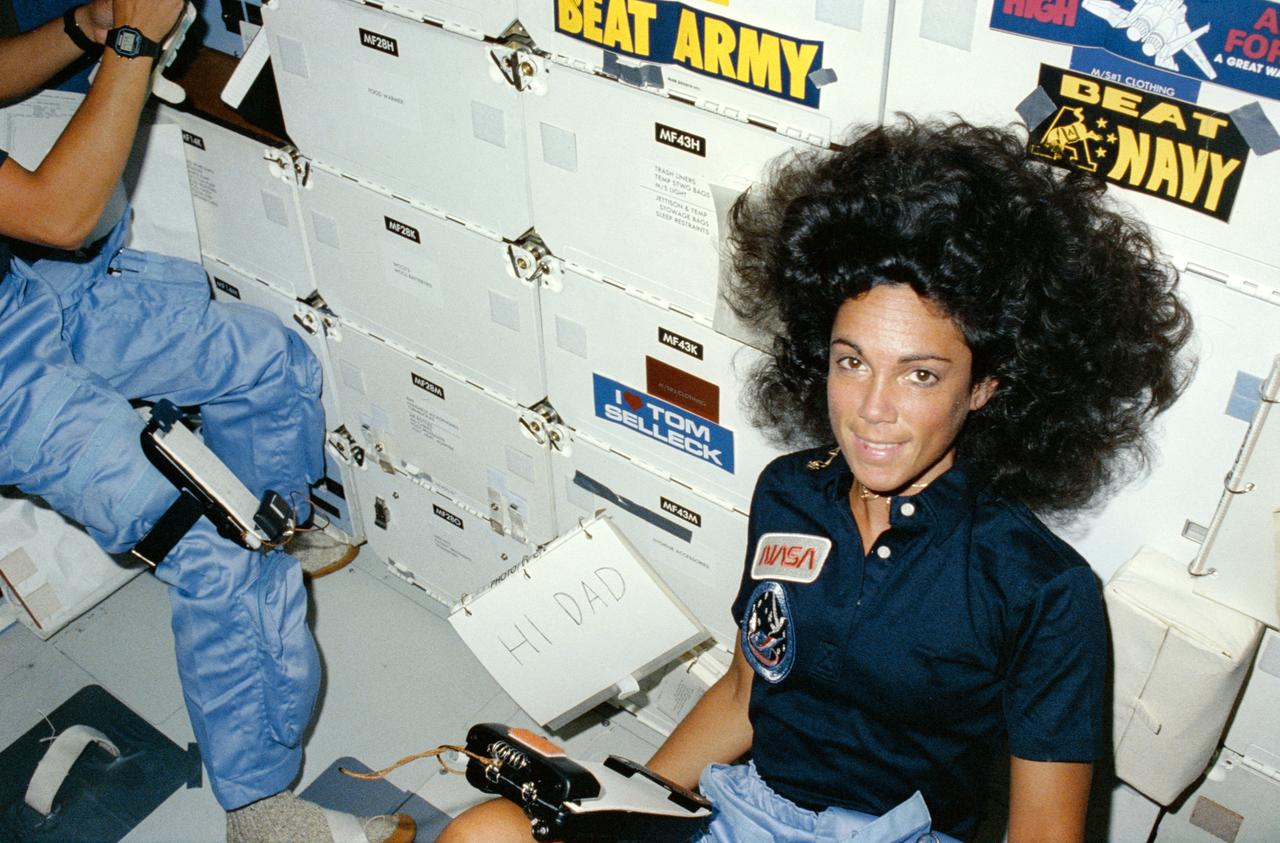 By the time she was assigned to the Chal­lenger crew two years lat­er, shut­tle flights seemed rou­tine. The TV net­works stopped cov­er­ing them. ​"They should make it excit­ing," Jer­ry Sein­feld joked. ​"Send up some guy that doesn't want to go!" NASA drummed up inter­est with what it called the Space­flight Par­tic­i­pant Pro­gram, allow­ing civil­ians like Flori­da con­gress­man Bill Nel­son (now NASA's top admin­is­tra­tor) and Utah sen­a­tor Jake Garn to fly into space as ​"pay­load spe­cial­ists" on shut­tle flights. The idea struck Resnik as a pub­lic­i­ty stunt. ​"What are we sup­posed to do with these peo­ple?" she asked. The answer: Babysit them, and keep them from hit­ting the wrong switches.
"Teacher in Space" McAu­li­ffe was by far the most famous mem­ber of the Chal­lenger crew. She appeared on mag­a­zine cov­ers and chat­ted with John­ny Car­son on the Tonight show. But she strug­gled with the math she need­ed dur­ing train­ing for their mis­sion. See­ing how hard her crew­mate was try­ing, Resnik took an engineer's approach to the prob­lem. She became an unof­fi­cial sci­ence tutor to the Teacher in Space.
They couldn't have been more dif­fer­ent, the intense­ly pri­vate sci­en­tist and the bub­bly social-stud­ies teacher, but they became friends. When a bunch of reporters mobbed Christa McAu­li­ffe, her friend Judy told her, ​"You don't have to put up with all this." Christa laughed. ​"You don't in your job, but I do in mine."
Before they entered the cap­sule on the icy morn­ing of Jan­u­ary 28, 1986, mis­sion spe­cial­ist Resnik smiled and said, ​"Next time I see you, we'll be in space!"
It didn't turn out that way. Due to hard­ware prob­lems NASA knew about but failed to pre­vent, the shuttle's giant fuel tank explod­ed sev­en­ty-three sec­onds into the mis­sion. The crew had no way to escape, but there is clear evi­dence that some or all of them act­ed hero­ical­ly, try­ing to stay alive in the two min­utes and forty-five sec­onds between the explo­sion and the moment the crew com­part­ment crashed into the Atlantic at 207 miles per hour.
Today there are dozens of schools, city parks, and muse­ums named after the Chal­lenger astro­nauts. There are aster­oids and lunar craters named in their hon­or. One of the most mov­ing trib­utes came at a memo­r­i­al ser­vice for Resnik in Akron where female astro­nauts includ­ing Sal­ly Ride waved to a fly­over by four NASA jets, using the Amer­i­can Sign Lan­guage signs for ​"I love you."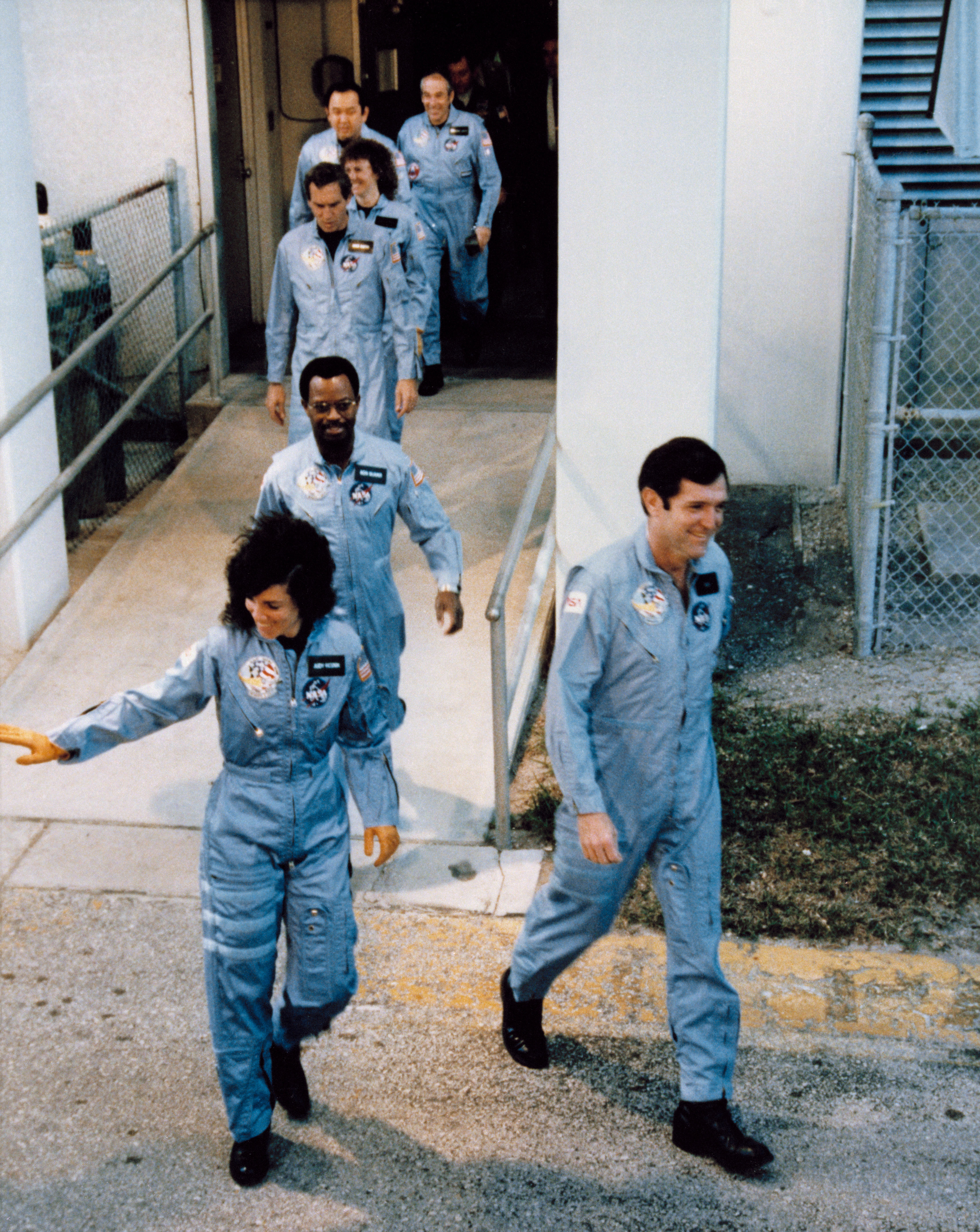 The Burn­ing Blue is Kevin Cook's tenth book. He has writ­ten for The New York Times, The Wall Street Jour­nal, GQ, Smith­son­ian and many oth­er pub­li­ca­tions, and has often appeared on CNN and NPR. An Indi­ana native, he lives in Northamp­ton, Massachusetts.