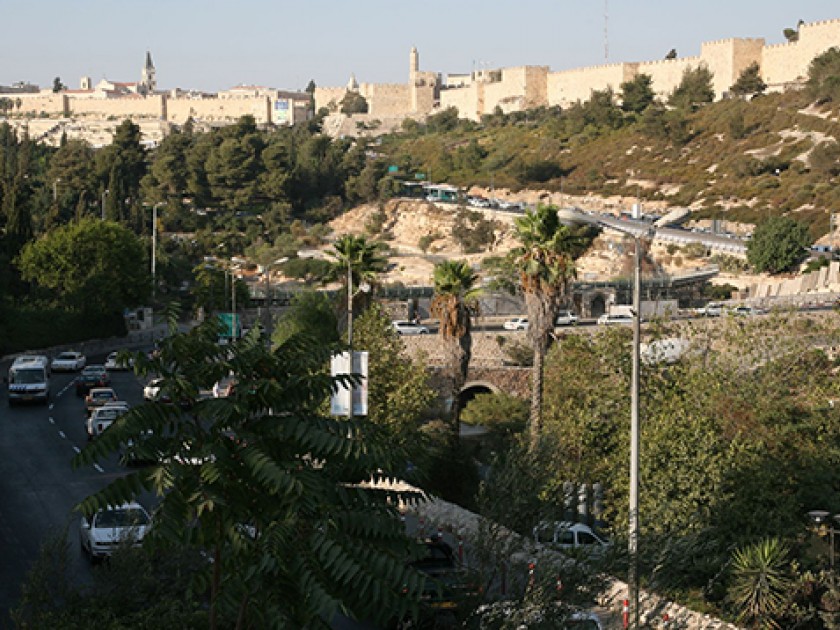 There have always been too many Jerusalems with too lit­tle real estate. Ancient Jew­ish tra­di­tion mul­ti­plied by two to cre­ate earth­ly and heav­en­ly ver­sions of the city, which were under­stood to tape mea­sure the dis­tance between the world we live in and the ver­sion so bad­ly want­ed that it can't be nav­i­gat­ed with the blue dot of an app but needs to be chart­ed with the flow of the heart's blood. Chris­t­ian the­olo­gians derived a metaphor of a metaphor, and taught that Jerusalem was not only the reflec­tion of the ground floor of reg­u­lar life in the pent­house of spir­i­tu­al yearn­ing. For them, Jerusalem was a portable city. You could find it shin­ing just over the next hill in a new­ly dis­cov­ered land and then redis­cov­er it in a super­pow­er regain­ing its foot­ing and its con­fi­dence. For the bat­ty and bril­liant William Blake, Jerusalem belonged not in the crag­gy hills and blur­ry sands of the Judean desert, but firm­ly plant­ed in ​"England's green and pleas­ant land."
None of these descrip­tions, how­ev­er rich, seem to quite cap­ture the pecu­liar mix of joy, angst, and grand­stand­ing that Jerusalem seems pecu­liar­ly dis­posed to elic­it. Pres­i­dent Trump's deci­sion to rec­og­nize Jerusalem as Israel's cap­i­tal and to begin the process of mov­ing the embassy resem­bles the city itself. Rec­og­niz­ing Jerusalem as Israel's cap­i­tal, a fact every­one knows to be true that still felt star­tling, reflects a city where a Tem­ple stood and where traf­fic is often at a stand­still. For a long time mad and ratio­nal peo­ple thought of Jerusalem as the cen­ter of this world and the last stop on the train to the next one.
The best guide to this strange place called Jerusalem might be Yehu­da Amichai, a poet whose work seems per­ma­nent­ly sus­pend­ed between the sec­u­lar and sacred, between the bawdi­ness of bod­ies and the wan­der­ing truth of a reli­gious faith orphaned by war and moder­ni­ty. Which is just anoth­er way of say­ing that it's Yerushal­mi, Jerusalemite to its core, rhymes hewn from the epony­mous stones. In one poem he writes that ​"Jerusalem is a see-saw," awk­ward­ly dip­ping between past and future in response to the dan­ger­ous­ly shift­ing bulk of the present. In anoth­er it's a ​"carousel, spin­ning round and round/​from the Old City through every neigh­bor­hood and back to the Old/​and you can't get off." Both a see-saw and a carousel are metaphors from the play­ground, but their sta­tion­ary whirring trou­bles seam a city whose divi­sions nev­er seem to heal, because they are so deeply ingrained that they haunt the sur­face of every­day life.
Amichai was trou­bled by how the mul­ti­pli­ca­tion of Jerusalems can lead to these divi­sions. In a poem from his last col­lec­tion, Open Closed Open, he notes the gram­mat­i­cal odd­i­ty that Yerusha­lay­im, the word for Jerusalem in Hebrew, fea­tures a plur­al suf­fix. This makes him uncom­fort­able, because ​"I am just ​"I" and not ​"I's." We may con­tain mul­ti­tudes, as Whit­man said, but the scale of a human life is hum­bler and more mag­nif­i­cent than stones and spires that stand at eternity's atten­tion. Jerusalem is a carousel and a see-saw and a mil­lion oth­er things to bil­lions of oth­er peo­ple, but Amichai uses the inti­ma­cy of a poem to remind us that its sto­ry is only as good as the paren­the­sis of mean­ing we can set aside as refuges of under­stand­ing. Else­where Amichai called Jerusalem ​"the Venice of God," and like that pigeon-haunt­ed city, Jerusalem can feel both stoni­ly sol­id and like it could all wash away when the restive hills rise and the dams of long­ing and resent­ment burst open.
There are no sky­scrap­ers in Jerusalem, and it some­how man­ages to be both sprawl­ing and dense. Like a poem whose next lines catch you by sur­prise but sound inevitable in ret­ro­spect, you're not quite sure where the next street might lead, until you're there, and you can't imag­ine being any­where else. There is a qui­et on Sat­ur­day morn­ings that is its own kind of melody. None of these things depend on polit­i­cal deci­sions of a moment. The most beau­ti­ful and pre­cious things rarely do.
Image cred­it: Flickr/​BGNE­GIN
Ari R. Hoff­man is a doc­tor­al can­di­date in Eng­lish Lit­er­a­ture at Har­vard Uni­ver­si­ty. He is cur­rent­ly a Dex­ter Dis­ser­ta­tion Com­ple­tion Fellow.