Post­ed by Nao­mi Firestone-Teeter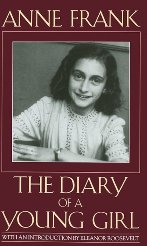 Had Anne Frank sur­vived the Holo­caust she would have been 80 this week and to hon­or her mem­o­ry an ​"age pro­gres­sion" image was cre­at­ed for the Anne Frank Trust UK. The Tele­graph reports:
Cre­at­ed for the Anne Frank Trust UK to mark her birth­day on Fri­day – using the same tech­niques devel­oped to arti­fi­cial­ly age miss­ing peo­ple such as tod­dler Madeleine McCann – it is hoped the pic­ture will help inspire Britain's school chil­dren to think about the kind of lives they would like to lead, and to remem­ber the loss of six mil­lion peo­ple in the Holocaust…

The aged image was pro­duced by a Michi­gan firm called Pho­joe which has worked with US police on dozens of miss­ing per­sons cases.
To view the image and read the com­plete arti­cle, please vis­it here.
And, this Octo­ber Francine Prose will pub­lish a new book on Anne Frank called Anne Frank: The Book, The Life, The After­life (pub­lished by Harp­er), in which she argues that the diary of Anne Frank is as much a work of art as a his­tor­i­cal record. Through close read­ing, Prose exam­ines Frank's abil­i­ty to ​"turn liv­ing peo­ple into char­ac­ters" and dis­cuss­es Frank's nar­ra­tive voice. She also inves­ti­gates the after­life of the pub­lished diary: obsta­cles, crit­i­cism, and con­spir­a­cy. Ulti­mate­ly Prose aims to tell the excep­tion­al sto­ry of the book and estab­lish Frank as as a writer of out­stand­ing merit.